ALBUM REVIEW: Eilen Jewell Drives Forward with 'Get Behind the Wheel'
---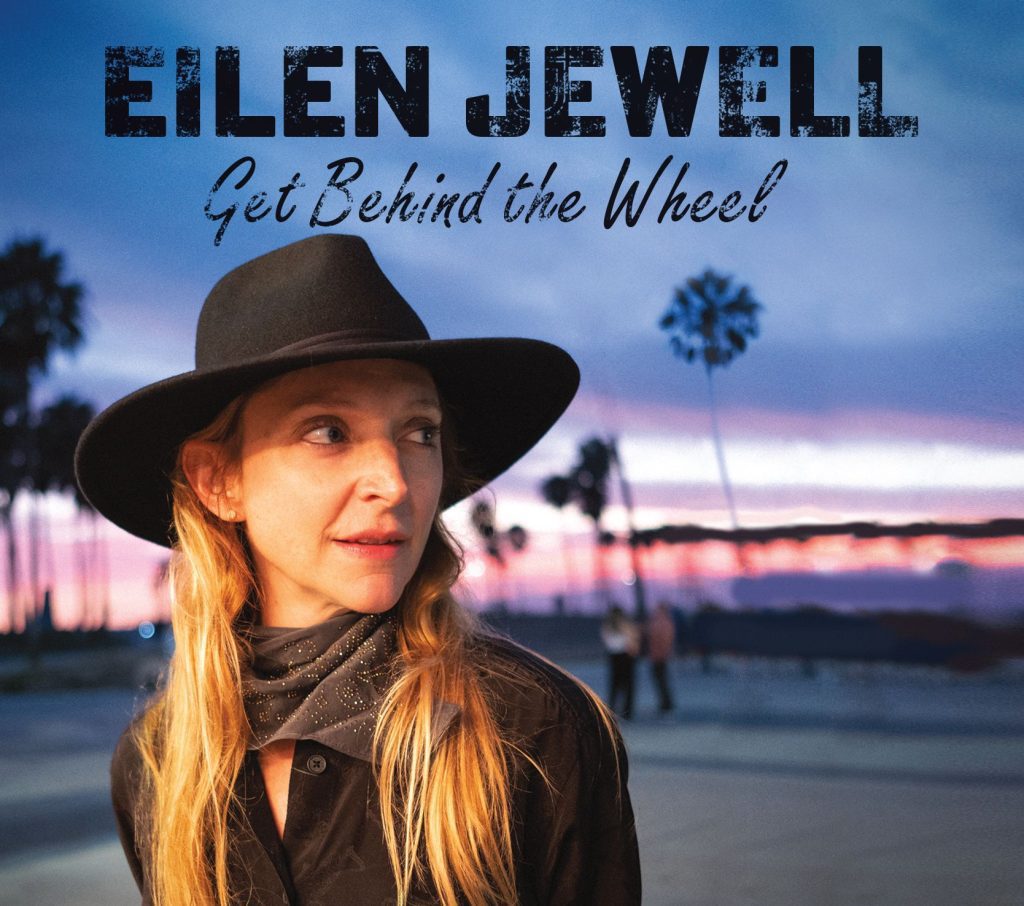 Whether forging original work, including on her stellar 2006 debut, 2011's Queen of the Minor Key, and 2015's Sundown Over Ghost Town, or offering cogent interpretations as with 2010's Butcher Holler: A Tribute to Loretta Lynn and 2017's Down Hearted Blues, Eilen Jewell has consistently asserted a contemporary flair while borrowing from and reconfiguring traditional templates.
With her new album, Get Behind the Wheel, co-produced with Will Kimbrough, Jewell continues to innovatively mine blues, country, and folk playbooks. Opener "Alive" is built around a swampy beat and a spaghetti western guitar part. Jewell's voice is as sultry as ever. Lyrically, she addresses the way in which the addict's compulsion for more can never be satisfied ("You say you wanna kill your thirst but the flask is cracked").
"Crooked River," an imagistic take on being haunted by melancholy and melancholy's meaner sister, depression, is impeccably constructed and flawlessly performed, one of the standout tracks in Jewell's considerable oeuvre. "Lethal Love," meanwhile, with its 1950s-esque rock references, gothy undertones, and depiction of love at once toxic and irresistible, recalls Wanda Jackson's McCoy and Westbury-penned "Funnel of Love," particularly her 1961 original version but also her 2003 remake with The Cramps.
On the bluesy gem "Come Home Soon," the singer is lost on "the acid streets of Venice Beach," trapped in a world of "thirst and Tanqueray." She yearns for home, literally and metaphorically, though it's doubtful whether she can free herself from her "pain." "Winnemucca," with its plucky rhythms and strategically placed harmonies, brings to mind a cross between early John Mellencamp and Lucinda Williams. "You Were a Friend of Mine" shows Jewell paying tribute to an old cohort while drawing inspiration from her most immediate forebears, Emmylou Harris and Loretta Lynn.
With "Outsiders," Jewell riffs on S.E. Hinton's 1967 novel The Outsiders. She mentions "turned-up collars and rolled-up jeans," alluding to the counter-culture of the 1950s and early 1960s, and namedrops Johnny Cade, one of the ancillary characters in Hinton's book. "The Bitter End" is a breathtaking commentary on impermanence, regret, and the inevitability of falling short. And yet, by declaring "this is where you have to start," Jewell suggests that by breaking free of denial and honestly acknowledging one's circumstances, a person can indeed improve the quality of their life.
Throughout Get Behind the Wheel, Jewell is supported by an impressive band, including Jerry Miller on electric guitar and her now ex-husband Jason Beek on drums, both of whom have contributed to Jewell's recordings going back to her debut. Throughout this sequence, Jewell demonstrates her versatility, range, and depth, rebranding familiar sounds while again sharing her distinct voice and poetic bent.
Eilen Jewell's Get Behind the Wheel is out May 5 on Signature Sounds.
---