ALBUM REVIEW: 'Ears of the People' Spotlights the Ekonting, Banjo's Ancestor
Posted On January 31, 2023
---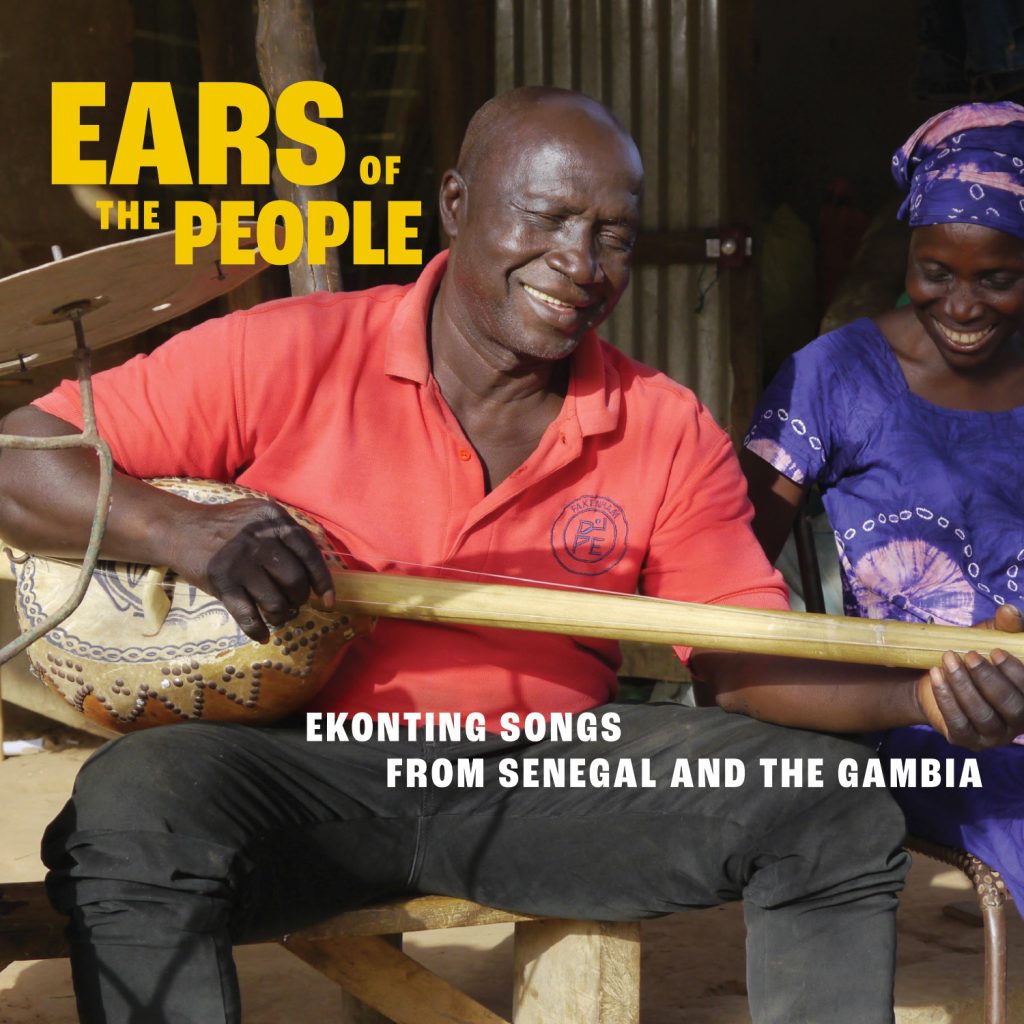 If you are not an ethnomusicologist and/or from West Africa, you may well read the title Ears of the People: Ekonting Songs from Senegal and the Gambia and wonder, "What on earth is an ekonting?"
The collection, and its extensive, well-written liner notes, answer that question at great and delightful length. The ekonting is a three-stringed gourd lute, probably one of the main ancestors of the banjo.
The instrument is not a museum piece, though. The Jola people of Senegal and the Gambia still play the instrument in a style similar to clawhammer banjo, curling the hand into a fist and striking long strings with the index or middle fingers and the shorter strings with the thumb. The sound is highly rhythmic and percussive, suitable for dancing or rump shaking. "Let that butt go there!" Jean Kangaben Djibalen exhorts his listeners (in his native language) on the warm midtempo groove "Elenbeja."
There are, as it turns out, a lot of different places for that butt to go. The ekonting looks like a simple instrument, but ethnomusicologist Scott Linford has done an excellent job in putting together a collection that showcases the tradition's versatility.
Musa Diatta's "Watu Eriring Bee Kaolo" ("The Time Has Come to Rest") has a liquid, dreamy flow reminiscent of Senegelese guitar legend Baaba Maal's early albums with Mansour Seck. The small group Sijam Bukan's "Diego," celebrating a soccer game, deploys percussion and call and response in a rousing party song — you can hear distant echoes of some early African-American gospel music.
Elisa Diedhiou, one of the few female ekonting players, uses a fast strumming style and powerful vocals reminiscent of Odetta on "Adiatta Ubonketom" ("Adiatta Pray for Me.") Musa Diatta's uplifting "Aliinom (Ballanta)" ("My Sister") jostles along as he plays and simultaneously raps on the skin head, a bumpy but high-spirited ride. The band Esukolaal is consciously influenced by reggae and salsa. On "Asunge" ("Graceful Woman"), Linford jams with them as they adapt a rhythm often used to accompany wrestling matches, belting out an open-hearted tale of betrayed love that sounds like it's ready to blare from festival speakers and set international audiences boogieing.
The liner notes include translations of many of the lyrics, so you can nod along to the straightforward parables about distilling plum wine, admiring beautiful women, or taking a bus to Dakar. There are also more somber songs about the violence in the region — mostly decades in the past, but not forgotten. This is fundamentally a joyful collection, though, highlighting a musical tradition distant enough to provoke wonder and familiar enough to love.
Ears of the People: Ekonting Songs from Senegal and the Gambia is out Feb. 3 on Smithsonian Folkways.
---