ALBUM REVIEW: Dropkick Murphys Put Modern Power Behind Woody Guthrie Lyrics
Posted On September 29, 2022
---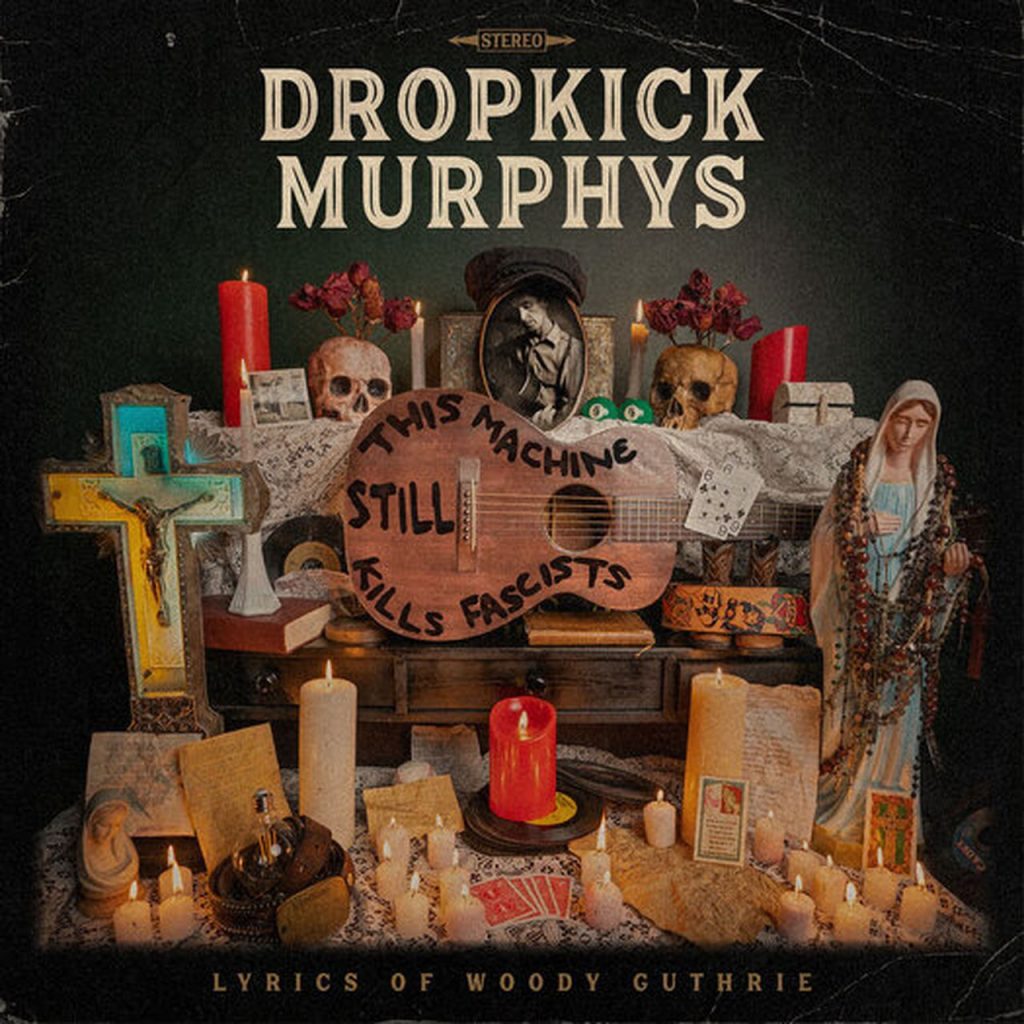 It's kind of funny, but arguably no current act has done more to preserve and advance the legacy of Woody Guthrie as Celtic punk legends Dropkick Murphys. Bandleader Ken Casey is a devout student of Guthrie's life and music, with his readings of the Guthrie archive prompting the band's hit spin on "I'm Shipping Up to Boston."
This appreciation and shared working-class ethos between the band and the folk icon led to the development of a longtime friendship between Dropkick Murphys and Guthrie's family and estate. The culmination of this bond is the release of This Machine Still Kills Fascists, a collection of mostly unpublished Guthrie lyrics that have been developed into the first-ever acoustic Dropkick Murphys LP.
In addition to the shift in sonic template, This Machine Still Kills Fascists features another major change, as co-lead singer Al Barr's hiatus from the band to care for his ailing mother has led to Casey assuming all lead vocal duties. But even with those differences, the record is a raucous, rough-and-tumble affair. It's still indelibly Dropkick Murphys.
Album opener "Two 6's Upside Down" is a hard-luck gambler's tale, neatly fitting into the type of vivid storytelling-based songs the band has increasingly delved into (and Casey has taken the lead on) over the past decade. "Talking Jukebox" offers insights into the hard lives of a bar's patrons. The track offers a tight snapshot of Guthrie's evocative lyrics and scope, moving from the surreal to the very real, and also serves to highlight Dropkick Murphys' dynamism. The group plays it pretty straightforward, thoughtful folk rock on the verses, then comes alive for the rowdy group vocals on the chorus.
That effect, one that's synonymous with their more punk-driven fare, is used to great effect and particularly stands out on the explicitly political pieces. It enhances the potency of the pro-union anthem "All You Fonies" and gives "Ten Times More," recorded live in one take, an exciting, ramshackle feel.
Dropkick Murphys close This Machine Still Kills Fascists with "Dig a Hole." Utilizing an original Guthrie vocal track provided by Smithsonian Folkways and some fine dobro playing from Guthrie's grandson, Cole Quest, they duet with him on putting an end to fascism.
"Dig a hole in the meadow, gonna lay you fascists down," Guthrie and Dropkick Murphys sing on the chorus. Guthrie, when he recorded his rendition, was singing about World War II. Given Casey's own beliefs (just check out his rants on Donald Trump and strongly voiced willingness to fight the former president's supporters in the parking lot outside concert venues), the parallels are drawn and the call to action to end a particularly virulent strain of reactionary politics is issued loud and clear.
The song does more than just serve as an effective capper on a well-made album. It shows the sustained relevancy of Guthrie's work and its themes. Nearly 60 years since his death, the struggles of working men and women and political oppression continue unabated. Those in need remain unheard by people in power. But much like Woody Guthrie, Dropkick Murphys are still out there fighting the good fight.
The Dropkick Murphys' This Machine Still Kills Fascists is out Sept. 30 on Dummy Luck Music.
---