ALBUM REVIEW: Dropkick Murphys Go Back to Woody Guthrie on 'Okemah Rising'
---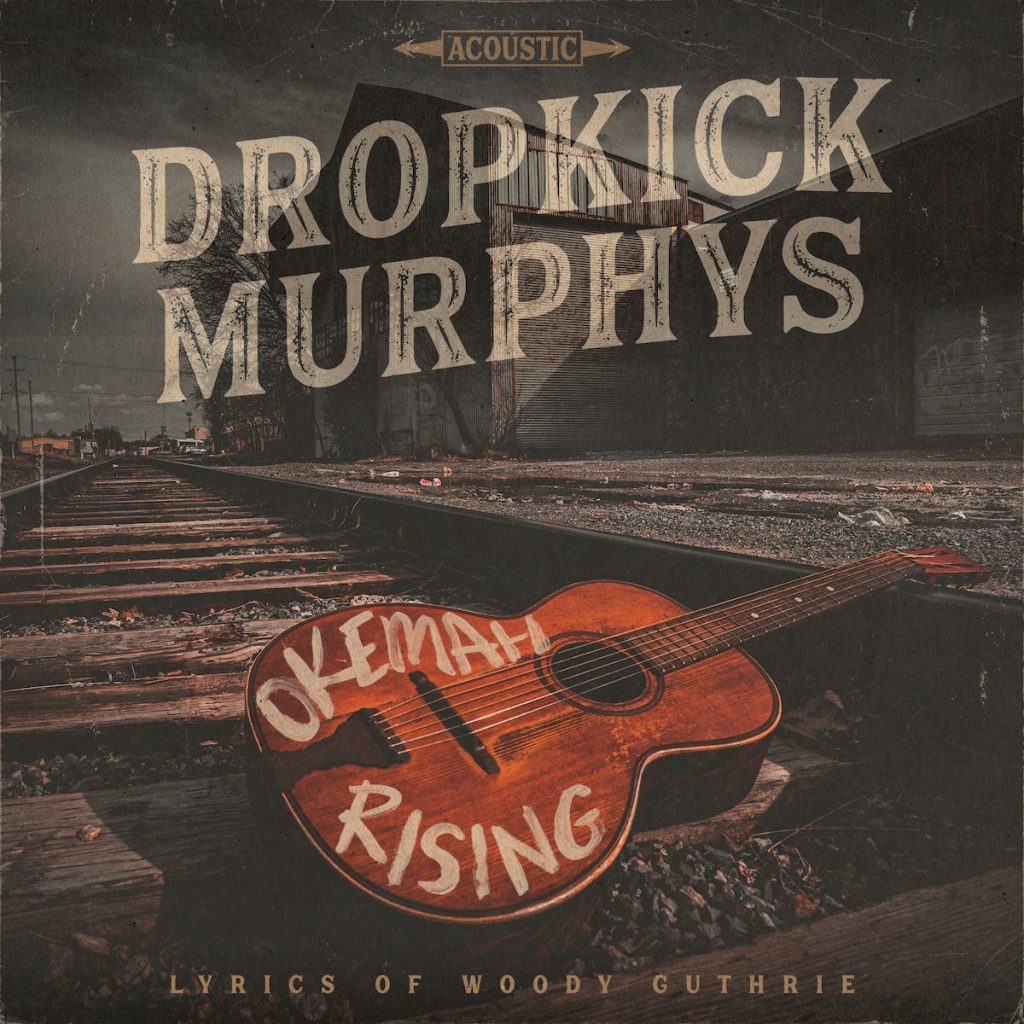 Last September, Dropkick Murphys released the excellent This Machine Still Kills Fascists (ND review), a set of acoustic songs comprised of unreleased and unused Woody Guthrie lyrics. To be blunt, it ruled.
The recording sessions for This Machine Still Kills Fascists yielded more than one album's worth of material, and now the Boston punk mainstays have released a second batch of Guthrie-penned tunes, Okemah Rising. This record shows that sometimes there's no such thing as too much of a good thing: Okemah Rising is a helluva good listen and just as effective as its predecessor.
DKM's rowdy sound (which it maintains, even in acoustic form) and Guthrie's words make for an ideal pairing. The band's longstanding commitment to workers' rights (they were the recent recipients of a lifetime achievement award from the AFL-CIO) and fighting racism and modern-day Nazism affords them the ability to utilize Guthrie's words and legacy without seeming kitschy or like an attempt to pump up their own credibility.
"Gotta Get to Peekskill," featuring the Violent Femmes, is a rousing call to action. It refers to the 1949 Peekskill riots, when an announced concert by iconic singer and social justice advocate Paul Robeson was derailed when the Ku Klux Klan led violent opposition to it, prompting musicians such as Guthrie and Pete Seeger to join Robeson in performance in the town the next week. The song itself captures the intensity of that moment in time and the need to urgently push back against racism when confronted with it.
Solidarity with the working class is a recurring theme in both Guthrie's and Dropkick Murphys' respective bodies of work, and it pops up frequently on Okemah Rising. The up-tempo "I Know How It Feels" is the most effective of these statements, a stand of support and empathy for everyone who has to bust their ass just to barely make ends meet.
Okemah Rising concludes on a red-hot 1-2 punch. Penultimate track "Run Hitler Run," is a bruising warning to the fascist leader and clearly intended as a statement to the current strains of those odious beliefs in current American politics that "we're coming to get you" and "you'll never get away."
Dropkick Murphys lead singer Ken Casey belts out, "Fascist boys think they're double tough, but they just ain't tough enough," then promises to mow them down through song and the power of a more just society. Thematically, the song matches up nicely with the last track on This Machine Still Kills Fascists, the anti-Nazi anthem "Dig a Hole."
A song like "Run Hitler Run" would be the ideal conclusion to Okemah Rising. But Dropkick Murphys offer up something different with an acoustic reinterpretation of "Shipping up to Boston." The Guthrie-penned track is the band's biggest hit and almost certainly their best-known song. Even acoustic, it still slaps and is a raucous good time. Conceptually, it ties together DKM's connection with Guthrie and makes for a fitting conclusion on a strong two-album sequence and tribute.
Dropkick Murphys' Okemah Rising is out May 12 on Dummy Luck Music.
---