ALBUM REVIEW: Dougie Poole Whirls With 'The Rainbow Wheel of Death'
Posted On February 22, 2023
---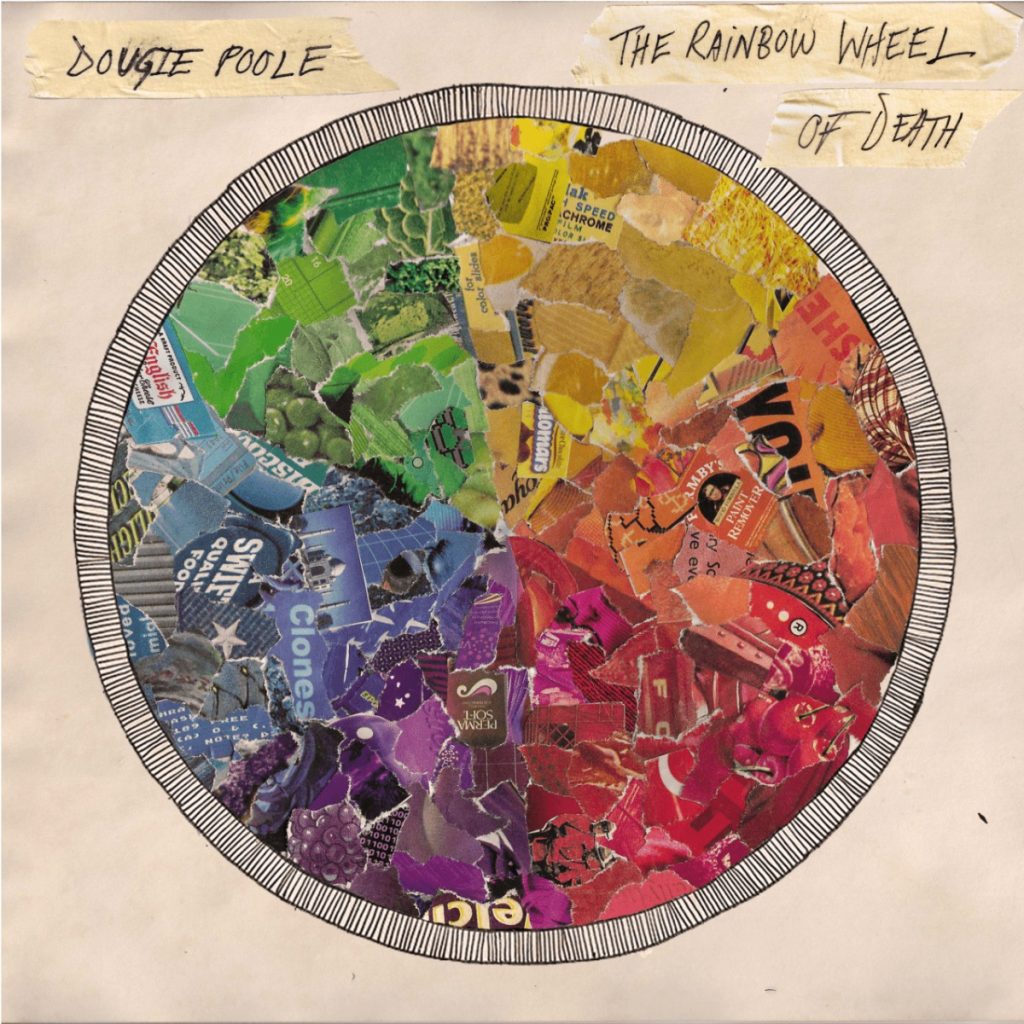 Anyone who has ever sat in front of a computer screen knows it well: that spinning multicolor wheel that seems to imply an infinite period of waiting. Singer-songwriter Dougie Poole has managed to turn this little symbol into the ultimate metaphor for his third album, The Rainbow Wheel of Death. Written amid the world's own period of waiting over the past few years with an unknown endpoint and plenty of time to stare at a screen, Poole's new songs reflect a mortal uncertainty beyond the generational anxieties of his previous output. Sung in that muted, deep tone reminiscent of a '70s stoner-country dude, The Rainbow Wheel of Death is groovy music for these universally melancholy times.
Take a song like "High School Gym," in which Poole, caught in a recurring dream, finds himself surrounded by late loved ones in the titular setting. "There's my old man smoking his Pall Malls / There's my granny in her robe with the frills," he sings, eventually joined by his "old good time friends" with the "powder and the pills," all just looking for another shot at living. Like on the album's title track, Poole's harmonies bob and weave, this time with the addition of a quiet synth that brings an undeniable sense of nostalgia to the proceedings.
His vocals are buffed to their shiniest and smoothest on the dreamy, pastoral folk beauty "Nothing on This Earth Can Make Me Smile" and the wistful "Must Be in Here Somewhere," wherein he searches for some lost correspondence in the internet graveyard. And things take a twangier turn with the album's middle third, including "Worried Man Blues" and "Nickels and Dimes," which channel a honky-tonk spirit to kiss off a bad lover, and "I Lived My Whole Life Last Night," a confrontation with death met with resignation and a swoony arrangement.
Poole is true to his process, keeping in little hints of his time recording with a full band — a laugh here, a count-off there. Though his songs may sometimes grapple with the numbing effects of technology, The Rainbow Wheel of Death was made in a lo-fi collaborative setting at the suburban childhood home of co-producer Katie Von Schleicher. The warmth of their time together is evident across the album, lending a lightness and levity to some otherwise heavy subject matter and further cementing Poole as a comforting voice to turn to when the gloom sets in.
Dougie Poole's The Rainbow Wheel of Death is out Feb. 24 on Wharf Cat Records.
---