ALBUM REVIEW: Cahalen Morrison Takes a Solo Spin on 'Wealth of Sorrow'
Posted On August 10, 2022
---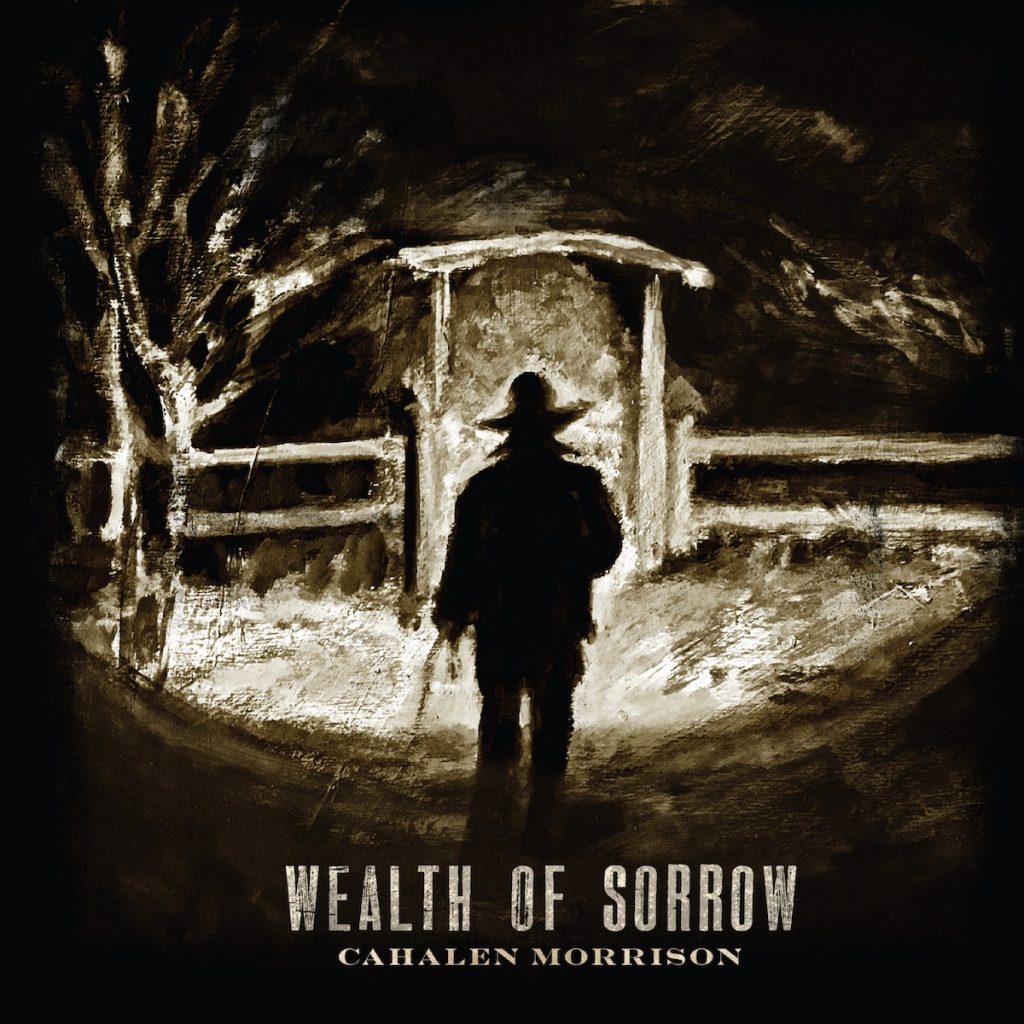 Two years ago at the Royal Festival Hall in London, Cahalen Morrison sang "My Girl's Heavy" as part of the Transatlantic Sessions, the string of shows Jerry Douglas puts together each year featuring roots artists from both sides of the pond. Morrison's voice and banjo totally captivated as he performed the original song.
Though Morrison is acclaimed for his collaborations with Eli West and with Ethan Lawton and the late Jim Miller as part of Western Centuries, that moment at the Transatlantic Sessions made me long for a solo album along those stripped-back lines, and here it is. Wealth of Sorrow is nine originals and one cover that span Morrison's sweep of the western US and Scotland. Raw and poignant, he sings of love, loss, and hard times without ever completely losing a sense of optimism.
These are songs that could have come from a Smithsonian vault, but they were recorded only three years ago in a setting that matches their starkness. Morrison found an abandoned adobe church not far from his childhood home in Jaroso, on the New Mexico and Colorado border. In a dusty old room producer Erick Jaskowiak set up a few mics around Morrison and pressed record. Singing with his guitar, banjo, and mandolin, Morrison's songs scatter emotion just like the desert winds blowing through that old church. They were done in a day and a half.
Almost as hymnal as his surroundings, Morrison opens unaccompanied with "This Whole Broken World." Of equal resonance are his cadences and his bleak picture of broken love. His restless banjo picking gives "The Month of May" a touch of optimism that hard times may not be without love. The title track turns the physical seas, mountains, rivers, and plains into a ballad of deep soul searching, ending with "I'll sing a song so sad and true /  That the stars will line to light my path / And point me toward your dear affection." Sonically as well as lyrically, "Wealth of Sorrow" exudes that same feeling of space.

"My Girl's Heavy" has been a work in progress for years, but has found a home here, echoing the struggle in the lyric "…every time I head on out I come straight back again" — at some point it really is time to move on. Vocally and with his nimble banjo playing, Morrison ebbs and flows in both sound, speed, and feeling, sure in the knowledge of who he is and where he has come from. Such sentiments apply to Morrison's music generally.
Hints of gospel underscore the biblical imagery of "All Over Babylon," as well as the revelation that Noah liked a glass: "When Noah built the ark he'd been waitin' for a while for a rainbow sign / Lookin' to the heavens with a jug of wine."
Morrison spends a lot of time in Scotland, and it shows. "Those Mighty Beasts of Holm" is a tragic tale of soldiers who survived the First World War trenches only to perish on their voyage home to the Outer Hebrides. He sings at a tempo and pitch imbue an eerie foreboding. Against the macabre sight, "The mast it stood one hundred yards, like a branch up toward the sky / The last tree out on Lewis stood, as tall and sad goodbye," the soldiers' mothers watch their sons bodies wash up on the beach. Unaccompanied as he came in, so Morrison leaves the album on the only cover, a version of the traditional "Young Jamie Foyers." With profound sadness Morrison sings this classic song about a young Scottish soldier who was killed in the Peninsula Wars of the early 18th century.
Stark yet brimming with intensity, Wealth of Sorrow is a completely absorbing collection that finds Morrison demonstrating the depth of his talents as a veritable transatlantic storyteller and musician.
Cahalen Morrison's Wealth of Sorrow is out Aug. 12 on Fluff and Gravy Records.
---