ALBUM REVIEW: Black Belt Eagle Scout Layers Realizations on 'The Land, The Water, The Sky'
Posted On February 8, 2023
---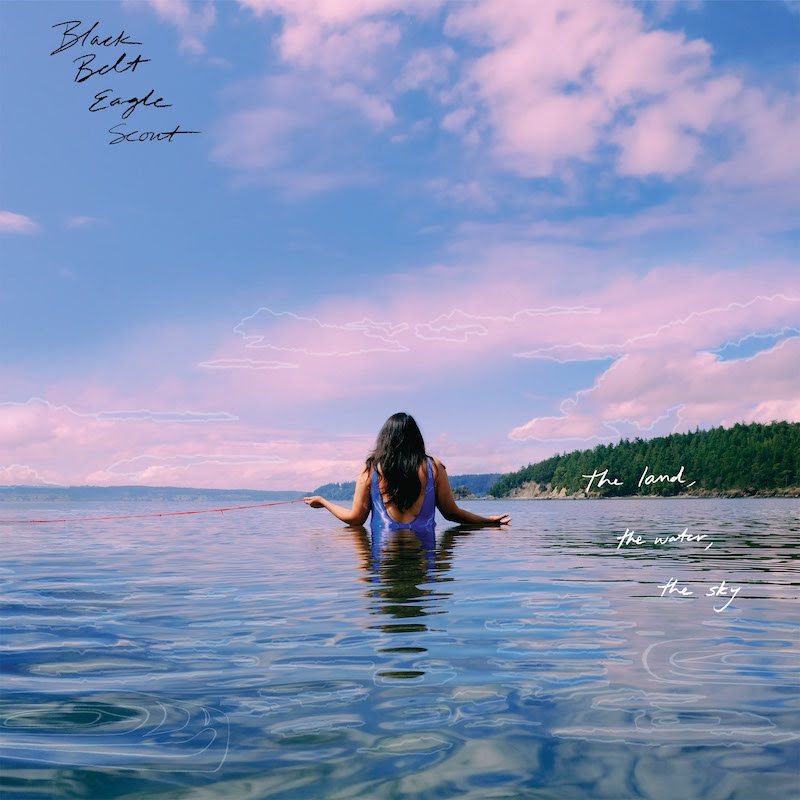 Albums are often referred to as snapshots in time, a cataloging of an artist's life during the years in which a set of songs were written. For Katherine Paul, the better term is "realizations."
Paul has taken to the studio and stage as Black Belt Eagle Scout over the last several years to take further steps into a beautiful and intimate journey of realization. These releases have chronicled her understanding of and comfort with her identity as an Indigenous queer woman with strong indie rock sensibilities. From the softer palette of her debut, Mother of My Children, to the maturation of 2019's At the Party With My Brown Friends (ND review), Paul has built a solid following — both in her home of Portland and beyond — pushing and pulling her way forward through industry norms and identity needs.
Paul's latest album, The Land, The Water, The Sky, is laden with further awareness and appreciation in every direction — of her roots, of her fans, of her gifts. But the myriad emotional layers on The Land also leave space for lamentations and questions and even some appropriate anger.
 The musical centerpiece of this exquisite work is "My Blood Runs Through This Land," a fiery rock-and-roll number that kicks it all off with softly haunting vocal layers, fuzzy fronted riffs, stellar guitar work on the back end, and the sort of sonic emotional build that will end every live show for the next two years.
On the song, Paul processes the connectedness of all things as she sings: "Touching all the rocks I feel / No one can take this moment away / Cause my blood runs through this land." Lest you think these are simple, peaceful ruminations, however, Paul contrasts it with an unfulfilled wish to remain aware and alert to such beauty. "Finally know what you mean when … waking up is so violent / Wanna see the peaceful light," she sings to close the jarring track.
"Understanding" is a short, unsettling number that remains with the listener well past its two-minute run time with lines like, "I know it's wrong to love everyone but myself but sometimes I can't even hold me." "Don't Give Up" holds a sincere spiritual power as Paul sings, "I don't give up / I don't give up anymore" over and over, the healthy posture of someone who has allowed important work to happen in and through them.
What hasn't been mentioned to this point is that Paul handles most of the instrumentation herself. Black Belt Eagle Scout's compositions are truly hers, making each album a grander achievement than what most people might take them for. The growing consciousness that inhabits The Land, The Water, The Sky is another gift for Paul's audience, one whose ripple effect will undoubtedly be further realizations.
Black Belt Eagle Scout's The Land, The Water, The Sky is out Feb. 10 on Saddle Creek.
---