ALBUM REVIEW – Anaïs Mitchell – "Young Man in America"
---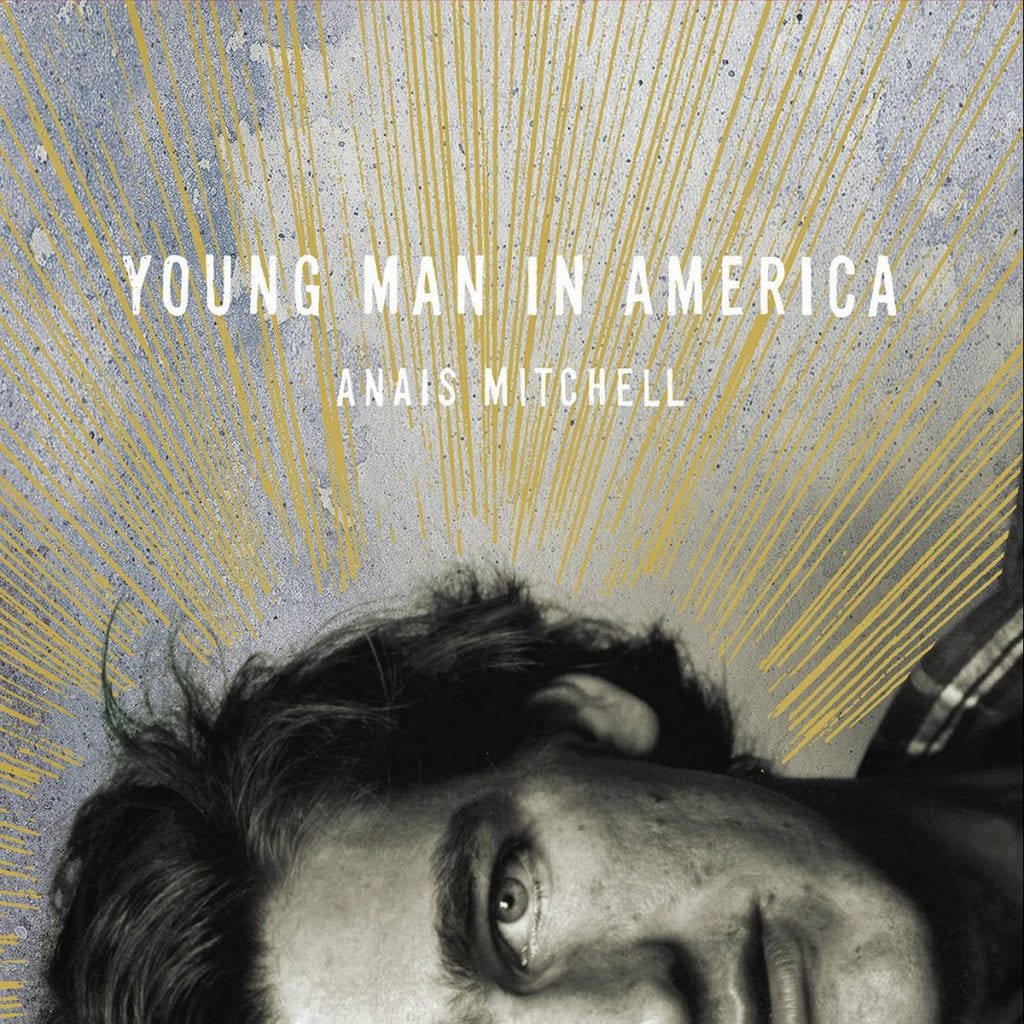 For this young, gifted songwriter of many varied talents, not the least being her astounding grasp of the English language, Anaïs Mitchell has built her reputation on her ability to inhabit songs with full-force and reckoning. Hadestown, her 2010 operatic masterpiece, set the bar so high many in her shoes would have feared following it up. Mitchell, however, takes the challenge and runs with it, crafting Young Man in America, a follow-up so resolutely daring it stands easily on its own merits. The title track alone is among the finest modern folk songs you're going to hear anywhere. From the opening bars, when Mitchell sings of a young man being born forcibly into the world by a mother who "opened her legs and let me out," the listener is hooked. When the song reaches its hair-raising conclusion and the haunting clarinet ushers us into the remainder of the suite, we're fans for life:
Waiting on the kingdom come to meet me in my sin
Waiting to be born again
Mother kiss me cheek and chin
Mmm, a little medicine
Mmm, and then I shed my skin
Mmm, and let me climb back in the bed you made me in
The remainder of the album is intimate and expansive at the same time, letting us waltz into these little worlds she crafts as the words spill from her pen. Whether she's mourning the loss of a relationship through creative pursuits on "Tailor" or contemplating death and sacrifice on "Dying Day," she builds these songs upon a solid folk foundation. And the songs demand to be repeated. And though the album doesn't feature a distinct concept from start to finish like Hadestown, there's a sense that this is the most appropriate next step after what was essentially an album placing the myth of Orpheus and Eurydice into the world of the Great Depression. We're still mired in the Great "Recession," and Young Man in Americaexamines our inability for sons to hold to the ways of their fathers in a modern America where we set out to make our fortune and find the American dream has become a fevered nightmare.
But her characters remain strong in the face of disappointment and loss. We take the role of the main character of the second-person narrative "He Did,"as we wonder what our lives mean when examined through a prism of our family history. "He kept a blue grey eye on you until the day he closed his eyes and left them closed," she sings. "Your daddy didn't leave a will; he left a shovel and a hole to fill and how it feels. How it feels to be a child of his." This is heady lyrical ground to till on any album, but no one's ever accused Mitchell of being timid. No Depression may have called her "girlishly sprite and brimming with innocence," but she shows no fear here, the music being all the better for it.
Even in the face of loss, her characters push toward the future rather than dwelling on the past. "Tailor" is the pinnacle of that aspect of her songwriting. Excited by love, the protagonist sings of changing her career at every whim of her pursuer: "When he said that he liked the clothes I wore I became a tailor." But when love goes sour, she takes up the violin when he said he was leaving and a poet when he said he'd soon forget her face. Is she crazy? Is she worthless because she doesn't have his love? "Now that he's gone away there isn't anyone to say if I'm a diamond or a dime a dozen," she sings surprisingly brightly considering. The fact is she's unanimously the former. Mitchell is fast becoming a national treasure far too few have heard. Young Man in America, coupled with the magnificent Hadestown, should be more than enough to cement her reputation as America's most brilliant young songwriter in any genre.
This review is reprinted with permission from "Hear! Hear!" Music. If you like what you've read here, feel free to visit that site and browse for a few new favorites!
---