ALBUM REVIEW: A Whole World of Music from Béla Fleck and Friends on 'As We Speak'
---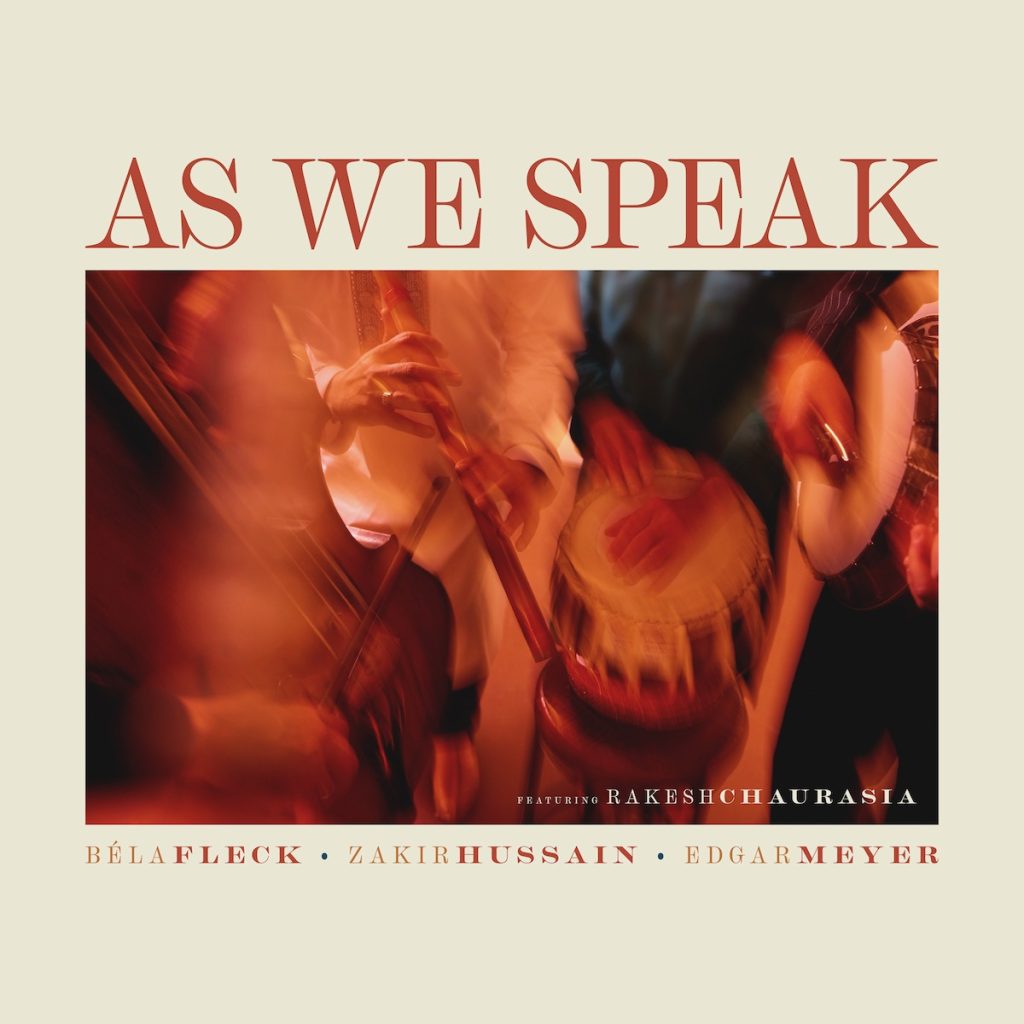 When considering world music as a genre, one can forget that American music is part of the world. Béla Fleck, known for his prowess on the banjo, has never allowed his music to be hemmed in. While he has received acclaim in the bluegrass world, from his days with the Flecktones to now, he has moved freely across musical borders.
Likewise, one of his regular collaborators, double bassist Edgar Meyer, is known as much for his collaborative, cross-genre projects as for his solo classical performances, as evidenced by his Grammys for Best Folk Album for The Goat Rodeo Sessions in 2011 and Not Our First Goat Rodeo in 2020 with Yo-Yo Ma, Chris Thile, and Stuart Duncan.
On May 12, Fleck and Meyer, along with Zakir Hussain and Rakesh Chaurasia, release As We Speak, an ambitious album that blends Indian classical and Western classical music with bluegrass and jazz. World-renowned tabla player Hussain collaborated with Fleck and Meyer in 2006 for the grand opening of Nashville's Schermerhorn Symphony Center. Indian flautist and composer Chaurasia joined the three on the album, as well a for a performance at the home of the Nashville symphony this spring.
All the tracks on the album are instrumental, except for the final "Beasts in the Garden," which features what might be considered a scat run, giving the song a global jazz feel consistent with the entire album.
While the tracks lean more toward Indian music than bluegrass, Fleck's banjo is a constant throughout the album. One of the songs is called "Rickety Karma," suggesting perhaps that what goes around comes around, since the banjo, now considered an American instrument, had its origins on the African continent. Each tune also blends influences of jazz improvisation and bluegrass, as musicians trade off breaks then come back together to jam.
The album's first track, "Motion," opens with Meyer's somber bass, joined by flute and light drumming, building in intensity before the subtle introduction of the banjo.
Without lyrics to establish theme, listeners may enjoy the challenge of deciphering connections between titles and music. "Owl's Misfortune," the first single released from the project, with a balance of banjo and flute, establishes a haunting nocturnal mood, with the percussion-heavy interplay of instruments evoking images of conflict.
With none of the tracks within the average length for radio play and "The B Tune" running over nine minutes long, As We Speak is best suited for listening in its entirety, not as background sound but with attention to the range of moods evoked by this blend of all the world's best sounds.
As We Speak, by Béla Fleck, Zakir Hussain, and Edgar Meyer with Rakesh Chaurasia, is out May 12 via Thirty Tigers.
---