ALBUM REVIEW: A Tribute to Honky-Tonk Pianist Moon Mullican
Posted On January 27, 2023
---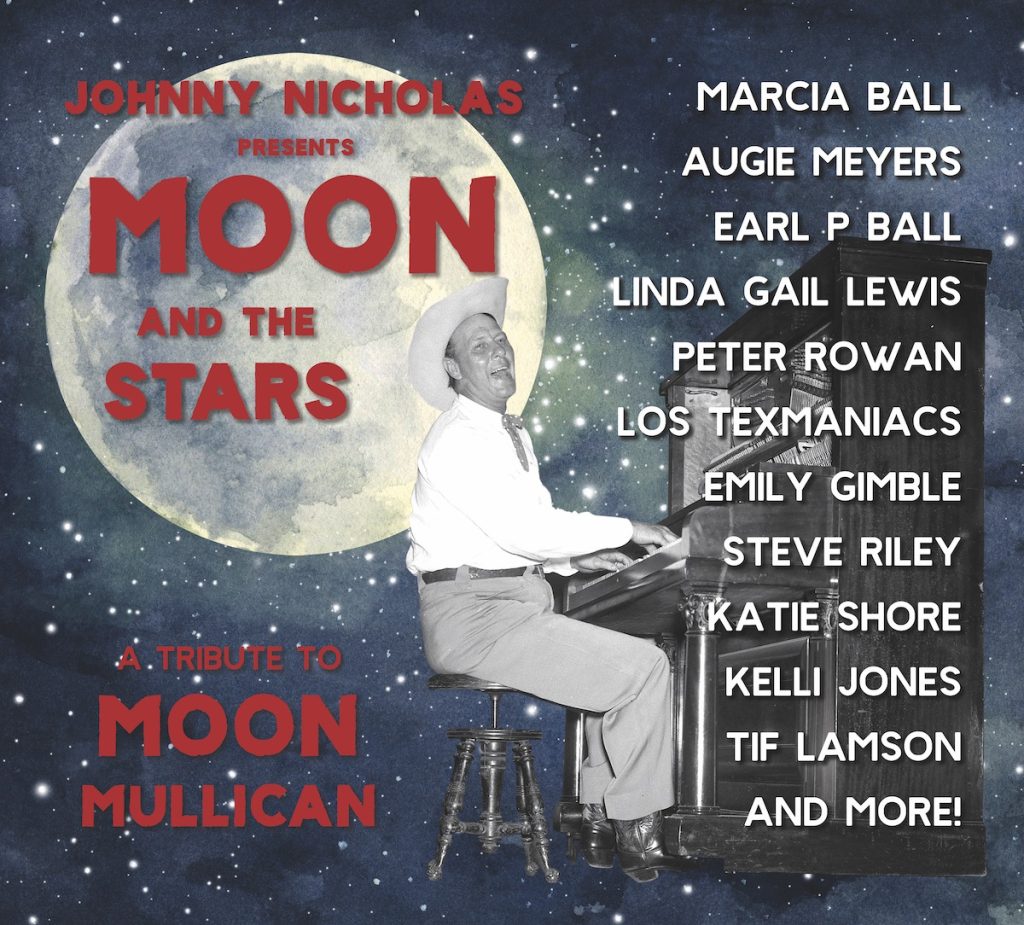 Dubbed king of the honky-tonk piano players, Aubrey "Moon" Mullican's output was an eclectic mix of styles and genres. The rowdy pianist called his sound East Texas rock, but it's a bit more complicated than that, a jumbled-up collection encompassing Western swing, rockabilly, blues, big band, country and western, and whatever else wandered across his path.
Mullican's sound and style influenced generations of rockers and hellraisers, including Jerry Lee Lewis and Chuck Berry, and should have earned him a co-writing credit for Hank Williams' 1952 hit "Jambalaya," but a conflicting record contract made Mullican take a cut under the table for the uncredited assist on the song. Nevertheless, Mullican's fingerprints were all over the 1950s music charts in all categories with his originals and spirited covers. Mullican kept performing his hits on the road until his death at a gig in 1967.
For Johnny Nicholas Presents Moon and the Stars: A Tribute to Moon Mullican, co-producers Joel Savoy (Pine Leaf Boys founder, Savoy Family Cajun Band) and Johnny Nicholas (Big Walter Horton, Asleep at the Wheel) have put together a raucous double album set (on one CD) with an eye-popping roster of window-rattling rockers, bluesers, Cajuns, and honky-tonkers. Nicholas became a fan of Mullican's work in the early 1970s through referrals from Commander Cody and Asleep at the Wheel members he shared gigs with. Reaching out to artist friends for a Mullican tribute, he found a cadre of fans ready to re-rock the originals that had become a set-list staple for roots rockers.
Sounding tough as Wanda Jackson, Jerry Lee Lewis' sister Linda Gail Lewis lays down the law on "I'll Sail My Ship Alone" backed by producer Nicholas' twangy guitar. Jerry Lee cut a laid back (for him) country-style version in 1958, and Linda Gail cut another on 2015's Heartbreak Highway, but her latest take, a mix of Western swing, rockabilly, and big band, is more raw and rootsy.
The Lewis family is well-represented once again by Earl P. Ball's spot-on Jerry Lee impersonation on vocals and piano on Mullican's "Good Deal Lucille."
Everywhich way you turn here, good stuff jumps out and grabs you. Steve Riley lends his rockin' Cajun accordion licks to "Seven Nights to Rock," barreling along like a runaway Cajun freight train with Nicholas on piano and Savoy on guitar taking on the 1956 Mullican rock chestnut, which has been covered by notables including Bruce Springsteen, Brian Setzer, Bryan Adams, and Nick Lowe.
Marcia Ball contributes vocals and piano to "Good Times Gonna Roll Again," a mellow blend of Western swing and boogie-woogie with a Second-Line undercurrent pulling at your toes.
Tex/Mex pioneer Augie Meyers (Sir Douglas Quintet, Texas Tornadoes) lays down a smooth vocal on the twitchy jump blues vehicle "Pipeliner Blues" with some boogie-woogie and swing stirred in.
Moon and the Stars is a comprehensive overview of Mullican's catalog, a deep well you'll want to drop your bucket in over and over, dredging up pails full of memories to rock your world.
Johnny Nicholas Presents Moon and the Stars: A Tribute to Moon Mullican is out Jan. 27 on Valcour Records.
---