ALBUM REVIEW: A Clear-Eyed Look at 'Glory Days' on Drive-by Truckers' 'Welcome 2 Club XIII'
---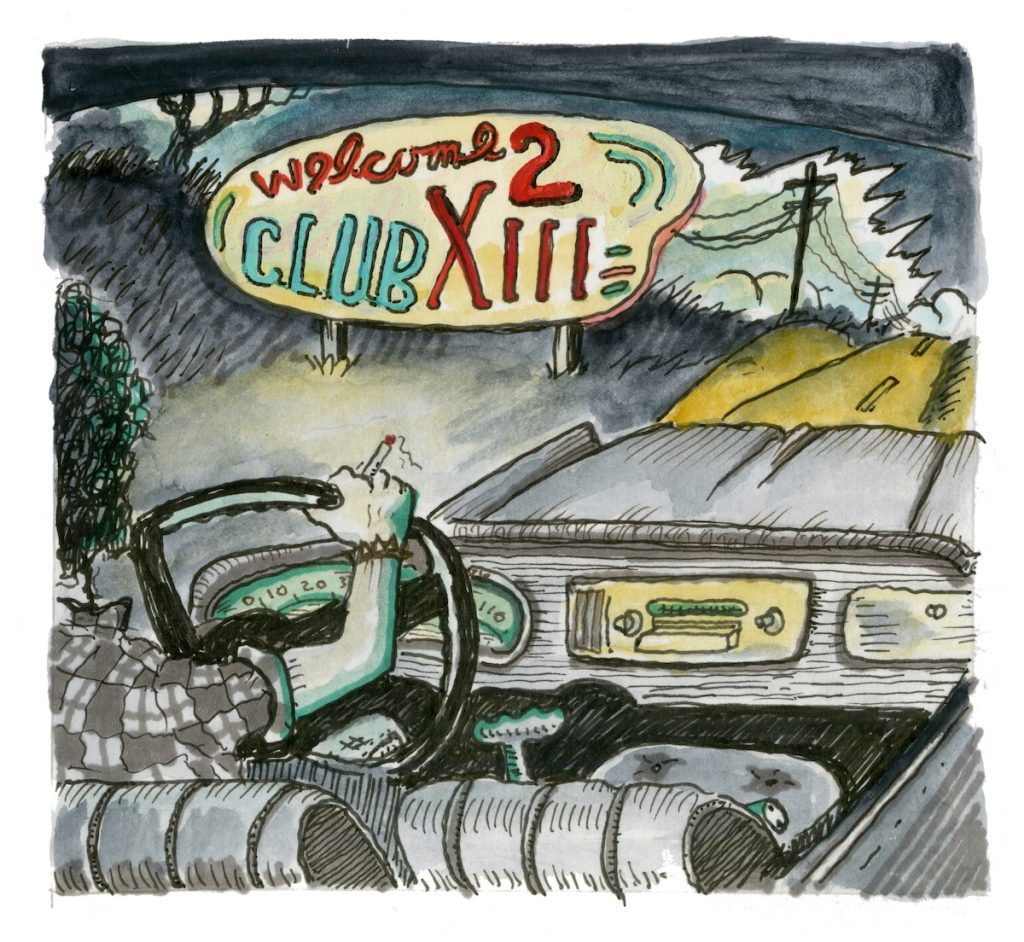 Nostalgia roughly translates from Greek to mean "suffering to return," a deep and intense yearning for what was.
Welcome 2 Club XIII isn't a nostalgic record.
With Welcome 2 Club XIII, The Drive-by Truckers — Patterson Hood (guitar, vocals), Mike Cooley (guitar, vocals), Brad Morgan (drums), Jay Gonzalez (guitar, keys, vocals), and Matt Patton (bass, vocals) — shift their attentions from the explicit political zeitgeist (as on their last three records) and instead explore the politics of being human in America (more similarly to their earlier work). Throughout the album, they explore memory's textures, its sharpest edges and fuzziest corners, and what it means to exist in this world we inhabit.
The title track acts as a mission statement for the album, its wry and cheeky celebrations of the past acting as anthems and admissions, especially with the outro, "Our glory days did kinda suck." Hood celebrates the unique and sordid promises of dives all over the world: penny beers, concrete floors, dodgy patrons, and the hazy promise of rock-and-roll fame. Like the sticky floors of Club XIII, the song is humid and tender in the most bittersweet of ways.
The album took shape unexpectedly in three days last summer, as the band got together to rehearse for their first post-lockdown shows. They demoed some ideas, and suddenly they had an album. The Truckers cut most of the songs in one or two takes, lending the looseness of their live shows to the record. Margo Price provides backing vocals to "Forged in Hell and Heaven Sent" (exploring what it means to meet an old friend or lover after time has passed), while Schaefer Llana adds her voice to "The Driver" and "Wilder Days." Additionally, Mike Mills of R.E.M. sings with Cooley on "Maria's Awful Disclosures," a song that fits more meaning and depth into four verses and a twice-repeated chorus than most novels as it subtly excoriates anti-immigration agitprop and QAnon.
The album's masterpiece, though, is "The Driver," an expansive rock-and-roll song that moves the needle on what the genre can be and do. It is the best first song on any Truckers album and an easy candidate for Hood's greatest. It thematically alludes to or expands others from their catalog — such as "Angels and Fuselage" and "Zip City" — while still offering incisive commentary. Driving is more than driving with lines like "check your blind spots and signal your intents" and "I saw a group of Klansmen in their robes / I circled back but they had vanished like rats." At the same time, Hood slips into introspection about the pains of aging, the clarifying powers of aloneness, and the sharper edge of loneliness. To its core, "The Driver" is a song about memory, time, and how life's ripples impact the lives we lead.
Welcome 2 Club XIII captures the beautiful weariness of having lived, best rendered in "Wilder Days" when Hood sings in mournful celebration, "there's no comfort in survival / but it's the best option that I've found."
---