Aaron Lee Tasjan's Velvet Country Canvas
Posted On August 29, 2018
---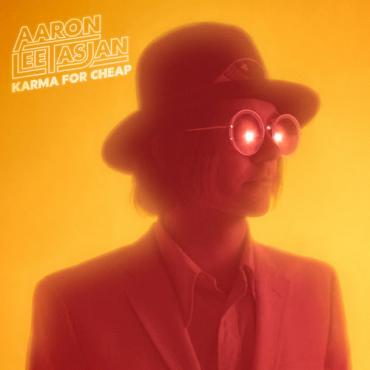 In the increasingly genre-less music scene of East Nashville, Aaron Lee Tasjan stands out. He may be one of the clearest examples of an artist undeterred by the outdated confines of country music, rock and roll, or pop. He has both the charisma, stage presence, and swagger of a tried and true rock star and startling emotional depth as a songwriter. His latest release, Karma For Cheap, is a sparkling collection of songs that call to mind classic rock icons while playing with a shiny, more pop-centric version of Americana. Each one is masterfully laid out and arranged, with all the right pieces in all the right places, from a smooth background vocal run to a lone-west guitar lick.
Karma For Cheap leans into its grittier, frayed edges and the shift suits Tasjan. He tries a bit more rasp on for size as his voice goes less Nilsson and more Petty, with an added heavy dose of bravado where it counts. This comes across on the bust-out-of-the-gate album opener, "If Not Now When," and on the piano pounder "The Rest is Yet To Come," both stars of Karma. We also get a taste of his rejection of genre on the album's sole ballad, "Dream Dreamer." It's a trippy, beautiful take on "Dream a Little Dream of Me" – not a cover, but Tasjan's heady lullaby vision, which brings us up into the clouds, floating along with him.
Tasjan hasn't completely abandoned his twang, though. On "Strange Shadows" he paints a western scene on a velvet canvas – it's country glam and one of Karma's gems. We hear Tasjan channeling the Beatles all over Karma, but especially on the euphoric, jumpy "Set You Free," which is one of the biggest moments on the album. Tasjan can pull off these explosive "wows" with ease, and it's a thrill to hear him do it.
Tasjan showed a particular knack for crafting an infectious melody on 2016's Silver Tears, and with Karma For Cheap he pushes himself to the next level. A song like "Heart Slows Down" has the kind of earworm chorus that sets up shop in your brain and never vacates. But don't worry, you'll be better off moving through life with the loving embrace of its message and uplifting melody in your head. Across Karma, and particularly on this track, Tasjan's woozy vocals and pulsating harmonies work their way into your chest and somehow make your heart beat just a little louder.
---