A Welcome Return to Jimi Hendrix's Electric Ladyland & More New Releases
Posted On November 17, 2018
---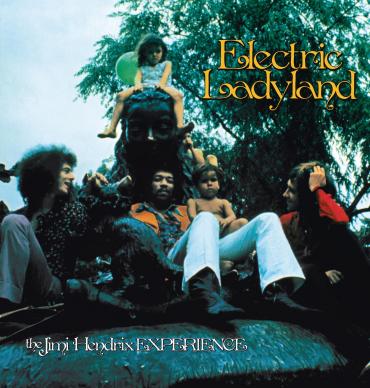 Jimi Hendrix rode a rocket to international fame with his first two albums, the Chas Chandler–produced Are You Experienced? and Axis: Bold as Love, which appeared over a mere seven-month span in 1967. Both found him bubbling over with innovative musical ideas, but Hendrix had even more ambitious plans for album number three, on which he labored for 13 months. Called Electric Ladyland, it would wind up being his first double album, his first self-produced record, and his first chart-topper. It would also prove to be the last studio record he would release prior to his death at age 27 in 1970.
Hendrix's guitar work is magnificent throughout the album, which came out in October 1968, and so are his vocals, which can change in a heartbeat from gritty and tough to a sweet Curtis Mayfield-like falsetto. The compositions showcase a dazzling array of influences and employ an equally dazzling assortment of instruments: everything from kazoo and harpsichord (both played by Hendrix himself) to congas, tenor sax, and flute. In addition to bassist Noel Redding and percussionist Mitch Mitchell, the album features such luminous guests as Jefferson Airplane and Hot Tuna's Jack Casady; Traffic's Stevie WInwood, Dave Mason, and Chris Wood; and the Rolling Stones' Brian Jones. Among Hendrix's contemporaries, perhaps only Love's Arthur Lee (who also led an integrated band) drew on such diverse sources—from rock and roll to blues, from jazz and folk to psychedelia.
The 16-track, 76-minute album is loaded with highlights, ranging from the psychedelic soul of "Have You Ever Been (to Electric Ladyland)" and the blazing rock of "Crosstown Traffic" to the funky, sax-spiced "Rainy Day, Dream Away," and the spacey, nearly 14-minute jam called "1983…(A Merman I Should Turn to Be)." All the songs are Hendrix originals except for Earl King's "Come On (Let the Good Times Roll)," Noel Redding's "Little Miss Strange," and Bob Dylan's "All Along the Watchtower," which became Hendrix's biggest hit single.
As Dylan told an interviewer in 1995, hearing that recording for the first time "overwhelmed me, really. He had such talent—he could find things inside a song and vigorously develop them. He found things that other people wouldn't think of finding in there. He probably improved upon it by the spaces he was using. I took license with the song from his version, actually, and continue to do it to this day."
Half a century after its release, Electric Ladyland is the subject of a fittingly major 50th anniversary limited edition that includes Hendrix's preferred cover art (a Linda McCartney photo that the record company rejected in 1968) and an oversized 48-page hardcover book with extensive notes and photos and the artist's handwritten lyrics. The first of its three CDs delivers a remaster of the original LP; a second includes fascinating early versions of some songs that made the album, such as "1983…(A Merman I Should Turn to Be)" and "Gypsy Eyes," plus some songs that didn't, many with different personnel. "Angel Caterina," for example, features drummer Buddy Miles, while a reading of "Little Miss Strange" has Miles as well as Stephen Stills on bass. One take of "Long Hot Summer Night" finds Hendrix accompanied only by Al Kooper on piano.
A third CD preserves a previously unavailable Hollywood Bowl concert that took place only a month before Electric Ladyland's release. As the liner notes concede, this is a two-track recording with some technical limitations; but the performances are well worth hearing. The set includes high-powered renditions of earlier triumphs like "Are You Experienced?," "Fire," "Hey Joe," "Purple Haze," and "I Don't Live Today," plus an instrumental cover of Cream's "Sunshine of Your Love" and Hendrix's amazingly twisted interpretation of "The Star Spangled Banner."
Supplementing the CDs is a Blu-ray that contains the documentary At Last…The Beginning: The Making of Electric Ladyland, which aired in abbreviated format in 1997 and has been expanded for this release by nearly 40 minutes. The film includes interviews with Mitchell, Redding, Chandler, Winwood, Buddy Miles, and others; footage from the sessions; and all sorts of trivia. (Sample: Hendrix was upset to discover that an initial test pressing of the album was mistakenly labeled Electric Landlady.)
All of the above is praiseworthy, but the biggest treat in this entire package lies elsewhere on the Blu-ray: a spectacular 5.1 DTS-HD audio mix of the original album. "I think if Jimi had lived to hear 5.1 surround sound he would have totally embraced the sonic and spatial possibilities," says recording engineer Eddie Kramer. Be that as it may, Electric Ladyland never sounded so good as it does on this disc.
BRIEFLY NOTED
Various artists, Confessin' the Blues. The Rolling Stones owe a huge debt to classic blues artists, and they will help to pay off some of it in cash with this two-CD, 42-track anthology—a Stones-curated collection of essential blues that will generate contributions to Willie Dixon's Blues Heaven Foundation. The set—which opens, appropriately enough, with Muddy Waters's "Rollin' Stone"—includes quite a few tracks that the Stones have recorded, among them Jay McShann and Walter Brown's title cut, Willie Dixon's "Little Red Rooster" and "I Just Want to Make Love to You" (performed here by Howlin' Wolf and Muddy Waters, respectively), Robert Johnson's "Love In Vain," Chuck Berry's "Little Queenie" and "Carol," Bo Diddley's "Mona," Reverend Robert Wilkins's "The Prodigal Son," and Muddy Waters's "Mannish Boy." Also represented in the collection—which includes extensive liner notes and cover art by Stones guitarist Ronnie Wood—are such other giants of the genre as Little Walter, Elmore James, B.B. King, Jimmy Reed, John Lee Hooker, Slim Harpo, Big Bill Broonzy, and Otis Rush. (And kudos to the Stones for additionally featuring lesser-known but noteworthy artists like Boy Blue, Billy Boy Arnold, and Amos Milburn.) If you're looking for a crash course in the blues, you've come to the right place.
The Brother Brothers, Some People I Know. This debut from identical twins Adam and David Moss reminds me a bit of the Everly Brothers, a bit more of early Simon and Garfunkel, and a lot of the undeservedly lesser-known Aztec Two-Step. Instrumentation—guitars, strings, and percussion—is effectively but sparingly employed on the set, which keeps the pair's beautiful harmonizing front and center. Solid originals dominate the lilting 12-song program, but there are also a few covers, such as Peter Rowan's "Angel Island."
Procol Harum, In Concert with the Edmonton Symphony Orchestra. First released in 1972, Procol Harum's live fifth album went platinum and was the group's bestselling LP. It was also their first record without guitarist Robin Trower and organist Matthew Fisher. There may have been some nervousness about the revamped lineup, since the departed members played key roles on the earlier albums, but there shouldn't have been because In Concert is first-rate. It includes a song called "Whaling Stories," plus "Conquistador" (a hit single in the live version) from the group's eponymous debut; the 19-minute "In Held Twas in I," from Shine On Brightly, the second album; and "All This and More" and the title track from A Salty Dog, the third LP. All feature new arrangements, plus excellent orchestral parts written by the group's Gary Brooker. This fine reissue—which comes with a 28-page booklet with illuminating notes—delivers a remaster of the original record, plus five live bonuses: "Luskus Delph," a single B side; and rehearsal versions of that number as well as "A Salty Dog," "Simple Sister," and "Shine On Brightly." (The rehearsals of "A Salty Dog" and "Luskus Delph" are previously unreleased).
Glen Campbell, Sings for the King. In the mid sixties, Glen Campbell was recruited to record songs for Elvis Presley. The idea was for the performances to be heard only by the King, who could evaluate the tunes and decide whether he wanted to record them himself. (In many cases, he did.) Recently discovered in a storage space and issued here for the first time, these 18 tracks could easily be mistaken for Presley's work, thanks to Campbell's ability to mimic his vocal style. The varied program is reminiscent of Presley, too: as on Elvis's LPs, you'll find catchy rock ("I Got Love"), compelling ballads ("I'll Never Know," "Restless," "There's So Much World to See"), and fine gospel ("We Call on Him," on which Presley himself duets), plus a handful of throwaways ("Do the Clam").
___________
Jeff Burger's website, byjeffburger.com, contains more than four decades' worth of music reviews and commentary. His books include the recently published Dylan on Dylan: Interviews and Encounters as well as Lennon on Lennon: Conversations with John Lennon, Leonard Cohen on Leonard Cohen: Interviews and Encounters, and Springsteen on Springsteen: Interviews, Speeches, and Encounters.
---