A Unique Collaboration
Posted On January 9, 2018
---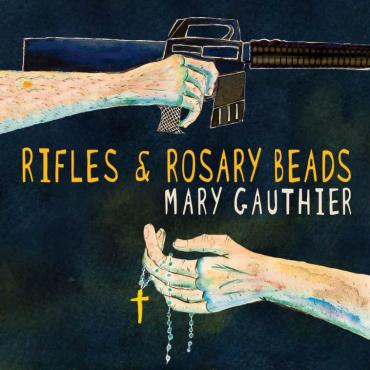 Mary Gauthier releases her tenth album Rifles & Rosary Beads on January 26. Again she delves deep into the human condition with profound emotion but this time she draws not from her own experience but other people's. The album is a collection of songs Gauthier co-wrote with wounded military veterans in the SongwritingWith: Soldiers programme. These are retreats set up by Darden Smith where around a dozen veterans put their experience of war and its effects into song with the help of the participating musicians. It was Darrell Scott who got Gauthier to join the programme, something she admitted was a daunting prospect. However, the process of creating songs and music out of their trauma has had a positive impact on the veterans' long process of rehabilitation.
Rifles & Rosary Beads is a masterpiece of channelling emotion. Mary Gauthier and her co-writers pull no punches and the result is humbling listening. Together they have created a lasting record of the horrors and personal consequences of war. But through her art she shows there is a way through such terror.
The songs are based not just on what happened on the battlefield but pay particular attention to the long-lasting effects of war, physical and psychological, on men and women and on both the veterans themselves and their families. Yet there is no sentimentality here, pathos yes, and while the stories are harrowing, (it's worth noting that around 22 veterans commit suicide every day), there is some hope. The therapeutic effect of SongwritingWith: Soldiers as demonstrated by this album is one ray of that hope.
The record starts with the powerful 'Soldiering On', a song that builds in intensity both lyrically and musically. The bonds between soldiers who have fought together are tighter than those with their relatives back home, "the closest family I have loved". It also warns of a theme that runs throughout, that of the permanent impact of warfare, "What saves you in battle can kill you back home".
'The War After the War' makes very clear that the effect of battle doesn't just affect those who fought. Their lives have changed forever but so have the lives of those back home. "Who's going to care for the ones who care for the ones who went to war/Landmines in the living room, eggshells on the floor?". A lamenting fiddle and pedal steel are the perfect accompaniment.
'Bullet Holes in the Sky' made the deepest impact on me. Its spare piano and acoustic guitar lines accentuate the distance here between the returning soldiers and those lining the streets, "They thank me for my service/And wave their little flags/They genuflect on Sundays/And yes, they'd send us back".
In 'Brothers' Gauthier very emphatically sets out that despite the bond among soldiers, vast differences remain between men and women. "I'd die for you/Don't that make me a brother too?" At a suitably funereal pace, the imagery is stark as the song pans out across the sheer devastation of war in all its facets; places, people, minds. There are two songs that almost contradict each other. 'Iraq' describes the horror of a female mechanic brutalised by her so-called comrades in arms whereas 'Stronger Together' says just that; despite everything veterans do have to stick together.
On his BBC radio show Bob Harris played 'Bullet Holes in the Sky'. He first heard this song on Veterans Day in Nashville when Mary Gauthier played it at an impromptu songwriters' gathering. It reduced him to tears. While nothing beats a live rendition, this and the other ten songs that make up Rifles & Rosary Beads had exactly the same effect on me. But do listen to it. These are experiences that we who haven't been there cannot posibly comprehend and painful though it may be to listen, these are eleven poems set to some of the most haunting music that will stay with you for a very long time.
---