A Songwriter Who Can 'Wreck You' with Words
---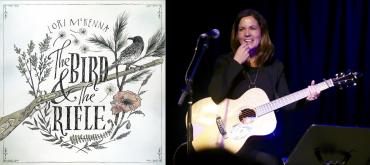 Lori McKenna started her "Wreck You" tour to promote her new CD a week before it was released, and was surprised to learn she could sell copies of "The Bird & The Rifle" before it becomes available to the general public.
"I didn't know you could do that," she said during her show at Jammin' Java just outside Washington, D.C.
Such is the state of the music business, where release dates have been moved from Tuesdays to Fridays and smaller labels (such as McKenna's) operate much differently than the now shrunken behemoths. Today, however, you and anyone else with an iTunes account can purchase "The Bird & The Rifle," the latest in a series of gems from this mother of five who lives with her husband of 28 years outside Boston.
In a just world, McKenna's music would get the same level of promotion — and subsequent sales — as the increasing number of artists who cover her richly detailed songs. One of those songs, "Humble and Kind," topped the charts when Tim McGraw — whose wife, Faith Hill, helped McKenna get her big break as a songwriter in 2005 — released it last year.
McGraw's mainstream sincerity (and video with connections to Oprah Winfrey) made the song a hit, but McKenna reclaims it on her new album. At the Jammin' Java concert, she talked about writing the song at her dining room table between dropping off and picking up her kids from school. When you hear it on the CD, you can almost see her writing in longhand.
Hold the door say please say thank you
Don't steal, don't cheat, and don't lie
I know you got mountains to climb but
Always stay humble and kind
When the dreams you're dreamin' come to you
When the work you put in is realized
Let yourself feel the pride but
Always stay humble and kind
Don't expect a free ride from no one
Don't hold a grudge or a chip and here's why
Bitterness keeps you from flyin'
Always stay humble and kind
As a longtime fan — I have all 10 of McKenna's albums — I've always appreciated her eye for life's little details and ability to capture with grace and empathy the struggles of people just trying to get by. In concert, she almost apologizes for writing so many sad songs — the first single on the new CD is titled "Wreck You" — and while it's true that none of her work qualifies as summer beach music, what she manages to capture is much more real instead.
"The Bird & The Rifle," however, has a new wrinkle: Grammy-winning producer Dave Cobb, who has worked wonders for Jason Isbell, Sturgill Simpson and Chris Stapleton. Cobb and a host of Nashville's top musicians compliment McKenna's words in a way I haven't heard before. It is, without question, the best sounding record she has made.
So, if you can, try to catch McKenna live sometime this summer. And stick around for the encore, where she performs "Girl Crush," a song co-written with Liz Rose and Hillary Lindsey and recorded by Little Big Town. That one won McKenna a Grammy, and long overdue recognition that her words speak volumes.
Glenn Cook (glenncook117@gmail.com) is a writer and photographer who lives in Northern Virginia. For a sample of his photos from the concert, go to http://bit.ly/2aDogHb, or visit his website at http://glenncook.virb.com/performances
---