A Massive Box Set from a Country Music Giant
Posted On November 15, 2018
---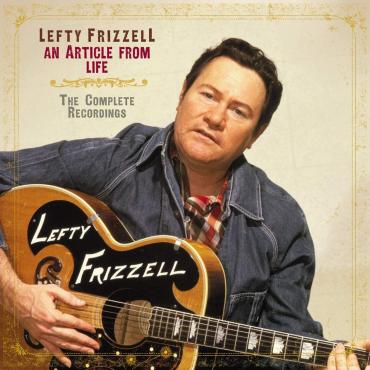 Lefty Frizzell arguably played almost as big a role in the development of modern country music as his friend Hank Williams. Nevertheless, he didn't make it into the Country Music Hall of Fame until 1982 and, for reasons I've never quite figured out, he is not as well known or loved by the public today as, say, Williams or George Jones.
He continues to be revered by his fellow musicians, however. "The soul of Hank Williams, the appeal of Johnny Cash, and the charisma of Elvis Presley. He had it all," said the late, great Merle Haggard, one of Frizzell's biggest fans. "The impact he had on country music, and on me, is not even measurable." Indeed, Frizzell had a huge influence on many artists, including, in addition to Haggard, Randy Travis, John Anderson, and Willie Nelson. (Nelson recorded a whole album called To Lefty from Willie). Roy Orbison paid homage to him by choosing the name Lefty Wilbury for himself when he joined the Traveling Wilburys. George Jones looked up to Frizzell and Williams so much that his producer reportedly admonished him for trying to sound too much like them.
Frizzell, who was himself influenced by Jimmie Rodgers, wrote many excellent songs. But what most set him apart was his unique and emotional vocal style—the way he used his tenor to stretch out syllables, convey intimacy, and blend honky-tonk with an approach that could appeal to a wider audience.
In his day, he certainly got that audience. Both sides of his very first single—"If You've Got the Money (I've Got the Time) b/w "I Love You a Thousand Ways"—topped country charts in 1950. (The latter song was one of many that he wrote to his wife in late 1947, while serving six months in jail for statutory rape.) And by the end of 1953, he had hit the top 10 no fewer than 15 times, with numbers like "Always Late (With Your Kisses)" and "I Want to Be with You Always."
Frizzell's career went into decline by the mid 50s, though he did score hits near the end of the decade ("Cigarettes and Coffee Blues" and his version of "Long Black Veil"); had another No. 1 in 1962 ("Saginaw Michigan"); and continued to enjoy minor hits until shortly before his death at age 47 in 1975. You'll find all of these songs and a whole lot more—to put it mildly—on the Bear Family label's new An Article from Life: The Complete Recordings.
I've been suspicious of music collections touted as "complete" ever since I shelled out big bucks for the 12-CD The Complete Hank Williams, only to find that I still needed to purchase the two-disc, 49-track Health and Happiness Shows and, later, the three-disc, 54-track The Unreleased Recordings. And I initially thought this Frizzell package from Germany's Bear Family label might also fall short of its title's promise, since its dozen music CDs looked similar at first glance to ones in a box that came out in 1999 under the title Life's Like Poetry. That set was massive, but as some fans noticed, it failed to include dozens of tracks from Frizzell's archives.
That's not the case, however, with this anthology, which is packaged as artfully as an Apple computer and appears to contain every last note that Frizzell ever recorded. Its dozen jam-packed music CDs, which offer nearly 15 hours of playing time, feature more than 350 newly remastered tracks, including all of Frizzell's approximately three dozen hits; every 45, 78, and LP track; and every previously unissued demo, session, and non-session recording, among them many newly discovered tracks.
The release also incorporates a colorful eight-CD, 17-chapter audio biography of Frizzell by his brother, country singer David Frizzell, and an LP-sized, 264-page hardcover book with a wealth of photos, extensive liner notes, a complete discography, and more. I'm tempted to say that this collection contains everything but the kitchen sink, but I'm not finished exploring and it's possible the sink may be in there somewhere, too.
The package isn't exactly cheap, but for anyone trying to build a collection of country's most important recordings, Frizzell's work is essential. And to paraphrase the title of his first hit, if you've got the money, An Article from Life has got the music.
BRIEFLY NOTED
Velvet Underground, New York Rehearsal 1966. This is truly embryonic stuff—a Velvets equivalent of hearing the Beatles at the Cavern Club in Liverpool: 13 of these tracks come from a rehearsal sometime in 1966; the rest have been culled from a radio broadcast of a gig in February of that year. That's more than a year before the release of the group's debut LP. The program includes several songs that surfaced on that highly influential album: "Venus in Furs," "European Son," and two versions each of "Heroin" and "There She Goes Again." Also here are the subsequently released "I'll Be Your Mirror" and covers of the Beatles' "Day Tripper" and Bob Dylan's "I'll Keep It with Mine" that bear little resemblance to the originals. The tracks are mostly instrumental and sound like the rehearsals that they are: there are lots of false starts, sudden stops, and meandering jams. The audio quality is pretty rudimentary, and it's clear that we're scraping the bottom of the barrel of Velvets material here. Still, because of the band's importance, this is historic stuff; and where Velvets are concerned, even the bottom of the barrel can be kind of interesting.
Martha Spencer, Martha Spencer. It's fitting that this eponymous debut album opens with a Spencer original called "Blue Ridge Mountain Lullaby," because those mountains are where this country roots music will transport you. Spencer—backed here by a band that includes fiddle, banjo, and steel guitar, sounds like an heir to the tradition that gave us artists like Bill Monroe, Ralph Stanley, Dolly Parton, and the Carter Family—though she's not averse to throwing a curve ball like this CD's rocking cover of "Hard Headed Woman." It's always thrilling to see a new artist emerge fully formed, and that's what we have on this debut, which seems like the work of a seasoned vocalist. Seasoned lyricist, too: originals such as ""The Last Leaves" and "Cold Winter Lingers On" hold their own here alongside covers of chestnuts by artists like Hazel Dickens and Bill Carlisle.
Louise Goffin, All These Hellos. Pop/rock singer Louise Goffin impresses consistently on this well-produced, atmospheric latest album, for which she cowrote all 10 songs with various collaborators. The CD's lush, strings-heavy backup is a good match for the impressionistic, introspective lyrics about relationships and the ups and downs of life. Capable guest singers include Rufus Wainwright, Billy Harvey, and Squeeze's Chris Difford, but Goffin's own nuanced vocals, which sometimes recall Rickie Lee Jones, are the main attraction throughout.
Taylor Martin, Song Dogs. The North Carolina–based Taylor Martin, whose raspy vocals recall Levon Helm and, occasionally, Dr. John, features eight originals on this third album, along with three well-chosen covers: Bob Dylan's "Sign on the Window," Neil Young's "Music Arcade," and Merle Haggard's "Kern River." Martin's own lyrical subjects are all over the map: "Little Pictures," the funky opener, is about excessive cellphone use, for example, while "Hollywood" references Marilyn Monroe, and the melancholy "Eden Colorado" is about looking for a friend, a dream, and some hope. The music—sometimes funky, sometimes folky, sometimes poppy—is just as varied. The album is uneven, but its best tracks impress.
L.E.S. Douze, The Stoned. This woodwind- and percussion-dominated album was recorded live at the Stone, a performance space whose Lower East Side New York location serves as the title of its sole nearly 45-minute track: "Avenue C & 2nd Avenue." The group's Ryan Brasseaux has described the record as a "deep dive into Cajun music's subconscious," which sounds about right. L.E.S. Douze—which feature fiddle, tin whistle, sax, bass, drums, and electric guitar—have crafted a winning albeit seemingly impossible marriage of Louisiana traditional and Manhattan New Age. It's experimental to be sure, and not for everyone, but those with open minds and ears may well find themselves savoring every note.
Roy Orbison with the Royal Philharmonic Orchestra, Unchained Melodies. Roy Orbison died in 1988 but he's still releasing albums—not to mention touring, albeit as a hologram. Like his last CD, A Love So Beautiful, this one pairs vocal tracks from his earlier recordings with the Royal Philharmonic Orchestra and includes musical contributions by his sons; other members of the extended Orbison family provide backing vocals. While A Love So Beautiful focused on hits, this one spotlights songs "that particularly lent themselves to this rich orchestral format," according to liner notes by Orbison's son Alex. Among the 15 tracks, which include several selections requested by fans: "California Blue," "She's a Mystery," and "The Comedians," all culled from Mystery Girl, which appeared only weeks after Orbison's death; "Heartbreak Radio," presented here as a duet with country singer Cam; covers of "Unchained Melody" and "The Great Pretender"; and one of my favorite Orbison tracks, the relatively obscure "Crawling Back." His soaring operatic vocals sound as great as ever, and most of these selections benefit from the orchestral backing.
___________
Jeff Burger's website, byjeffburger.com, contains more than four decades' worth of music reviews and commentary. His books include the recently published Dylan on Dylan: Interviews and Encounters as well as Lennon on Lennon: Conversations with John Lennon, Leonard Cohen on Leonard Cohen: Interviews and Encounters, and Springsteen on Springsteen: Interviews, Speeches, and Encounters.
---