A Look Back that Leads Forward
---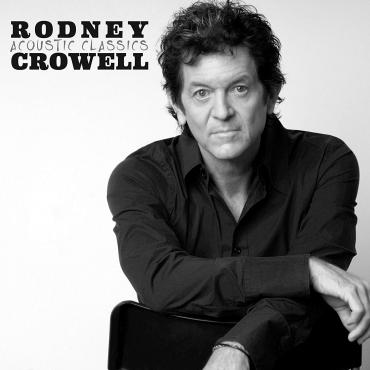 The concept of an artist with a multidecade career releasing re-recorded or "unplugged" versions of material originally performed to great success decades prior is too-trodden ground. It's become a trope, an easy way for a legacy artist to cash in on his or her legacy and sell some albums or promote a tour without putting in the effort to record new, quality music.
You can't say that about Rodney Crowell, however. The guy's been kicking around the music industry for over 40 years and he's still a creative force to be reckoned with. In terms of critical recognition, the 2010s have seen some of Crowell's best-received work. Between two solo releases, a pair of albums with Emmylou Harris, and a team-up with author Mary Karr, Crowell's won four Americana Music Awards and a Grammy.
The point is that Rodney Crowell doesn't NEED to revisit a dozen of his signature tracks, as he does on Acoustic Classics, to stay relevant. But in doing so, he's provided new insights into the versatility and timeless nature of his songwriting and interpretative skills.
On Acoustic Classics, opening track "Earthbound," originally recorded in 2003, is followed by "Leaving Louisiana in the Broad Daylight," a Crowell cut made popular by the Oak Ridge Boys in 1979, and there's no incongruity. It's a seamless transition, bridging together Crowell's current status as esteemed Americana performer and his early years as acclaimed scribe for some of country's biggest stars. And therein lies the appeal of this album.
By teaming up with a group of his friends, hunkering down and presenting these songs in this format, Crowell's stripped his material of their original context and the specific memories you have of it. In its stead is something that manages to be both familiar and fresh at the same time.
This can best be heard on a triptych of tunes that Crowell fans are well acquainted with: "I Couldn't Leave You if I Tried," "Crazy for Leaving," and "After All this Time." All three tracks hit the top of the country charts in 1988 and all three benefit from the sprucing up Crowell gives them here. It's not that the original renditions are lacking, but they are susceptible to a late 1980s production style that prioritized a cold, glossy sheen over all else and leaves songs feeling very much of that era.
The new takes have a lived-in, ramshackle warmth that help place Crowell's vocals and melodic sensibilities among the icons of the genre. The connection between Crowell and his former father-in-law Johnny Cash has never been more evident than on "I Couldn't Leave You if I Tried," sounding like it would be right at home on The Fabulous Johnny Cash."She's Crazy for Leaving" jettisons that '80s pop-country honky-tonk style, replacing it with a roadhouse swing that imbues the song with a new liveliness.
That ease and comfort carry into the hits he wrote for others, as well. "Making Memories of Us" was a crossover smash for Keith Urban in 2004, while "Please Remember Me" was one of Tim McGraw's highest charting singles. Gone from these are the schmaltzy accoutrements, production, and smooth vocals delivered by impeccably smooth, handsome dudes. Guided by a more minimal acoustic-and-fiddle arrangement, the focus instead homes in on Crowell's songwriting prowess and a genuine, heartfelt delivery that comes with decades of musical and life experience.
In 1978, Crowell released his debut LP, Ain't Living Long Like This. The title track, later a chart-topper for Waylon Jennings, is a hard livin,' outlaw country stomper. But what was an autobiographical cautionary tale 40 years ago is something else on Acoustic Classics. It's a victory lap, a wink and a nod at a life and career conducted on their own terms.
That statement can sum up the entire album listening experience, really. Because if this cross-sample of Rodney Crowell's career proves anything, it's that he's found success living like that for a long time.
---