A Knockout Blow
Posted On February 9, 2018
---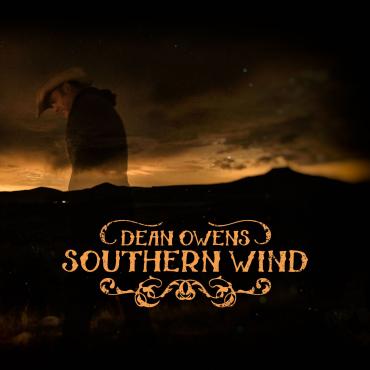 Scottish singer-songwriter Dean Owens has made a deserved name for himself on either side of the Atlantic. Over here he is highly rated by Irvine Welsh (Trainspotting) and broadcaster Bob Harris. Over there the company he keeps says enough: Will Kimbrough and Neilson Hubbard. Owens plies his trade under the banner "Celtic Spirit, Country Soul." This blend has been evident in all his work, but Southern Wind, his seventh album, released Feb. 16, brings out this unique flavor. This is his best yet; it's a beauty of an album.
The album is a collaboration with Will Kimbrough, with whom Owens wrote most of the songs. Together with the musicians of The Southern Swamp Orchestra they created some fabulous music. Neilson Hubbard produced, recorded, and mixed the rich sound that swirls throughout the record.
Southern Wind is a high quality collection, but where it adds an extra dimension is the way the Celtic and the country weave a unique color, rather like tartan perhaps? The title track lies behind the whole project. Owens is from the north and Kimbrough from the south. Nashville, the capital of country, is somewhere in the middle, not just physically but metaphorically. It is there that big skies and vistas of the southwest meet the gritty landscape of Leith, the part of Edinburgh that is home to Owens.
The blend comes out throughout the record. "Elvis Was My Brother" tells of a childhood friend of Owens growing up in Scotland whose dad wasn't around much. He had no brothers, his big sister had left home, and his mum worked hard to hold things together. Left to his own devices, "Elvis was my brother/he was my friend/Elvis was the one who taught me everything." The song reveals Elvis as almost a surrogate father. That the next generation would fill this gap came as a comforting end. This was set in Scotland but wouldn't have happened without America.
The young Dean Owens was a boxer, and "Louisville Lip" is about how his older self felt on hearing of Ali's death. Owens was in Amarillo, Texas, and the sad news brought back memories of him and his dad watching the "greatest" in some of his most famous fights. This evocative soliloquy has Owens once again shrinking that distance between Scotland and the US.
Staying with boxing, take a look at the video below for the title track, "Southern Wind." Set in and around the Leith Victoria Boxing Club, where the young Owens would spar, its imagery deals a blow as strong as those he suffers. "Leaving home, southern bound" makes clear his destination. His anguish of leaving is palpable but so his determination to seek the better life that lies ahead, and further south. (Can you identify his adversary?)
There are songs that are pure home. "Madeira Street" is where Owens grew up. He lost his sister three years ago and the song is a painfully sad look back to happier times together. "Look at your picture/hangs on the wall/ smile at the camera/so beautiful." The chorus that Owens builds up towards the end only adds to the poignancy of his words. In "Mother," with its gentle beat, Owens offers his mum a song about her, something she thought had been missing from her son's repertoire.
Then there are songs that just distil all the Scottish Americana into a unique blend. "Bad News" was inspired by some characters in an old movie. Owens and Kimbrough swap acoustic and electric guitars to great effect. "Anything Helps" is about a homeless man by the side of the freeway, but he could be anywhere. The sentiments transcend borders.
The album rocks, too. Owens describes "The Last Song" as a pub rock song reflecting a further bond with Kimbrough, this time their mutual love of Ronnie Lane and The Waterboys. If you walked into a boozer down Leith Walk or a bar in Nashville to a band playing this, you'd equip yourself with a large one and stay to the very end. "No Way Around It" has more than a hint of defiance, as Owens lets rip vocally and musically. Kimbrough's banjo adds to the armory.
"Love Prevails" brings the album to a close. The song is based loosely on stories Rodney Crowell told Kimbrough while touring (they also found their way into Crowell's memoir). Crowell's praise was high indeed: "The song is very moving for me. Proud the book inspired it".
In many ways roots music is defined by collaboration. In Southern Wind, Dean Owens, Will Kimbrough, Neilson Hubbard, and their wonderful Southern Swamp Orchestra are testament to that. It most certainly lives up to "Celtic Spirit, Country Soul."
---