A Brief Intersection of an Acolyte and a Reluctant Idol
Posted On November 21, 2018
---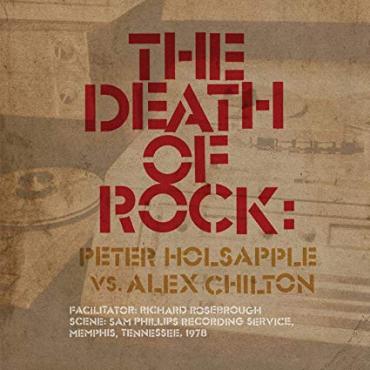 1978 was a year of transition. Punk rock was morphing on the commercial front into new wave. Alex Chilton, who'd found fame with the Box Tops, and belated artistic immortality with Big Star, had resurfaced in a 1975 session on the EP Singer Not the Song, and was subsequently steering into the skid of his life circumstances with the pop deconstruction that would produce 1979's anarchic Like Flies on Sherbert. In contrast, the North Carolina-bred Peter Holsapple ventured south on a Big Star pilgrimage to Memphis in early 1978, and moved to Bluff City later that year. Though he'd initially sought out Chris Bell, it was Alex Chilton who showed interest by insulting Holsapple's work and offering to "show him how it's done."
Holsapple had begun recording in off-hours with producer Richard Rosebrough at Sam Phillips Recording Service, and when Chilton dropped by, they took a run at several of each other's songs. Two of the Holsapple titles – "Bad Reputation" and "We Were Happy Then" – turned up on the first two dB's albums, and were recorded alongside a pair of Chilton originals (the Chris Bell slight "Tennis Bum" and the topical "Martial Law"), instrumental rehearsals of Big Star's "O My Soul" and "In the Street," and a then-becoming-usual Chilton-favored assortment of covers that included titles by Hoagy Carmichael, Tiny Bradshaw and Bo Diddley.
Recent interviews with Peter Holsapple lay out the contentious relationship he had with Chilton, and though the music recorded here doesn't evidence such behind-the-scenes hostility, it does find two musicians moving in opposite directions. As Robert Gordon's liner notes ask, "Alex had done everything right already and he'd been screwed every which way, so what if he did everything wrong?" And while Chilton doesn't deconstruct Holsapple's music the way he'd deconstruct his own, you can feel the two musicians pulling in opposite directions – one striving for the grace of purposely constructed pop, the other for the immediate grace of the moment.
Holsapple offers an endearingly strained cover of the Ronettes' "Baby I Love You," and the rehearsal of his original "Death of Rock" (which would later be retooled for the Troggs as "I'm in Control") is wonderfully bombastic compared to the session's final version. Chilton's "Tennis Bum" borrows its mojo from "Wooly Bully," and his prom-quality instrumental cover of "Heart and Soul" sits alongside lively jams of "Train Kept A-Rollin'" and "Hey Mona." Those who saw Chilton on stage as a solo artist will recognize the idiosyncratic mood of these covers.
All of this material sat in Richard Rosebrough's archives until recently discovered by Omnivore's Cheryl Pawelski, and though not originally slated for release, it provides an interesting footnote to each musician's path. Chilton would go on to release Like Flies on Sherbert in 1979, Holsapple to join the dB's very soon after these sessions, and the two would cross paths several times in subsequent years. Omnivore's package includes liner notes and period photos from Holsapple, a new transfer and mix by Brian Kehew, and mastering by Michael Graves. An interesting, unexpected spin for fans of Chilton and Holsapple. [©2018 Hyperbolium]
---