After 50 Years, 'Will the Circle Be Unbroken' Still Bridges Generations
Posted On December 23, 2022
---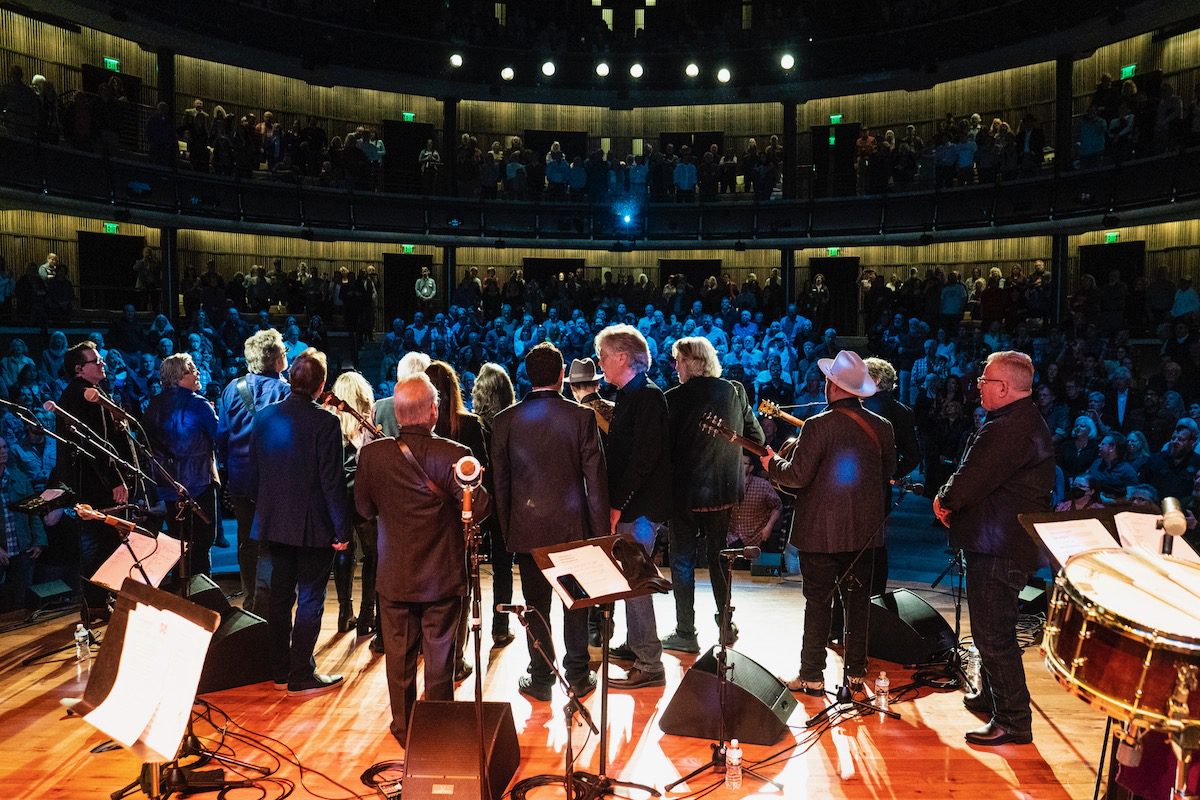 The Nitty Gritty Dirt Band and musical guests onstage at the Country Music Hall of Fame and Museum in December for a show celebrating the 50th anniversary of the landmark "Will the Circle Be Unbroken" album. (Photo by Erika Goldring)
In 1971, the long-haired rock and rollers of the Nitty Gritty Dirt Band — Jeff Hanna, John McEuen, Jimmie Fadden, Les Thompson, Jimmy Ibbotson — sat in a circle with legends of country and bluegrass music at Woodland Studio in Nashville and in six days recorded 36 songs. A year later, those sessions became the now-landmark triple album Will the Circle Be Unbroken (known affectionately as the Circle album).
At the time, none of the members of the band realized the impact the album would have; all they had in mind was making music with some of their musical heroes. Now celebrating its 50th anniversary, the album bridged generations during the tumultuous Vietnam War era, when the gap between young and old grew wider every day. Will the Circle Be Unbroken demonstrated music's ability to transcend cultural and political differences and appeal to listeners young and old.
When Circle landed in 1972, fans of the Nitty Gritty Dirt Band thought they were getting the band's follow-up to their 1970 album, Uncle Charlie and His Dog Teddy — but the project instead introduced them to traditional country and bluegrass music, exposing the songs of Mother Maybelle Carter, Earl Scruggs, Vassar Clements, Roy Acuff, Doc Watson, Merle Travis, Jimmy Martin, Brother Oswald, Junior Huskey, and Norman Blake to a new fan base.
The album also influenced a wide range of artists, including Jim Messina, Sam Bush, Jerry Douglas, Alison Brown, Steve Martin, Tony Trischka, Rhonda Vincent, Trey Hensley, Rob Ickes, Stuart Duncan, Vince Gill, Billy Strings, and countless others.
If it hadn't been for a chance meeting, though, the album might have never been made.
'A Record of an Event'
Fresh off their hit version of "Mr. Bojangles," the Nitty Gritty Dirt Band played a show at Vanderbilt University in the fall of 1970. Earl Scruggs' sons Gary and Randy were big fans of the band's Uncle Charlie and His Dog Teddy, so they brought their father to see the band. Before the show they went backstage to say hello. John McEuen was blown away to see his banjo hero, Earl Scruggs, standing at the dressing room door, especially when Scruggs told him he "wanted to meet the boy who played 'Randy Lynn Rag' the way I intended to." As he was leaving, Scruggs said he'd love to record with the band someday.
A few months later, the members of the band got a call from Bill McEuen, John's brother, who was managing the band and producing their records. According to Hanna, Bill wanted to turn this into a larger project. He called up members of the band and said: "I have this epic idea. Earl Scruggs wants to record with you, so what would it be like if we got folks like Doc Watson and Merle Travis to come and play?" By spring 1971, Bill McEuen's idea started to take shape when John McEuen saw Earl Scruggs at a club in Colorado and asked him if he still wanted to record with the band. Scruggs said he'd "be proud to."
A week later, John McEuen asked Doc Watson if he would record with the band, and Watson agreed to do so. Once Scruggs and Watson were on board, others would fall into place, and by the end of the summer Merle Travis, Roy Acuff, Jimmy Martin, and Mother Maybelle Carter had signed up to be a part of the sessions. As Maybelle's granddaughter Carlene Carter recalls with a chuckle, Maybelle said she was going to Nashville to play with "them dirt boys."
"We all went out on a limb for the idea of recording great songs with great people," McEuen says. "Bill was very cinematic in his view of the presentation of the album. He recorded on a two-track tape and captured all the talking among the musicians and other sounds. This was more than a record; it's a record of an event."
John McEuen gathered a collection of photos by Bill in Will the Circle Be Unbroken: The Making of a Landmark Album, a book published earlier this year by Backbeat Books to mark the album's 50th anniversary. The book also contains stories by members of the Nitty Gritty Dirt Band about the making of the Circle album
Before they started the sessions for the album, the band and the other players hung out at the Scruggs' home in Madison, Tennessee, and rehearsed and got to know one another. By the time they got into the studio, the music tumbled out quickly, with each artist bringing the songs for which they were best known — Acuff's "Wreck on the Highway," Carter's "Wildwood Flower," Scruggs' "Nashville Blues" and "Foggy Mountain Breakdown," Travis' "Cannonball Rag," Clements' "Lonesome Fiddle Blues," Martin's "Sunny Side of the Mountain," among others — and some Hank Williams songs the band had selected, including "I Saw the Light."
Reflecting on the sessions in McEuen's book, Jimmie Fadden recalls that the group recorded almost every song in one take. "Sometimes tunes were arranged on the spot," he writes. "That's the beauty of this music: It is built for impromptu play; there's no sheet music, folks. It's all committed to memory and that memory is constantly evolving. What you give is what you get, and there's no taking it back. … Roy Acuff had a great moment where he shared his policy in the studio; he said that every time you went through it you would lose a little something. 'So let's do it the first time an' t' hell with the rest of it.'"
The album opens with Jimmy Martin singing lead on "The Grand Ole Opry Song," an ode to Nashville's classic radio show that namechecks country stars living and dead and sets a musical tone for the entire project. Via music, it announces the spirited collaboration between older stars of the Opry and the young band who'll soon be country music stars themselves because of this album. That's followed by Mother Maybelle Carter's lilting, lush vocal on the Carter Family's "Keep on the Sunny Side."
"In the same way that one waits for the sun to rise, in the moments before it becomes visible, then the magic happens that is the sunrise, that is what it was like in this room," McEuen writes of recording the song. " … You knew the magic was going to happen."
On Will the Circle Be Unbroken, McEuen and Scruggs deliver the first-ever recording of Scruggs' "Nashville Blues," with Fadden's harp notes doubling Clements' fiddle runs while Hanna provides percussion on his washboard. Merle Travis displays his signature cascading fingerpicking on "Dark as a Dungeon" and "Cannonball Rag."
"[Travis'] trademark mature style incorporated elements from ragtime, blues, boogie, jazz, and western swing and was marked by rich chord progressions, harmonics, slides, and bends, and rapid changes of keys," McEuen recalls in his book.  "… [I]n his hands, the guitar resembled a full band."
Doc Watson shines on "Tennessee Stud," with his muscular guitar picking and gravelly lead vocals; Hanna notes in an interview that singing harmony on this song was one of his favorite moments of making the album.
Jimmy Martin's high-lonesome vocals lead the charge on the fast and furious "My Walkin' Shoes," while Maybelle Carter puts down her guitar and strums the autoharp to accompany herself on "Wildwood Flower." Acuff's energetic vocals drive the Hank Williams standard "I Saw the Light."
And then there's the song that became the title of the album. "The feeling in the room was one of ecstasy for me and the Dirt Band, as we had now done what we came to do: brought these icons together to record with a 'pop-rock band of kids' from California who respected all of them," McEuen writes.
Widening the Circle
In 1989, the Nitty Gritty Dirt Band — without John McEuen — would return to the studio to record a second volume of Will the Circle Be Unbroken, this time produced by the band and Randy Scruggs.
"We did it because of June Carter Cash," Hanna says. "We were touring with Johnny Cash in Europe; he and June said, 'If you guys ever want to do another record, we'd play on it.'"
Will the Circle Be Unbroken: Volume Two included performances by John Hiatt, Rosanne Cash, Emmylou Harris, and Bruce Hornsby, as well as Roger McGuinn and Chris Hillman and the Nitty Gritty Dirt Band's version of Bob Dylan's "You Ain't Goin' Nowhere."
By 2002, McEuen had rejoined the band and they released Will the Circle Be Unbroken: Volume III, again produced by Randy Scruggs and featuring performers such as Del McCoury, Sam Bush, Tom Petty, Alison Krauss, and Ricky Skaggs.
But it's the original album that had the most profound impact on players and listeners, when it was released and continuing now, 50 years later.
Carlene Carter recalls going down to Morgantown, West Virginia, with her grandmother, Maybelle Carter, who was playing with Nitty Gritty Dirt Band at a college show just after the album came out. "That's when I found out my grandma was a rock star," she laughs. "Everybody was sitting on the floor with their legs crossed in this very calm Woodstock kind of feeling. When she came out, everybody stood up and applauded her. There's something happening here. The guys in the Nitty Gritty Dirt Band really respected the heritage."
Guitar virtuoso Trey Hensley says he could "listen to that album without even putting it on." He grew up listening to his father's copy, but appreciated it anew after he started playing the guitar at age 10: "It just blew me away."
For two live performances of the album in December at the Country Music Hall of Fame and Museum in Nashville, the Nitty Gritty Dirt Band asked Hensley to play the Merle Travis songs from the album. "That morphed into playing the Doc Watson songs and soon morphed into playing the Jimmy Martin songs," Hensley laughs. Those two nights of performances by the Nitty Gritty Dirt Band and friends to mark the project's 50th anniversary also featured Carlene Carter, Jerry Douglas, Stuart Duncan, and John Cowan.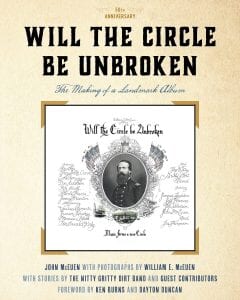 Additionally, John McEuen, who most recently parted with NGDB in 2017, has been touring to promote his book and showcase his brother's photographs that captured the spirit of the Circle sessions.
"Bill gave me these photos about 8 or 10 years ago," says McEuen, whose shows feature songs from the album and are accompanied by a multimedia presentation for the book.
Will the Circle Be Unbroken is a record of a magical moment, an archive of collaborations that illustrated the power of music to reach across social divisions and bring people together.
"At the end of the day, we didn't realize what the impact of the Circle album would be," Hanna says. "It built a lot of bridges for us. People would ask why we were making this album with these early American musicians. Well, we had such reverence for them and their music. Not to honor the music would be a disservice. Music is an amazing power for bringing people together."
---