Adam's Mini-Reviews, vol. 7- Christmas Edition
Posted On December 15, 2010
---
Oftentimes, Christmas albums are used as just a way for artists to make money off of familiar tunes, while having an album that will sell a lot of copies every year. You rarely hear any passion, any variety, or anything new. Fortunately, this isn't the case with Ah! Leluiah! the new Christmas album from Pittsburgh rock legend Donnie Iris, who is perhaps best known for his '80s hits such as "Ah Leah" and "Do You Compute." Despite being well into his '60s, Iris's voice has held up extraordinarily well over the years, but, even more importantly, so has his creativity and artistic passion.
Ah! Leluiah! features mostly traditional music, but it is performed in a very non-traditional manner. Beginning with a New Wave rendition of "Angels We Have Heard on High," you know this isn't your normal Christmas album. Scattered throughout the disc, we have traditional country versions of "Blue Christmas" and "Silent Night" alongside classical pieces such as "Panis Angelicus" and Handel's "Hallelujah Chorus," performed "solo" with Donnie's voice overdubbed a stunning 81 times. Elsewhere he mixes his brand of rock with these old songs to bring them new life, such as on "O Come, O Come Emmanuel." As a result, this isn't just a Christmas album, it's the best Donnie Iris album in decades.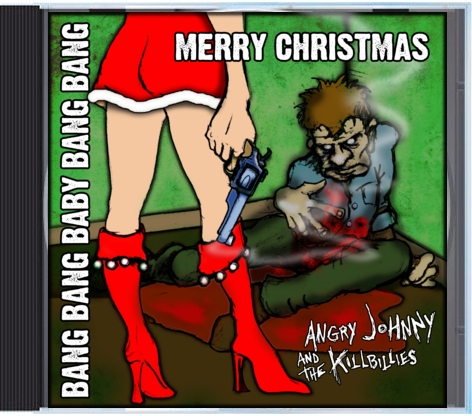 Similarly, Angry Johnny & the Killbilles have also released a great holiday-themed record this year. On Bang Bang Baby Bang Bang Merry Christmas they confine their signature brand of murder ballads to a few tracks, most notably "Slaughter in a Winter Wonderland," "Santa Gets His," and the title track. But if you think this means a fun, relaxing ride through winter merriment for the rest of the album, you clearly don't know Angry Johnny. To me, the New England country-rocker has always been at his best when describing loneliness, not vengeance and here he explores depression at it's deepest state. From the John Prine-inspired "20 Years Ago this Christmas" to "When Christmas Comes Around," most of the songs here will touch you on some level. The only real clunker here is the annoyingly repetitive "Christmas Shopping," which fails mostly because it shows Johnny in his worst light, creatively speaking: being happy. This album is essential for any Angry Johnny fan and it reinforces my thoughts that he is one of the greatest songwriters working today. Unfortunately, like David Allan Coe, he is also a songwriter who will never be taken seriously by the NPR masses.
Revel Records has also released two Christmas offerings this year. The brainchild of the late John Langstaff, the Revels have been reviving traditional music from around the world since 1971 and are perhaps best known for their annual Christmas Revels. The first disc, Down Through the Winters: Music and Poetry in Celebration of the Winter Solstice is performed by the Portland Revels and features everything from Welsh hymns and French dances to fiddle tunes from Norway. This is an album well worth checking out if you're looking for something a bit different this season. But if you're looking for something a bit more traditional, such as the perfect album to relax to while reading A Christmas Carol, the Revels have you covered there as well. On Welcome Yule: An English Christmas Revels, they perform 19 songs. A few of them are well-known, but most are, such as the beautiful "Ther is No Rose of Swych Vertu," have been long-forgotten. Accompanying the singers are Medieval instruments such as the lute and the sackbut. The album features a great variety of instrumental and vocal pieces and will be sure to get you in the Christmas spirit.
Here are two more things that may interest you.
Dust-to-Digital has recently released Ten Thousand Points of Light, a Christmas themed DVD that you can read more about HERE.
In addition, you will undoubtedly see the film A Christmas Story on your TV listings roughly a bazillion times next week. What you may not know is that Jean Shepherd, the man who wrote and narrates the film, was actually a radio host in New York from the early '50s to the late '70s. The film was based in part on his own childhood memories and it was those memories and stories which often made up the material for his radio program. Many of these programs are available for free and legal download at archive.org. Head over there and check out one of the best humorists of the 20th century.
If you are disappointed with the layout of this and other posts around the site, don't blame me or any of the other writers. Blame Ning.
Thanks for reading and I hope all of you have a very merry Christmas.
---