Adam's Mini-Reviews, Vol. 1: South Memphis String Band, Angry Johnny, Ozzy Osbourne, Indigenous, Thunderhead
---
It takes guts to put the word Memphis in the name of your band. The same can be said for Memphis International Records who released this and many other great albums. Because, let's face it: no disrespect to New Orleans, Austin, Nashville, or anywhere else, but Memphis is American music. It is W.C. Handy, B.B. King, Big Star, Sun Records and Beale Street. It is Stax, Carl Perkins, Elvis Presley, Isaac Hayes, Memphis Minne, Rufus Thomas, and the Burnette Brothers and their Rock 'n Roll Trio. It's American Sound Studios, Booker T. and Al Green. It's Furry Lewis and Jerry Lee Lewis. Yes, it's even Johnny Cash.
There's no reason to worry, however, about this group of musicians disgracing Memphis music. The South Memphis String Band, a trio consisting of Luther Dickinson, Alvin Youngblood Hart, and Jimbo Mathus have crafted a record that Sam Phillips would have been proud to release. The album contains folk ballads like "Jesse James" and the original composition "Bloody Bill", Carter Family and Mississippi Sheiks standards such as "Dixie Darlin'" and "Bootlegger's Blues", and even a rousing gospel number "Let Your Light Shine on Me". For lovers of string bands, rural blues, or just good music, it doesn't get much better than this. Of course, you should have known that as soon as you found out that Luther Dickinson was involved.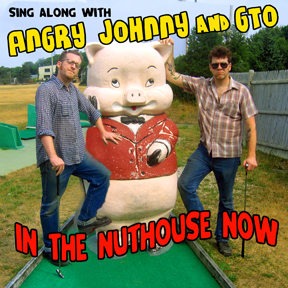 Those of you who find Hank III offensive will want to stay far, far away from this or any other Angry Johnny album. This is one of three albums the New England murder balladeer has released this year and I will give at least one of them a review by itself eventually. But this one, sort of a twisted bluegrass children's album is well worth checking out if your stomach can take it. Some sample lyrics from the title track: "Daddy came home from a hard day workin'/Found mommy out with the pool boy flirtin'/He held her under water 'til the bubbles stopped bubblin'/Then he cut off her head and he put it in the oven."
This isn't his masterpiece by any means. That title belongs to Razor Blade Suit or Bones, which I will be telling you about soon. But then again I am a fan of his more serious side, while this is mostly novelty material with titles like "Drinkin' Daddy's Beer" and "Pull My Finger". With that said, "Kittens", "Grandma Jones", and Angry's take on the traditional folk song "Knoxville Girl" rank among his very best. Not the place to start, but a good buy for fans.
Scream is a slight improvement over Black Rain. Slight, but still an improvement although not one great enough to warrant a purchase. Having led one of the five best bands in the history of British rock (not five best metal bands, five best bands. Period) and possessing a stunning voice, Ozzy is one of the most iconic figures in rock. It's a shame about the whole career thing and that he hasn't made a decent album in over 25 years. Let's not feel too sorry for him though. At least he has the TV pitchman and reality star professions to fall back on. Robert Plant once immortally sang that "there are two paths you can go by but in the long run, there's still time to change the road you're on". Now, Ozzy, I'm not suggesting that you go to Nashville and record an album with, let's say Elizabeth Cook. What I am suggesting is that you record something worthwhile, something that won't make Tony Iommi, Geezer Butler, and even Randy Rhoads (who is looking down) ashamed to have once been associated with you.
Indigenous began back in 1998 as a band featuring four siblings. Now it has evolved into a solo project of just one of those siblings, guitar virtuoso Mato Nanji who had always been the leader of the group. Having taken more and more control over the past few albums, the band's blues-rock sound has also transformed into more rock and less blues, although the Stevie Ray Vaughan influence can still be heard. Vaughan was along with Jimi Hendrix and Carlos Santana, one of Nanji's original influences.
The Acoustic Sessions is a great collection of re-recordings of tracks from the band's past along with a nice reworking of Roy Orbison's "You Got It". Nanji's soulful voice, extraordinary guitar skills, and sensitive, heartfelt lyrics seem to have been made for a stripped down setting and "Should I Stay" which I had initially disliked when it appeared on Broken Lands is turned into one of the highlights here along with "Rest of My Days" and "Things We Do". Yet another highlight is the percussion throughout the album which, while never overbearing, is a clear tribute to Nanji's Native American heritage. In a perfect world, Mato Nanji would be on the cover of Rolling Stone being announced as a guitar god and fans would be flocking to his shows as if he were John Mayer. He is the rightful heir to Hendrix, Santana, Stevie Ray Vaughan, and the classic rock of that generation and he proves to be equally adept at playing acoustically. Just because the general public is too blind to see this, doesn't mean you should be.
Thuderhead never became households names like the Marshall Tucker Band or Lynyrd Skynyrd. They never even achieved the sort of FM radio credentials that the Outlaws did. In fact, they only released one album, their self-titled 1975 offering for ABC which was never promoted, never received airplay, and was virtually never heard. However, they had recorded another album prior to this which was largely responsible for them getting a record deal and it has recently been reissued as Thuderhead '75.
The album was produced by Johnny Winter and brother Edgar is featured as a guest on one track. It is pure hard Southern rock from start to finish, with a sound reminiscent of Molly Hatchet (if Molly Hatchet had included an excellent flute player who doubled as lead vocalist). The opener "Busted in Georgia" is on the level of "Sweet Home Alabama" and "Flirting With Disaster", if not "Freebird" and "Green Grass and High Tides". The rest of the album doesn't quite live up to those standards, but it does include social statements such as "Make Your Own Good News" and "Stop the Madness", jam-based pieces such as "Lay It On the Line" and the instrumental "Apathy", and the superb paranoid country-rocker "Houma" which closes the album and simply must be heard to be believed. This is a great purchase for fans of the Southern rock genre or '70s rock in general.
---