'A Timely Windfall': The Story Behind Gillian Welch's 'Boots No. 2: The Lost Songs'
Posted On November 16, 2020
---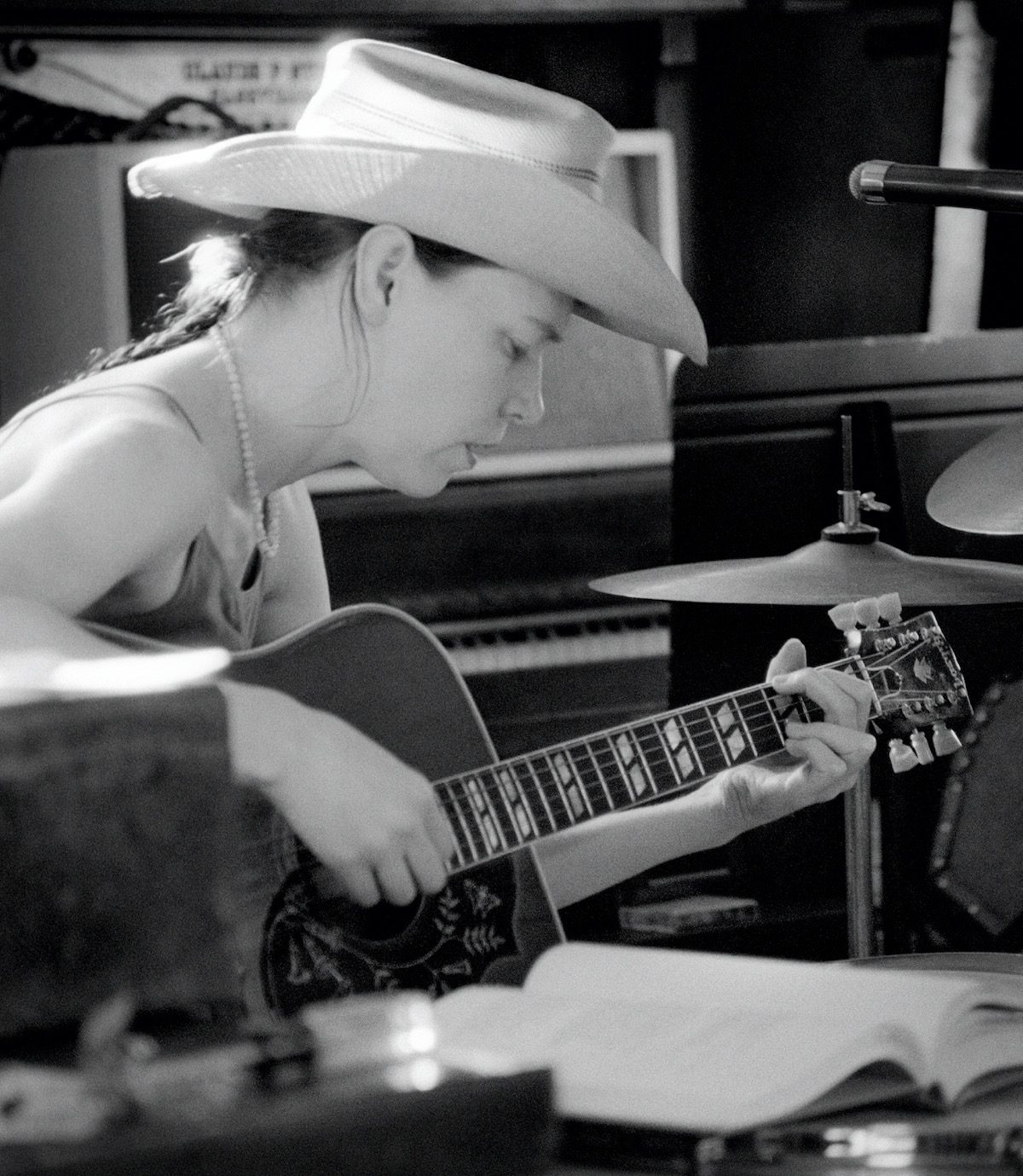 Photo by Arianna Mercer
One kind of whirlwind was responsible for most of Gillian Welch's 2020 collection of demos, Boots No. 2: The Lost Songs, but it took another to bring the songs out of storage nearly two decades after their creation.
The three-volume collection, whose latest installment was released last Friday, contains 48 songs that Welch wrote, mostly between the making of Time (The Revelator) in 2001 and Soul Journey in 2003. For the most part, she admits, they were completed to fulfill a publishing contract.
By the end of 2002, "I owed them a bunch of songs," Welch laughs. "Once they had been turned in, they had served their purpose."
As the contract's deadline loomed, Welch and her partner Dave Rawlings started looking through notebooks for ideas and scraps of songs that could be completed. While most of the songs were started between 1999 and 2002, some of them had taken seed as much as a decade earlier.
Over one long weekend, Welch and Rawlings sat down and got to work, deviating from their usual method of writing and polishing songs specifically for albums. Usually, she says, "we were so focused on writing albums, thinking about the best version of a song. This was very different. We weren't thinking about them as songs for a record."
Welch had been writing notes and lyrics for songs in notebooks for years. "When I moved to Nashville, I brought all these notebooks with me," she says. "I write in pencil in spiral-bound, college-ruled notebooks. I started looking through these notebooks, probably between 100 and 200 of them, where I had all these song ideas that over ten years — from 1992 to 2002 — never got finished. Dave said the only reasonable thing to do was to go through those notebooks and choose songs and finish them to fulfill my obligation."
"Dave would go through the notebooks, find an idea, type it out, and bring it in to me to finish; then we'd turn on the reel-to-reel and sing the song into it. These songs had such a specific purpose, they were never meant to go onto an album. They were just commitments."
If a tornado hadn't ripped through Nashville on March 3, 2020, and torn the roof off of Woodland Studio, Welch and Rawlings' recording base since 2001, these tapes might still be languishing in boxes on shelves, tucked away and effectively lost. On that stormy night, Welch and Rawlings rushed to the studio and, with rain pouring in, rescued instruments, equipment, and boxes of tapes and masters.
"If we'd been out of town," Welch says, "we would have lost everything."
'Why Did I Rescue This?'
That experience inspired a new urgency in the couple, says Welch, causing them to reflect: "Why did I rescue this?" "Why did I just save all these tapes?" "What was I saving these tapes for?" That night in Nashville, she observes, made them realize they should have put more music out in the world and put it out more quickly. "It felt like a timely windfall to have this fall into our arms," she says. "We couldn't go into the studio right now to record new music, so to be able to release this music felt good."
Once they started going through the tapes, Welch and Rawlings realized that the songs provided a snapshot of that weekend 18 years ago when they had finished the songs. "We had these tapes, and we had time on our hands," Welch recalls. Rawlings could still get into a small corner of the studio, so he went in and mastered the tapes, and they put out the music as fast as they could. Volume 1 of Boots No. 2 appeared in July, and Volume 2 came out in September.
The sequence of the songs on the three albums is not chronological, but rather follows a flow that felt right to Rawlings' ear. "Dave is a sequencing genius," says Welch, "and he never loses sight of the sequencing as he moves from the first song to the last and then back."
"The oldest songs on Boots No. 2 are 'Blind on the Inside' [which appears on Volume 1] and 'Put Your Foot upon the Path' [on Volume 3]," Welch says. "'One Little Song' and 'Streets of St. Paul' were two of last ones we finished. These were beginning to push toward what would become Soul Journey." The two songs made it onto Soul Journey, though "Streets" was made over into "Wrecking Ball."
They are the only two songs on Boots No. 2 that had been previously released in some form by Welch. But some of the collection's songs were cut by other artists. Alison Krauss & Union Station put "Wouldn't Be So Bad," which appears on Boots No. 2's second volume, on their 2014 album Lonely Runs Both Ways. It's a gorgeously layered song that musically echoes Neil Young's "Long May You Run" and evokes a languorous yearning for love in hopes that the next time won't be so bad. Solomon Burke cut "Valley of Tears," on Volume 1, and you can hear why the song would be perfect for Burke, with its soulful phrasing and embryonic rhythm and blues and gospel cadence. The refrain — "everybody wants to send me down to the valley of tears" — echoes Memphis soul timing.
Many of the songs on Boots No. 2 are raw and spare, exposing ragged emotions, yearning for a past or a lover far away, or reflecting on the permanence of change and how it affects people. There are plenty of story songs in the collection, including the Appalachian ballad "Good Baby" on Volume 2 and the story of a prisoner picking oranges in "Apalachicola" on Volume 1.
As we have come to expect from Welch, the songs on Boots No. 2 range from folk and country to rockabilly and blues to gospel and soul. Each of the 48 songs on the collection features Welch's raw vocals and her and Rawlings' spare instrumentation. Among the highlights from "the Great 48," as the couple affectionately call the songs selected for Boots No. 2, are the bluegrass romp "Little Luli," which tells the story of a fixation on an exotic dancer, and the fiddling dance tune "Back Turn and Swing," which rides along a hoedown rhythm. There are many folk blues tunes in the set; one of them, "Picasso," artfully tells about the ways that illusion and reality shape lives.
Welch has always been an expert singer of traditional country, and here she delivers on the Carter Family-like ballad "Happy Mother's Day," on which the singer sends her faraway mother a loving greeting. Old-time, rock, and gospel blend in "Put Your Foot Upon the Path," which features bright guitar lines, echoing the Grateful Dead, and Welch's shimmering, high-octave vocals urge living in the moment and taking the first step, even if that step is a fall. And she illustrates her sure-handed command of rockabilly on "Turn It Up," which rolls along a rockabilly rhythm that echoes Emmylou Harris' take on "Two More Bottles of Wine."
Gospel tunes feature prominently on the collection, including "If I Ain't Going to Heaven," "Give that Man a Road," "Changing Ground," and "You Only Have Your Soul." The country blues "Sin City" features Welch's vocals over the notes of a slide guitar and a wailing harmonica; it's a clever repartee to Gram Parsons' "Sin City," winking to the Parsons' song with phrases such as "Two hundred dollars and a pair of mohair slacks." Welch changes the final line of the chorus to her version of the traditional "Make Me Down a Pallet on Your Floor" from "make me down a pallet soft and low / make me down a pallet on your floor" to "honey, I'm broke / and I got nowhere to go."
Boots No. 2 follows Welch's first collection of outtakes, alternate versions, and demos, 2016's Boots No. 1: The Official Revival Bootleg, which was released to coincide with Revival's 20th anniversary. Both sets offer a glimpse of the songwriter at work, a retroactive preview of the powerful works that would come.
Boots 2: The Lost Songs closes with "One Little Song," the last song on Volume 3. The circling fingerpicking beneath the vocals creates a playful, yet reflective and almost melancholy atmosphere that radiates warmth. The song offers a reminder that feels personal and profound: "There's gotta be a song left to sing / Cause everybody can't've thought of everything / One little song that ain't been sung / One little rag that ain't been wrung out completely yet / Until there's nothing left."
"It's a beautiful song," says Welch. "It was one of the last songs we worked on that weekend and it was beginning to push toward what became Soul Journey."
When Welch plays the songs back now, she hears "an immediacy and a freshness" in them. "These songs were happy accidents," she says. "The songs capture a moment in our lives. They still would have been half pages in a notebook if I hadn't finished them. I kind of treasure these songs. I am so happy I had a contract to fulfill."
All three volumes of Boots 2: The Lost Songs are now available digitally. Physical box sets on CD or vinyl will released on Dec. 11 and will include a 66-page song book with photos, lyrics, and chords.
---