'A Song for Leon' Tribute Album Sings the Praises of Leon Russell
---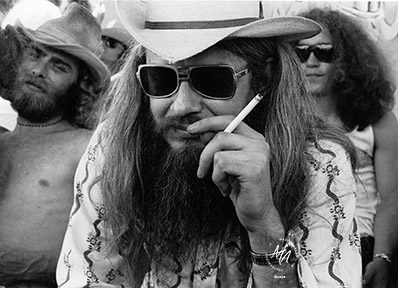 Leon Russell Backstage at Willie Nelson's Fourth of July Picnic in 1973 (photo by Mary Andrews)
A new album in the here and now will pay tribute to the songs of Leon Russell, known as "The Master of Space and Time."
As befits the songwriter who transcended genre and largely defied description and most everything else, A Song for Leon features a wide range of artists, including Margo Price, Nathaniel Rateliff & The Night Sweats, The Pixies, Bootsy Collins, Orville Peck, and The Preservation Hall Jazz Band. Tina Rose, Russell's daughter, is featured on "Laying Right Here in Heaven" along with Amy Nelson (daughter of Willie) and Jason Hill.
A Song for Leon comes out Sept. 8 via Primary Wave Music/Secretly Distribution. Along with today's album announcement comes Margo Price's version of "Stranger in a Strange Land."
"I've always loved Leon Russell's vibe and approach to music and life in general," Price says in the announcement. "I completely fell in love with him after watching the documentary by Les Blank called A Poem Is a Naked Person. I had the pleasure of briefly meeting him at a show many years ago in the hallway. I always remember what he said during the live interview that day, which was that 'It was his job to misinform the press.' He was an old man at the time, but I'll never forget how mischievous he seemed."
After recording "Stranger in a Strange Land" for this project, Price says, she's been including it in many of her live shows, including the monologue in the middle of the song.
"It still seems absolutely pertinent and its subject still matters today," Price says. "He's talking about the afterlife and equality and goes off about starting a new race where we all just learn to love each other. We can all learn a thing of two from Leon Russell."
In his 50-year career, Russell appeared on more than 400 recordings as a solo artist and a member of the famed Wrecking Crew group of session musicians. He worked with Bob Dylan, George Harrison, The Rolling Stones, and many more. His best known song, "A Song for You," was covered by more than 40 artists, including Willie Nelson, Ray Charles, and Aretha Franklin. On A Song for Leon, it's handled by singer-songwriter Monica Martin.
Russell died in 2016 at the age of 74. A long-awaited biography about Russell and his music, Bill Janovitz's Leon Russell: The Master of Space and Time's Journey Through Rock & Roll History, came out last spring (ND review).
Here's the full track list for A Song for Leon:
Margo Price – "Stranger in a Strange Land"
Durand Jones & The Indications – "Out in the Woods"
Nathaniel Rateliff & the Night Sweats – "Tight Rope"
Orville Peck – "This Masquerade"
U.S. Girls with Bootsy Collins – "Superstar"
Pixies – "Crystal Closet Queen"
Monica Martin ­­­– "A Song for You"
Bret McKenzie with The Preservation Hall Jazz Band ­– "Back to the Island"
Tina Rose, Amy Nelson, Jason Hill – "Laying Right Here in Heaven"
Hiss Golden Messenger – "Prince of Peace"
---