50 STATES OF FOLK: The Great Bluegrass State of California
Posted On September 23, 2019
---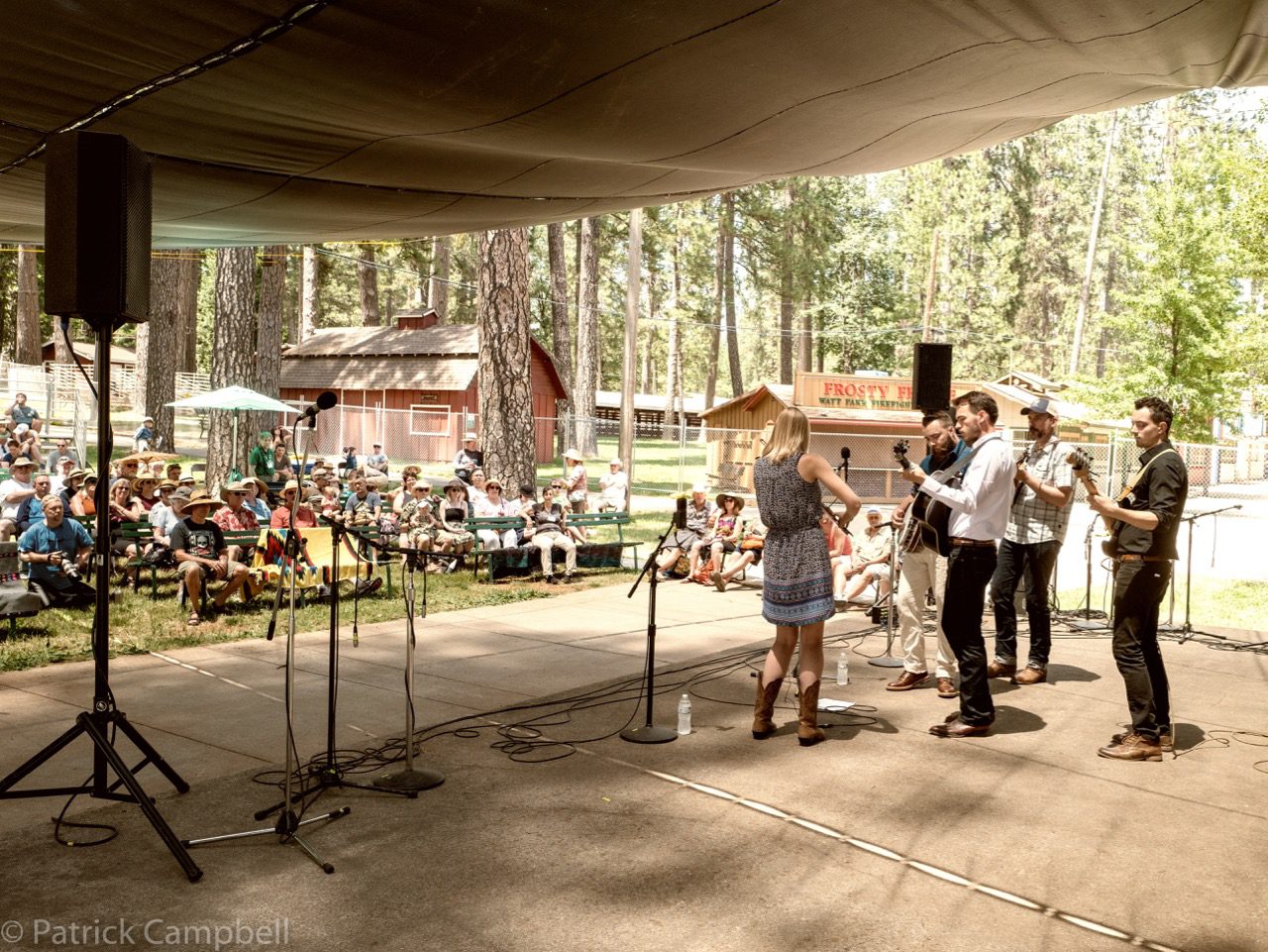 Photo by Patrick Campbell
Unless you live here, and honestly even if you do, California probably isn't the first place that comes to mind when you think about bluegrass. Kentucky would be a more likely candidate; they're so confident in their claim to the throne that they made it the official state nickname. Or maybe you think of Tennessee, the iconic home base for American roots musicians past and present, or North Carolina, where the International Bluegrass Music Association hosts its huge annual World of Bluegrass street fair, conference, and awards show. You could even make a case for Indiana, home to the longest running bluegrass festival in the United States, founded by Bill Monroe himself.
But California? Full of self-proclaimed coastal elites and tech companies? That ain't bluegrass.
Well … you might be surprised.
Introducing Bluegrass to the West Coast
Vern Williams, born in 1930, grew up surrounded by music. As a young boy in rural Arkansas, his family often played banjo, fiddle, and guitar together as they hosted impromptu family dances in their living room. He first heard the mandolin listening to Bill Monroe play on the Grand Ole Opry on his crystal radio, a technology that allowed him access to the outside world. He grew enamored with the instrument, and made the switch from playing guitar to mandolin full-time as a teen.
But that wasn't the twist of fate that would set Williams on the path to making history. In 1952, he was drafted into the Marines and moved to San Diego, California, for basic training. He would later leave the service but remain in California, settling down in Stockton. It was there that he would first meet Ray Park.
Park had walked a remarkably similar path in life to Vern. They both grew up near each other in Arkansas, though Ray had moved with his family to Stockton before beginning his military service. They were both stationed at Camp Pendleton outside San Diego at the same time.
But despite all this, they never crossed paths until they both moved to Stockton as veterans starting new civilian lives. In 1957, Park was looking for new musicians to record and produce, and he came across Williams and his little brother Junior, who played music together on their weekends off from work. He loved their brother duets and attempted to get them on tape, but Junior proved too timid and nervous for the recording process. So Park, a talented multi-instrumentalist and vocalist in his own right, stepped in.
It was the day that bluegrass came to California.
The Golden Age of Golden State Bluegrass
Vern & Ray performed together as a band for nearly two decades, starting with a performance at a New Year's Eve party in 1958. They quickly got picked up for a TV gig in Oakland, and began getting booked to open for nationally touring acts such as Mac Wiseman and Jimmy Dickens. Known for their adherence to tradition and their powerful harmonies, they introduced the West Coast to the sound of bluegrass, and they found converts.
And so, even though they eventually went their own ways, Vern & Ray had pollinated California with bluegrass, leading to new growth all over the state. Shortly after Vern & Ray's first performances, a young UCLA grad and avid guitar player named Ed Pearl opened a music club on Melrose Avenue in Los Angeles called The Ash Grove. Over the 15 years it was in operation at that location, The Ash Grove hosted nearly every major name in bluegrass, including Bill Monroe, Flatt & Scruggs, Mother Maybelle Carter, The Country Gentlemen, Hazel Dickens, John Hartford, and more. In fact, it was there that a young Clarence White would first hear the guitar stylings of Doc Watson, whose style made him begin to consider whether the guitar could be a leading instrument in bluegrass. Only a few years earlier, White had met a 9-year-old Tony Rice behind the scenes at the local radio show Town Hall Party, where Rice became obsessed with White's precise and unique style as a bluegrass guitar player in the band The Country Boys. The two of them would go on to define the role and sound of modern bluegrass guitar for the world.
But beyond just introducing Californians to bluegrass, Vern Williams shaped California bluegrass in his image. He took a deep interest in personally mentoring young musicians into the bluegrass tradition. These musicians quickly went off on their own, taking the training and knowledge that they gained from Williams and forming their own projects.
Many of them hewed close to the tradition so cherished by Vern & Ray, writing and playing mostly the same style of hard-driving, harmony-heavy bluegrass they first learned from them. In this vein, you see artists like Kathy Kallick, Laurie Lewis, and Keith Little. These musicians would go on not only to join the national bluegrass scene, but also to be part of the movement to define and promote California bluegrass specifically, helping to form the California Bluegrass Association in 1975, now the largest bluegrass association in the world. (NOTE: The author is a CBA board member.)
However, another group of musicians would take a different tack, going on to invent entirely new styles and genres with the foundation that Vern & Ray provided them. David Grisman, a Bay Area mandolinist who played on Jerry Garcia's wildly successful bluegrass project Old & In The Way, would take to jazz and go on to invent what is now known as "Dawg music," the name derived from Garcia's personal nickname for Grisman. Grisman's inventive, jazzy style was charismatic, eventually leading Tony Rice to briefly return to California to collaborate with him on such iconic albums as Tone Poems and The Pizza Tapes.
Garcia himself would himself go on to form The Grateful Dead, one of the most influential and popular bands of the 1970s, and would create the entire concept of jam shows. This would lead back to the invention of "jamgrass," thereby completing the musical ouroboros and trapping us in an infinite loop, Groundhog Day-style.
Forging a New Tradition
According to legend, in 1989, a young wild-haired kid wandered into a jam at the 13th Annual CBA Father's Day Festival. He looked around the circle of parents and asked if any of them knew "Big Bug" by John Reischman. The adults, trying to encourage this adorable child, asked if he would play it for them. They'd try to figure it out and jam along.
He wiped the floor with them.
Chris Thile was still a few years out from signing his first record deal at this point. He had not yet formed Nickel Creek, the millennial touchstone for "bluegrass." There was no National Mandolin Championship trophy on his shelf yet, let alone a MacArthur genius grant. No, he was just a precocious kid, joining in the great bluegrass tradition of jamming in the dirt in the summer.
Thile took his deep education in bluegrass and put it to use through innovation. He spent his childhood days and nights learning bluegrass in and out, then went on with other kids who'd done the same and made something new out of it. Their power to revolutionize the sound of modern bluegrass sprung directly from the fact that each and every one of them knew the canon through and through.
The same can be said about any number of all-star bluegrassers who are currently dominating the national scene, such as Stuart Duncan, Alison Brown, Rob Ickes, Gabe Witcher, Sara Watkins, Maddie Witler, AJ Lee, and more. Each of them came up through a deep traditional bluegrass education in California, then went off to do something a little different, a little new, a little original.
That fits right in with California's trailblazing spirit and history. Californians uplifted women's voices from the very beginning, with majority-female acts like the Good Ol' Persons. We invested in training up the youth in the state, pioneering the first Kids on Bluegrass program in the world, which gave us such stars as Grammy-nominated mandolinist Frank Solivan and reigning IBMA Guitar Player of the Year Molly Tuttle. Many projects to educate and uplift marginalized voices were founded here, including Bluegrass Pride (for which I was a founding member and am currently executive director) and the Black Banjo Reclamation Project.
The Best is Yet to Come
Maybe it's because we're physically separated from the land upon which bluegrass was founded, freeing us to explore. Maybe we're all just permanently rebellious teenagers at heart. Whatever it is, bluegrass musicians in California have never been afraid to break the mold. We are proud to learn the deep roots of the music, keeping the fire of tradition burning bright at our festivals and in our jams. But we are similarly free to explore its limits, pushing the boundaries of what defines "bluegrass" and how genres can interplay with each other. This fearlessness has allowed us to define and set the trends of modern bluegrass for over 60 years now, starting with Vern Williams and leading all the way to today.
So really, is there anything more bluegrass than California?
Special thanks to Maddie Witler for her fact checking and helpful historical insights.
---