50 STATES OF FOLK: How Houston's Urban Center Ignited Zydeco
Posted On January 12, 2022
---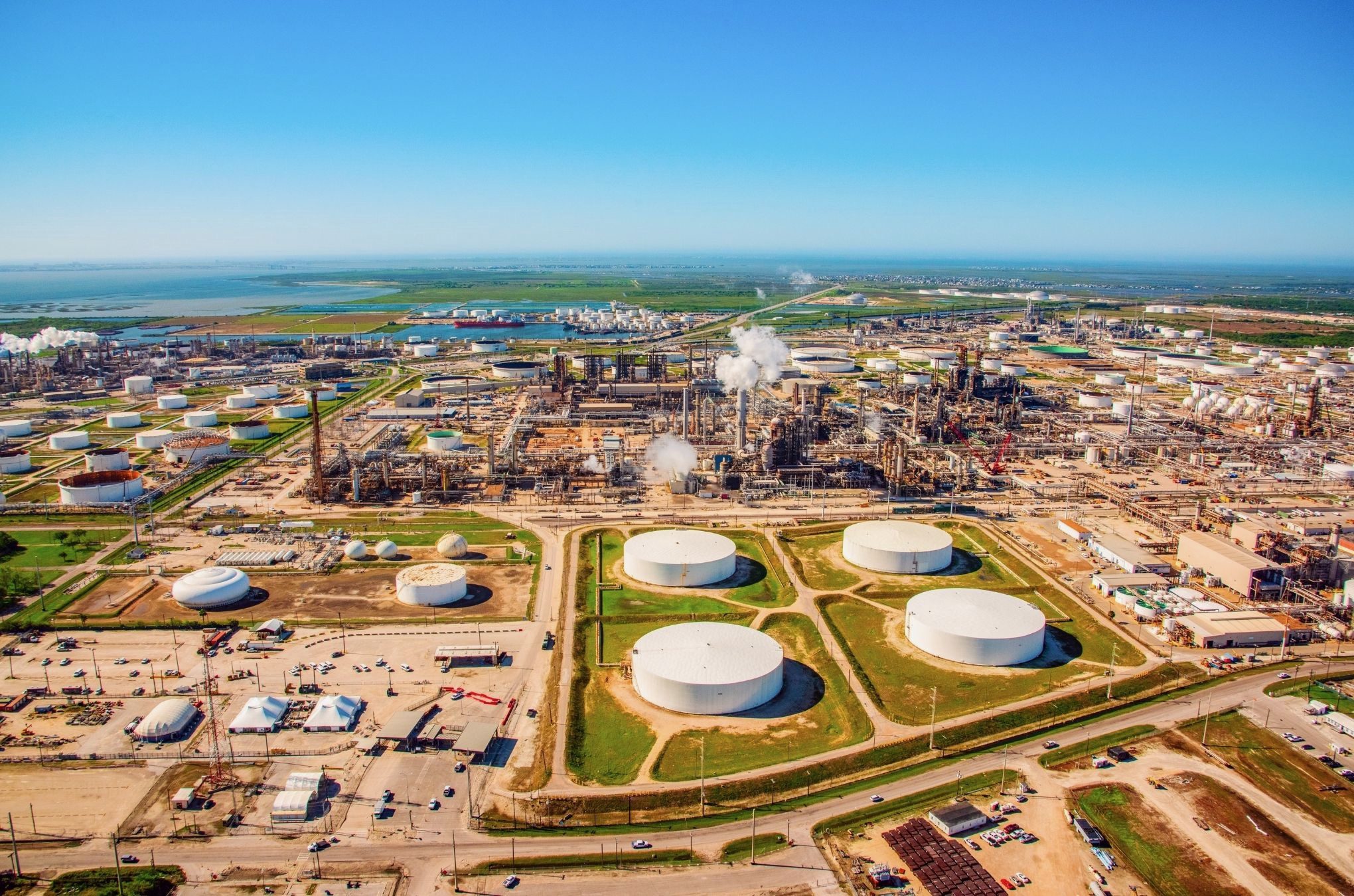 A modern-day oil refinery just south of Houston. Between the world wars, thousands of Black rural residents of Louisiana and Texas moved to Houston, bringing with them their music and culture — and the seeds of zydeco. (Photo by Art Wager / Getty Images Signature)
When you think of the word "Creole," I suspect you think of Louisiana. It inspires images of bayous and memories of rich, stick-to-your-ribs gumbo.
This is all fair and reasonable — Creole and Cajun culture definitely have strong roots in southwestern Louisiana. But the border with Texas isn't a lightswitch. The same terrain and culture exist across state lines, leaving a strong community of swamp people in both states. And it is these people, and their migration into the urban stronghold of Houston in the early 20th century, that created the thoroughly modern and funky genre of zydeco.
The Birth of the Bayou's Bluegrass
Much like bluegrass, zydeco is a modern evolution of ancient musical traditions. While zydeco is specifically the musical legacy of Black Creoles living in southwestern Louisiana, it has major influences from across the Cajun cultural spectrum. The early white settlers of Louisiana brought with them older French songs, a fiddle-based dance tradition, and an imperialist attitude toward language. The local Indigenous nations introduced the trademark mournful, high-pitched vocal style of Cajun and Creole music. Black residents — of both African and Caribbean origins — introduced syncopated rhythms and the concept of improvisational singing. Later, Hispanic settlers would introduce the guitar, while Anglo-Americans would introduce a whole new anthology of traditional tunes, most notably ballads.
This melting pot of cultures and traditions can be largely attributed to the Black Code. As previously discussed in this column, the Black Code formalized the legal means of segregation and racism that supported the economic slave state. First implemented by the French imperialists who controlled the region in 1724, the "Code Noir" had lasting cultural impacts spanning well into the 19th century. It was a brutal system, but it also provided Black citizens living under it some freedoms that they would not have had living under English or American rule. These small freedoms enabled more interchange between Black, white, and Indigenous residents, creating the necessary conditions for a creolized culture and music to take shape. These influences impacted both white residents, who would go on to create Cajun music, and Black Creoles, who pioneered their own styles and musical traditions.
The earliest form of Creole music was called "juré," which is the French word for "testified." Evolved from field hollers sung by enslaved Black people, juré songs can be thought of as the Louisiana French parallel to other Southern Black spirituals and shouts. Frequently sung in either (or both!) French and English, these songs are distinct from other Creole music in that they are sung a cappella, accompanied only by rhythmic hand clapping and foot stomping.
Over time, as instruments (like the accordion, fiddle, and triangle) became more widely available and affordable, juré songs slowly evolved to become more secular. This new music was called "la-la" or "la musique creole," and was mainly played at house parties and dances in the southwestern prairie region of Louisiana. It was this form of French-language music from which zydeco would be born during the Great Migration of Black Creoles to east Texas in the 1930s.
The Great Migration Strikes Again
Between the start of World War I and the American victories at the end of World War II, nearly 50,000 Black Southerners moved from their rural ancestral homes in Louisiana and Texas to settle in the urban center of Houston. While we may largely think of the Great Migration as being a process of moving north, it was at its core a move toward urbanity — a move to places thought to have steady, well-paying jobs available. Black Southerners were drawn to Houston due to its position as a powerhouse industrial economy, particularly in the fields of commerce, railroad and waterway expansion, and oil refining. It was in this new urban environment, with the contemporary development of rhythm and blues and rock and roll as genres within Black music, that Clifton Chenier found a new sound.
Born in 1925 in Opelousas, Louisiana, Chenier is almost universally recognized as the father of zydeco music. The son of sharecroppers, he was raised in the Creole musical traditions of his community, with his father regularly playing la-la music on rubboards and triangles at community events. Upon moving to Texas in 1947, he picked up work for the local oil refineries while gigging around town at night with his brother in a band they called the Red Hot Sizzling Band — Clifton on accordion, and his brother Cleveland on the washboard. Eventually the washboard would prove limiting to the music, so Clifton had one of his friends at the refinery build him a new instrument: a board of corrugated tin with shoulder straps attached. This was the first frottoir, the trademark instrument of zydeco music.
The Chenier brothers performed throughout the Gulf Coast region throughout the late 1940s and early '50s, leading to a record deal for Clifton with Elko Records in 1954, and the release of his first single, "Clifton's Cajun Blues," in 1955. By 1956, Clifton's music career was doing so well he was able to quit his day job at the refinery and focus full-time on music.
During this time, he was also experimenting, moving further away from his roots in the la-la Creole style and bringing in more elements of two-steps, R&B, and big band music to create the new sound we now recognize as zydeco. "What I did was to put a little rock 'n' roll into the zydeco to mix it up a bit," Chenier said. "You see, people been playing zydeco for a long time, old style, like French music. But I was the first one to put the pep to it." For these reasons, he is called the "King of Zydeco," a title which he came to take somewhat literally, adopting the habit of wearing extravagant crowns during his performances.
Zydeco in the Zeitgeist
The name "zydeco" is widely believed to have been derived  from the French phrase "les haricots sont pas salés," meaning "the snapbeans aren't salty" — a metaphorical allusion to poverty (i.e., "We're so poor, we can't even afford to buy cured meats to season our meals"). The meaning behind the name also signals some of the common themes of zydeco music, which regularly unpacks topics like poverty, grueling work, heartbreak, and faith. These themes are universal, speaking to the hearts of all kinds of people across time and space, which has helped zydeco continues to thrive into the modern day, influencing countless musicians across genres, including Paul Simon, John Mellencamp, and the jam band Phish.
Contemporary zydeco musicians continue to experiment and honor the art form, incorporating elements from rock, hip-hop, and rap into its newer, progressive styles. Meanwhile, much like the bluegrass community, there exists a faction of musicians in zydeco dedicated to the preservation of its traditional sound, with some artists returning to the older French-language songs in the canon, while others embrace evolution and experimentation, reaching across genre lines to create new visions of what zydeco can be. Today, zydeco music of all kinds can be heard in dance halls, small venues, and music festivals around the world, perpetually putting the pep to it for all to hear.
---