50 STATES OF FOLK: Carry Me Back to Old Virginia
Posted On November 20, 2019
---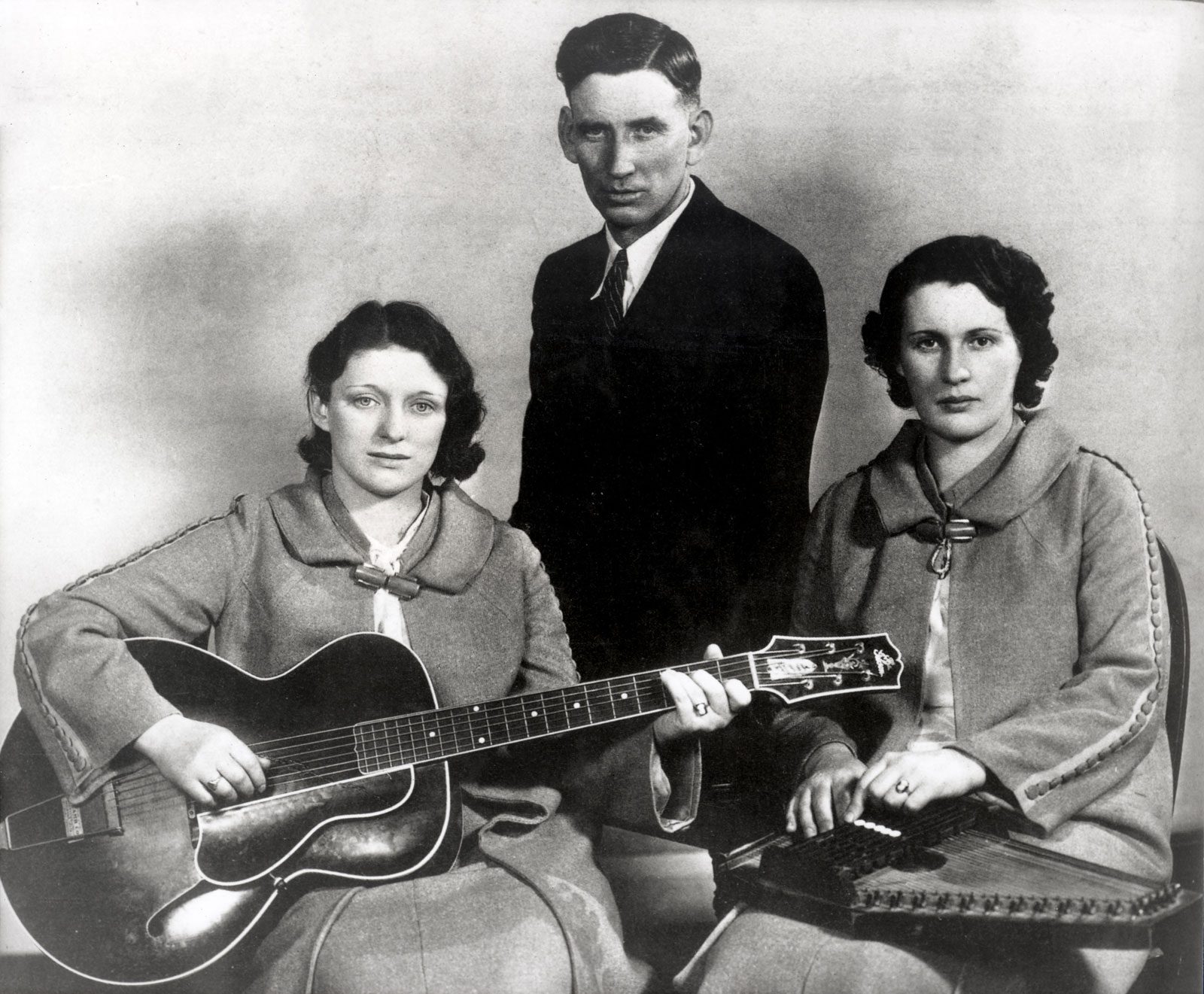 The Carter Family, from left, Maybelle, A.P., and Sara. (Photo via Pictorial Press Ltd. / Alamy)
We've all heard of The Carter Family — the first family of country music. (Or maybe you're new to roots music and haven't heard of them yet. That's okay too! Welcome to the party, we're happy you're here). They brought us such country stalwarts as "Keep on the Sunny Side" and "Can the Circle Be Unbroken?", also known as the closing song of every country music charity benefit.
But they did a whole lot more than that. In country music, all roots grow from The Carter Family, and those roots grow from the fertile soil of Virginia.
My Clinch Mountain Home
Alvin Pleasant Carter, known by friends and family as A.P., was born in 1891 in Maces Springs, Virginia. He had always been drawn to music as a boy, and he loved to sing more than almost anything. But times were tough at the family home. His parents, Bob and Mollie Carter, ran a tobacco farm, and in 1911, the crop failed. There was no money and they owed the state a debilitating amount of taxes. If they couldn't find a way to pay up, they would lose their home within the season.
Rumor had it that there was work for those who wanted it out in Indiana. So A.P. left home to go to Indianapolis, where a typhoid outbreak had struck the city. He found work for a short period of time, but also quickly acquired a case of typhoid that knocked him off his feet for weeks. He came home ashamed that he hadn't done more for the family, but with a song in his head. Despite his doctor's orders to rest, he needed to get his song on paper. He stayed up and wrote it all down, giving it the title "Carry Me Home to Old Virginia." It would later come to be known as "My Clinch Mountain Home."
Two years later, A.P. got the job that would set him on the course of his life: He became a traveling salesman. He, his horse, and his color catalog wandered all throughout the mountains and hollers of rural Virginia, and it's through this work that he encountered so much of the traditional music of the local people — music that he would later go on to record and perform himself.
It was also through this work that he would meet Sara Dougherty. As he hiked throughout the countryside attempting to sell local folks on goods from Larkey's Nursery, he heard a beautiful voice float by, singing a tune called "Engine 143." He followed the sound and found the love of his life. As he tried to sell her family on some seedlings, she sold him on her own color catalog of kitchenware. Smitten, he bought everything she suggested to him. They dated for about a year before A.P. proposed, and got married in the summer of 1915. It was at their wedding that A.P. would first meet Sara's six-year-old cousin, Maybelle.
Eleven years later, in mid-March 1926, Maybelle would marry herself a Carter: A.P.'s little brother Ezra. A year later, she would begin playing music with her cousin and brother-in-law, and The Carter Family was born.
Little Darling Pal of Mine
Of course, A.P., Sara, and Maybelle had all played music together before. But on August 1, 1927, they got it on the record — literally.
The Bristol Sessions were one of history's most influential recording sessions, often referred to as the "Big Bang" of modern country music. It's where The Carter Family recorded some of their most iconic tracks, such as "Bury Me Under the Weeping Willow," "Single Girl, Married Girl," and "The Storms Are on the Ocean." They signed a recording deal with Victor Records as part of their session, with A.P. also signing on as a songwriter for the record label. Ralph Peer, head of Victor Records, would sign Jimmie Rodgers during the same session.
The Carter Family would go on to have an illustrious recording career with Victor Records. Within three years of that first recording session, they had sold hundreds of thousands of records in the United States, and Victor Records wanted them to keep selling more. They needed fresh material and plenty of it. A.P. realized that if they wanted to grow and continue to thrive as recording artists for the long haul, they were going to need a lot more songs. So he walked his old route from his traveling salesman days, talking to the people that lived all throughout the hills of Virginia and collecting all the music they could share with him. Then he went back to Victor Records and copyrighted them.
Keep on the Sunny Side
These trips did more than give The Carter Family a catalog of songs to perform, record, and collect royalties on — they helped him capture the sound of the rural South at the time. A.P.'s travels led him to all kinds of people and their songs and stories. He used this material to fuel the commercial success of The Carter Family, one of the first truly commercial bands to exist in the United States.
The Carters would go on to record countless hits in the studio and on the radio. They would tour, leaving their families behind for weeks at a time while they played shows along the road. They took residencies at radio stations, playing the hits day and night for months at a time, singing until their voices ran ragged. They introduced the world to Maybelle's daughters, The Carter Sisters, lifting up the girls who made them so proud with the side benefit of filling up some of the many, many radio hours that needed to be filled.
All of this round-the-clock work — finding and writing songs, arranging them for the group, recording them, performing them on tour, playing them on the radio — likely was grueling work for them, but it also gave them an unmatched legacy. The songbook of The Carter Family is undeniably the foundation of modern country music. To this day, not only do you find bluegrass and honky-tonk musicians singing these tunes in a nod to tradition, but you also find musicians across all genres playing wonderful and weird versions of them.
The Carter Family permeates pop culture, with people finding relevance in their words and melodies all these years later. Their footprint is so broad, you've probably been listening to them without even knowing it, in the covers and songs that their music inspired — such as Bob Dylan's "The Times They Are a-Changing," which evolved from The Carter Family's "Wayworn Traveler."
Almost a century has passed since The Carter Family's first single was released to the public, and the circle remains unbroken. I think A.P. would be happy with that.
Check out the playlist below to listen to some of the many covers of Carter Family tunes out there.
Note: The author greatly enjoyed reading and learning from the graphic novel Don't Forget This Song while researching this article. For those looking for a personal and intimate history of The Carter Family, including a CD of previously unreleased recordings, please consider purchasing a copy from your local independent bookstore or requesting it at your local library.
---