50 STATES OF FOLK: A Unique Sound Takes Root in Oklahoma's Red Dirt
Posted On December 30, 2020
---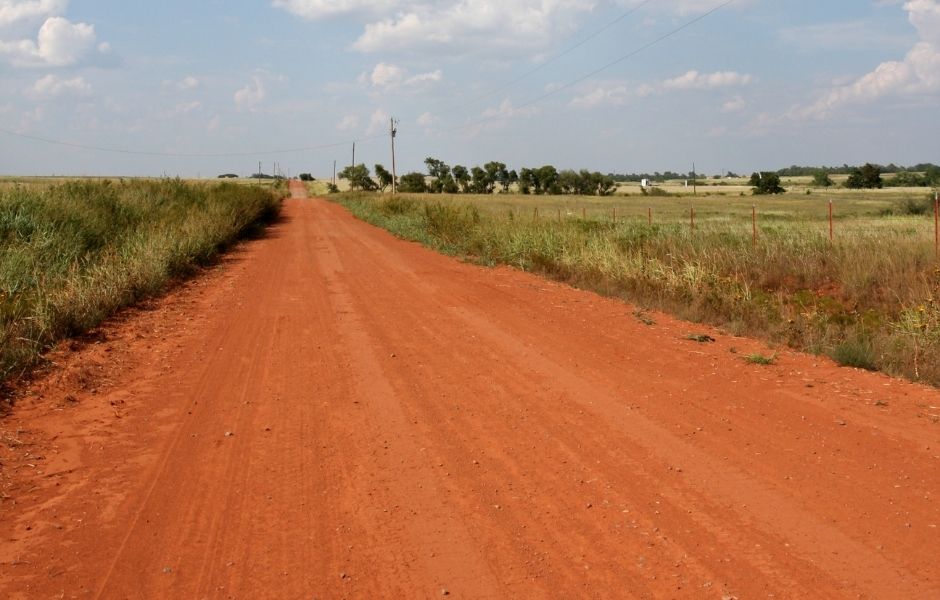 A red dirt road in Western Oklahoma. (Getty Images)
There are a lot of jokes about modern country music. What can I say, it's easy to make fun of a bunch of millionaires pretending to enjoy being on a farm when all they really want is to be in one of their climate-controlled mansions.
But these tropes mostly lampoon a specific kind of country music, one that evolved out of the Nashville country music scene and was driven by the cookie-cutter commercialism demanded by the industry that powered the city.
What it absolutely would not describe is the music of Stillwater, Oklahoma.
Founding the Farm
Bob Childers was born in West Virginia in 1946. After moving with his family to Oklahoma when he was 7, he developed an interest in music. He began to play guitar at 16, moved to California at 18 to study music at UC Berkeley, and then found himself hitchhiking back to his dusty roots. As he would say, "California had the money and the reputation, but Oklahoma had the magic."
By happenstance, he caught a ride that dropped him off in Stillwater, Oklahoma. There, he ran into an old friend who invited him to a party where a musician named Chuck Dunlap was going to play. Dunlap, a singer-songwriter who was starting to distill the elements of what would become the signature local sound, was the key to the magic Childers was looking for. He moved to Stillwater, and, coincidentally, Dunlap moved in a few doors down.
It was around this same time that John Cooper and Danny Pierce would first rent "The Farm." As local students from Oklahoma State University in 1979, they originally came to the two-story, five-bedroom house looking for a place to live and, more importantly, a place to party. The Farm sat on 160 acres of land — meaning there were no neighbors to complain about music playing too loud or too late. Rent was only $100 a month for the whole thing.
The Farm became a gathering place for college students and, soon, for musicians. It was here that Childers would get introduced to Jimmy LaFave. Together, they recorded Childers' first album, I Ain't No Jukebox, which launched his career and the red dirt sound.
From Stillwater to Nashville
For 20 years, The Farm stood as the headquarters for red dirt music, with jams, parties, and concerts taking place there more nights than not. In the documentary North of Austin, West of Nashville: Red Dirt Music, Childers says: "It was just the kind of place [where] someone would just show up and say, 'Is there going to be a jam? When's the next party? When's the next jam?' And I'd say, 'Go get a 12-pack and build a fire and it'll happen.'"
It was this constant community experience — a small town positively packed with talented upcoming country-rock musicians who all worked and largely lived together — that helped to solidify and shape the musicianship of those who would go on to popularize and spread red dirt music. And it was this community that would help to launch Stillwater's most famous star.
It was during this two-decade golden age that a young Garth Brooks became a mainstay of the Stillwater music scene. Famed for his charismatic stage presence and insatiable ambition, Brooks played a gig at Willie's every Wednesday night with his brothers and members of the Red Dirt Rangers, one of the pioneering bands of red dirt music. But Brooks wasn't content with a weekly bar gig. So in 1987, after a few shuddering starts, he got his band to move with him to Nashville to take a crack at the gravitational center of country music.
His bandmates found the Nashville music scene a little distasteful. They complained about how they weren't getting paid as much, they weren't getting as many gigs, they weren't sure how they fit in. But Brooks was on his way. In 1988, he signed a deal with Capitol Nashville. His bandmates moved back to Stillwater.
As you already know, Brooks did pretty well for himself in Nashville. His 1989 self-titled debut album reached No. 2 on the Billboard Top Country chart. One year later, he was inducted as a member of the Grand Ole Opry. One year after that, he brought home the Entertainer of the Year award from the CMAs, along with his first Grammy.
Brooks is now the second best-selling artist in the world, second only to The Beatles in album sales. In 2012, he was inducted into the Country Music Hall of Fame. Earlier this year, he was awarded the Library of Congress Gershwin Prize for Popular Song. In his words, "Stillwater gave me everything I needed to know about music. My music is what it is on the outside, but I believe with all my heart that red dirt music is the backbone of my body of music."
Defining Red Dirt
No one can really describe what exactly red dirt music is. Some folks say it's country with an artsy streak. Some say it's a brotherhood and a community more than a specific style. Bob Childers says "it's an attitude."
As far as I can tell, it's music played by people that have lived in Stillwater, Oklahoma, for at least some part of their lives. It's music that evolved from the canon of Woody Guthrie, Merle Haggard, and The Rolling Stones — rooted in the realities of working-class people, telling their stories, and exploring the experience of life lived in the echoes of the Dust Bowl.
It doesn't matter who you are or what you play, with everything from Bob Childers to Garth Brooks to the All-American Rejects falling within the terms of the genre. All that matters is that you have some of Oklahoma's red dirt under your nails.
---