---
I turned 45 this week, so my gift to myself is to indulge my love of the old fashioned 45 single.
Since the introduction of the iPod, I've been an early, fervid adopter. The portability, the elegance of the interface, the Touch's introduction of finger-poking access to visual content and WiFi convenience … what's not to love? And yet, as I've slipped deeper into the purely digital realm, my fascination for the analog glories of the past has only strengthened. As beautiful and simple and game-changing as hand-held digital devices are, they still don't match the genius of the greatest of all pop artifacts, the 45 rpm record.
There's just something about the simplicity and directness of a 45 that remains compelling. Maybe there's a picture sleeve, but for sure there will be a colorful center label depicting whatever small, industrious pre-concentration, pre-merger label saw promise in this artist. There's an A-side typically aimed at the marketplace, a B-side for … well, whatever the artist might want to get away with – an album castoff, an alternate version, a cover, some drunken rant fostered during studio overtime, a chance for the drummer to step up to the vocal mike. The Teardrop Explodes' singer Julian Cope once declared he put the deeply weird number "Strange House In The Snow" on the b-side of their big single "Reward" just so he could have the pleasure of walking into bars, bellying up to the jukebox, selecting that deeply disturbing number, and then observing the bewildered, annoyed expressions of bystanders.
Every record suggests a story. Someone bought it and kept it in reasonably decent condition 20, 30, 40 years ago. It's especially mysterious when, while thumbing through a used vinyl bin, you can tell that an entire collection is on sale. Why would someone buy all those Smiths singles in original picture sleeves, store them in plastic bags and keep them safe, only for them to end up in this grungy used vinyl store? Did the owner get tired of his records? Did he or she marry someone who insisted they purge their adolescent obsessions? Did they fall on hard luck and have to liquidate their possessions? Did they default on the rent and the landlord seized their stuff to sell it? Or maybe the person is dead? Maybe the same record has had multiple owners over the years.
Most of my 45s are a souvenir of some expedition into a dusty, dingy record shop. Every avid record collector knows the smaller the town, the better the pickings. One of the best non-taxable benefits I had in a previous job was frequent travel to smaller communities. I became pretty adept at figuring out where the good record stores were at and sneaking in at least one quick run to thumb through some grimy record bins before racing to the airport. Pulling through my vinyl crates is a mini-travelogue, triggering memories of eureka moments of discovery.
At the risk of turning this site into an online book of lists, here's some of my favorite 45 finds.
"Things I Saw Happening At The Fountain On The Plaza When I Was Visiting Rome Or Amore/Turkish Holiday" by Buck Owens & The Bukeroos (Capitol Records)
Two tracks from Buck's 1968 ethno-music exploring album The Guitar Player. The titles may be jokey, but the musicianship is deadly serious.
"Highway 145/My '63" by Whiskeytown and Neko Case & The Sadies (Bloodshot Records)
A split single from '98. All due respect to Ryan and company, my affection for this single rests with Neko's performance of a lament for her car. Not too long after it came out, I complimented Neko for her anguished vocal performance here and she confessed she hated the song and felt she oversang it to death. Perhaps. The way she sings "the seats fold out into a baaaaaayeeeed"? Damn. I hope someday someone musters as much emotion in their voice for me as she managed for this vehicle.
"Do You Like To Be Lied To/Town of Shame" by The Starkweathers (Sub Pop)
The first and last time I heard a musician refer to their music as "insurgent country" was at a 1995 music showcase at the Horseshoe Tavern. Mike Ireland was the speaker, and his band's performance that night was the musical highlight of the week. Can't remember if I bought this from the merch booth or picked it up somewhere else later, but during their short stormy time together The Starkweathers made some terrific music and opened my eyes and ears. Someone really ought to compile their work.
"Don't Pull Your Love/Funk-In-Wagnalls" by Hamilton, Joe Frank & Reynolds" (RCA Records)
Some records really only sound proper when played back through the medium for which they were intended. HJF&R were as pop as pop can be, bubblegum par excellence, and this is how the song was meant to be heard. The b-side is a groove instrumental that's probably funkier than you'd have any right to expect.
"Shipbuilding/Memories of You" by Robert Wyatt (Rough Trade)
It comes swathed in a beautiful foldout depicting a war era shipyard, but the real thrill comes on the a-side. The marriage of Wyatt's wrenching vocal and Elvis Costello's Falklands War-era lament for economic necessity trumping morality is one of the great pairings of singer-and-song I've ever heard. Sent to me as an unexpected gift by my British pal Peter Green (not the guy from Fleetwood Mac).
"4th of July/Positively Fourth Street" by X (Elektra) The a-side rendition of Dave Alvin's song is a jewel, but it's the live in the studio run-through of Dylan's song on the b-side (with Heartbreaker Benmont Tench sitting in on Hammond) that makes this one a treasure. The warped harmonies of John Doe and Exene sell it.
"Skate Now/I Can Always Tell" by Lou Courtney (Trans World Records)
I first heard Lou Courtney's "Hey Joyce" via DJ Shadow and Cut Chemist's epic 45 mix session Brainfreeze. "Hey Joyce," as ardent a profession of adolescent horniness as you could ever hope to hear and blessed with a deeply funky opening break beat, has remained elusive. On a trip to Vancouver, I found Courtney's LP Skate Now Shing-A-Ling and it's a treasure, as is this single. "Skate Now" is an appeal to partake in an eponymous dance step, while "I Can Always Tell" is a slow-burning, high-spirited declaration of love very soon to be lost.
"Four-song EP" by Rob Zimmerman (Basement Records)
In the basement of a chaotically-inventoried Greenwich Village record store, I found this oddity. The artist in question is Bob Dylan of course. One side features the rocking version of "Please Crawl Out Your Window" (finally given wider circulation on Dylan's Biograph box) and what may be an alternate take of "Hwy. 61 Revisited." The flip has what may or may not be slight variations on the well-known versions of "I Want You" and "Just Like Tom Thumb's Blues." What was the purpose of this record? Was it a sampler from the mythical Great White Wonder ur-bootleg? The same record bins coughed up an original pic sleeve of Dylan's "Hurricane" with the epic song spread across both the A and B sides. BTW, if you love that song and you haven't seen this performance by Dylan fresh off writing and recording the song, check it out.
"Remote Control/London's Burning (live)" by The Clash (CBS)
I spent the early 90s as a newspaper reporter covering murder trials and other criminal activity at the Ottawa courthouse. Virtually every lunch hour, I would retreat across the street from the palace of justice to Shake Records, one of the last, great old-fashioned indie record stores. Not too long before they were crushed under the weight of the competition of chain stores, they launched a sale to clear out a giant collection of 45s and this is one of the armload of records I made off with. Great pic sleeve. Terrific compressed mono sound on the record. Bloody great songs.
"Sweet Cream Ladies/I See Only Sunshine" by The Box Tops (Bell Records)
Given the periodic outrage political leaders take over the content of contemporary music, it's one of the unheralded acts of pop subversion that teenage Alex Chilton delivered this earnest paean to prostitution. "Let them satisfy the ego of the male/Let them fabricate success for those who fail." Contrasting that audacity, the b-side is middling middle-of-the-road pop.
"Bennie & The Jets" by Biz Markie and The Beastie Boys (Grand Royal Records)
Given the currency of the topic of late, lamented magazines, one of my favorite periodicals was the Beastie Boys own Grand Royal. Much more than a fanzine (in fact, the group themselves were rarely featured), it was a kind of catch-all for exploring all the group's pop culture obsessions. This single was actually a flexi sandwiched in one of the issues. It's a slurry, shouted version with lyrics half-remembered by rapper Biz Markie (who also provides a voicemail intro). I had the pleasure of seeing Biz perform this with the B-Boys in Montreal on the Ill Communication tour.
"Super Sunny Christmas/Huge Wonder" by Redd Kross (Insipid Vinyl)
This one is a bit of a puzzle, because the pic sleeve is signed by the band. I think I won this as part of some label contest. I was a big fan of 1993's Phaseshifter LP, and whenever I saw them play live, they always performed in a way that betrayed a real love for the stage, in stark contrast to the shoegazing of that era.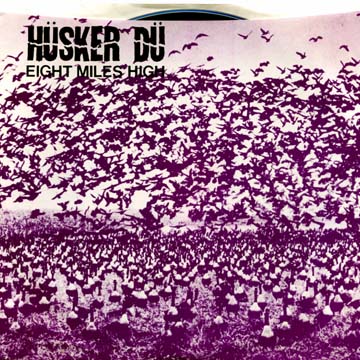 "Eight Miles High/Masochism World" by Husker Du (SST Records)
This may be my single favorite 45 of all time. An allegedly one-take attack on the Byrds' timeless original. Why? Bob Mould's molten reinvention of the original bassline as a metal-on-metal riff; Grant Hart's tribal drumming at the end of the verses; Mould giving up on the lyrics towards the end and dissolving into vocal improves and then throat-shredding screams; the pic sleeve's sinister-looking, sky-obliterating flock of geese; the b-side is a calamitous version of "Masochism World" recorded at the Royal Albert Arms in my hometown of Winnipeg. During a summer job I used to play this every morning to wake up the people sharing my accommodation. My guess is their affection for the song is somewhat lower than mine.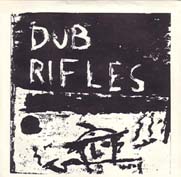 "Notown EP" by Dub Rifles (Notown Records)
I'm not sure I was quite old enough to legally be in a bar when I used to follow this group around Winnipeg. They were a kind of ska act, but with pretensions to jazz (they had a two saxophone horn section and gave their songs oblique titles like "Number One"). But they knew how to play and write some gritty dubbed up punk. One night at the Marion Hotel in Winnipeg, it had just been announced that the bar was closing as a music venue and would henceforth play canned music. In the middle of their set, the group's stellar drummer Eloi Bertholet kicked over his drums, scolded the crowd for putting up with the bar's decision to ban live music and stalked off the stage. Fight the power.
"The One I Love/Maps & Legends" by REM (IRS Records)
My affection for the A-side expired some time ago, but it's the flip's acoustic rendering of "Maps & Legends" – originally on their underrated LP Fables of the Reconstruction – that I value, recorded May 1987 at Texas Records. It's a beautiful version of the song and the live treatment really lets the quality of Stipe's voice shine. This may be the same version that was included as a bonus track on one of the CD reissues of Fables.
"Sour Milk Sea/Fall Inside Your Eyes" by Jackie Lomax (Apple Records)
The well-circulated bootleg of the Beatles performing acoustic versions of songs intended for The White Album includes George Harrison having a bash at this bracing anti-ode to self-pity. Lomax has a voice that hits like biting into a lemon, and the old-school production (those Ringo drums, that carnival organ!) make this a memorable one-off. Lomax did have a decent run as a recording artist, but this really was the peak. "Sour Milk Sea" really should be resurrected by someone as a cover, stat.
"There's A Red-Neck In The Soul Band/Just One Step" by Latimore (Glades Records)
The title pretty much sums it up: the African American narrator heads down to the club and is astounded to witness a Caucasian guitarist fronting a funk outfit. I sometimes fantasize about doing a whole compilation album of obscure anti-racism songs from the 60s and 70s. I would include the Chi-Lites' "We Are Neighbors," Bobby Marchan's "Ain't Nothin' Wrong With Whitey" and Wolfman Jack's must be heard to be believed"I Ain't Never Met A White Man." Earnest, well-intended but retroactively laughable attempts to chill racial tensions. And yes, I wouldn't even know about them if I hadn't stumbled upon these records in used record shops.

"She's Gone/Hourglass" by Lou Rawls (Bell Records)
There's justifiably a lot of discussion about what white artists borrow (or steal) from African American artists, but not quite so much said about when the tip of the hat goes the other way. I'm thinking of James Carr's stellar version of the Bee Gees' "To Love Somebody" (I have the Goldwax single) or Lou Rawls' repatriation of Hall & Oates' blue eyed soul nugget "She's Gone." Lou doesn't quite go to replicate Darryl Hall's near-operatic final note, but he populates the song with so much understated cool, vocal histrionics are not required.
"Let A Woman Be A Woman, Let A Man Be A Man/Uhh" by Dyke & The Blazers (Original Sound Records)
You could listen to the entire oeuvre of Buffalo-based Dyke and company and dismiss it as second-tier James Brown knock offs, and for the most part you wouldn't be wrong. But there's a level of blunt funk employed on this classic jam that ought to have made the Godfather sweat a little. After Dyke sings "some people don't like the way Sally walk …" there follows a drum break courtesy of James Gadson that is understandably a favorite among hip-hop DJs. Watch J. Rocc rip it up at the 3:59 point in this excerpt from the documentary Keepintime: Talking Drums And Whispering Vinyl. That's Gadson, late of Bill Withers' band and Charles Wright's Watts 103rd Street Rhythm Band, looking on appreciatively, btw.

"Unhooked Generation/Deeper & Deeper" by Freda Payne (Invictus Records)
Freda's place in my pantheon is forever assured by her classic "Band of Gold," but I love how this number introduces itself with a stinging guitar intro that is completely contradicted by the balance of the upbeat, soulful track. But truly, I value this and any other single from Holland-Dozier-Holland's post-Motown label Invictus for the fly center label.

"I Don't Believe It's You/What The Hell I Got" by Michel Pagliaro (Columbia Hall of Fame)
Okay, I don't think this is an original single, but one of those fill-your-crates reissues done after the song's original release. Still, it does contain two classics by one of my all-time favorite obscure Canadian hitmakers. Pagliaro was like some Franco-Canadian amalgam of Lennon & McCartney – endlessly melodic, a great singer and songwriter, backed by some really inventive production. His English albums are must-buys if you ever stumble upon 'em. Curiously, his French recordings do nothing for me. Really, there needs to be a Pagliaro cult. "Some Sing, Some Dance," "Lovin' You Ain't Easy" … diamonds.
"I Gotcha/A Mother's Prayer" by Joe Tex (Dial Records)
Joe can do no wrong. The b-side is a humorously overheated ode to mother love and the a-side is funk dynamite. Some unnamed store clerk scrawled on the paper sleeve of my copy: "The 1st drum 'n' bass record. GREAT!" Can't argue with that.

"The Philly Freeze/No Deposit—No Return" by Alvin Cash & The Registers (Mar-V-Lus Records)
I suppose Alvin was invoking some dance native to the City of Brotherly Love when he cut this track, but I just value it because it is so unapologetically a party record, complete with nifty stop-start "freeze" parts and a sassy female backing chorus chanting "I like it like that." And can I mention that terrific Mar-V-Lus label design? I also have Cash's great paean to the greatest boxer of all time, "Ali Shuffle." If Marah is looking for a fly new walk-on song for their lives shows, they should consider this. Just sayin'.
"Nobody's Fool/Buckaroo Bill" by Dan Penn (Happy Tiger Records)
When Elvis Presley died, he had been poised to record some new songs, including the A-side of this single from journeyman songwriter and producer Dan Penn. Elvis would have killed it, for sure. But it's a classic in its original form. Call it another near-miss in Penn's storied career; he was commissioned to write an excellent song called "Zero Willpower" for Bette Midler to sing in her movie debut The Rose, but instead she opted for treacle number "The Rose." The b-side is a real oddity, a low-key crooned tribute to a fictional cow-puncher, the lyric of which a friend pointed out sounds a lot like a heavily coded plea for tolerance of homosexuality. Penn's solo debut LP, also called Nobody's Fool, is really one of the great lost country-soul albums ever, too. Go get it.
"Hang On To Your Life/Do You Miss Me Darlin'" by The Guess Who (Nimbus 9)
In an age when you can attach an MP3 to an email and post it on a blog and the whole wired world can hear it immediately, it's easy to get nostalgic for the mystery of old-school musical diffusion. The Guess Who hailed from my hometown of Winnipeg, Manitoba but somehow they managed to become – at least for a time – international hitmakers. It is still bewildering to me that I can find this single collecting dust in a record store in the basement of some place in Vermont? How did the music get from my cold, icebound home town to the rest of the planet, stored on these little black rings?

---