25 YEARS OF NO DEPRESSION: Whiskeytown's Caitlin Cary Takes Her Creative Talents Visual
Posted On September 2, 2020
---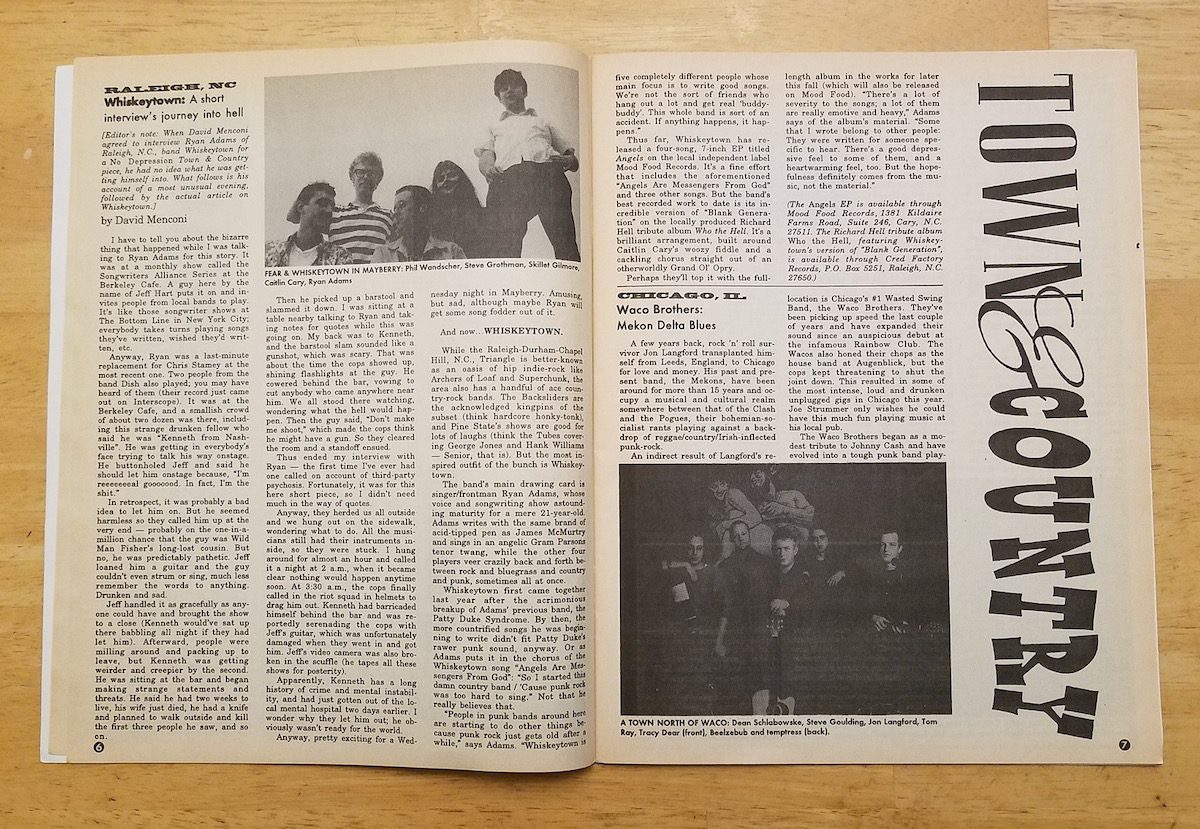 The Whiskeytown article in No Depression's first issue, in Fall 1995. (Photo by David Menconi)
EDITOR'S NOTE: To mark No Depression's 25th anniversary this month, we asked David Menconi, a contributing editor during its earliest years (1995-2008), to check back in with artists who appeared in the magazine's first few issues. Look for more stories in this series all month long.
Since appearing in Vol. 1, No. 1 in Fall 1995, Caitlin Cary has probably reinvented herself at least as much as any other artist from the early No Depression generation. She first gained notice as fiddler and vocal foil to Ryan Adams in Whiskeytown, who led off that issue's "Town & Country" section of up-and-coming artist profiles.
After Whiskeytown, Cary went on to a successful run as solo act as well as one-third of the Americana supergroup Tres Chicas with Let's Active's Lynn Blakey and Hazeldine's Tonya Lamm. She also picked up a pretty choice cover when Rock and Roll Hall of Famer Joan Baez recorded Cary's song "Rosemary Moore" for her 2003 album Dark Chords on a Big Guitar. And she was one of the ringleaders behind NC Music Love Army, who put out a series of protest songs starting in 2013 in response to the North Carolina General Assembly's right-wing political bent.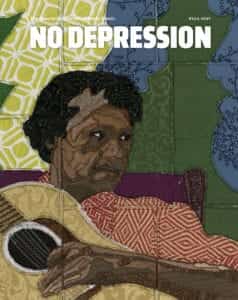 While semi-retired as a musician, Cary is still making art in an idiosyncratic medium she calls "freehand sewn collage," or "needleprints" for short. Using discarded upholstery samples and other scrounged secondhand fabrics, she stitches together stylized portraits of everything from landmark buildings in her hometown of Raleigh, North Carolina, to music legends. Cary's renditions of Dolly Parton and the late Piedmont blues great Elizabeth Cotten both appeared in No Depression's Fall 2017 "Foremothers" print journal (with Cotten gracing the cover).
"I was always doing other kinds of art-making on the side while playing music," Cary says. "Painting, sculptures, dog collars, and little things for these DIY craft markets I'd put together. I didn't think anything about the idea of 'developing as an artist,' but I guess I very quietly was. I'd just make things and put them on the wall, uncritically. Kind of the opposite of going to art school and being told everything is terrible and not good enough."
Cary arrived at her methodology through trial and error, and she's been successful enough to land gallery shows, including one scheduled this fall at her hometown Sertoma Arts Center. She also keeps busy with commissions, and she's trying to move from "local to national" with subjects beyond her home base. A recent work depicting the Nashville skyline sold quickly. (You can visit her online gallery and store here.)
It's a very crafty household that she lives in, as Cary is married to original Whiskeytown drummer Skillet Gilmore — an acclaimed visual and graphic designer. Both work out of the home they share south of downtown Raleigh. And while Cary misses being more active musically, in many ways visual art is a better fit for her.
"The work has always been fun to do and I've never had existential crises about it," she says. "I was a lot more angsty making music, and doing solo records about half-killed me. I can't really explain why this works better for me, other than that the expectations I placed upon myself for music were enormously hard to deal with. But with this, I can allow myself the pleasure of being happy with what I'm doing, and I don't even worry too much about whether or not I can sell it. I watch other visual artists struggle, go through long periods where they don't make anything, and I sometimes think that should happen to me, too. But it doesn't and that's okay. Every day I feel grateful about what I'm doing."
That said, we've probably not heard the last of Cary's musical side. Chances are good that the planets will align enough at some point for Tres Chicas to ride again.
"I always expect we'll get together, do some shows, even if we just go on singing the same songs until we die," she says. "That urge does not go away and it's so important for my spirit. But all the work involved with music, I don't know if that's in me anymore. I always get something out of playing live, but not riding in a van for three hours and sleeping on someone else's couch."
---
David Menconi is a music journalist in Raleigh, NC, who has written for publications including Billboard, Spin, Rolling Stone, the Raleigh News & Observer, and No Depression — where he was a contributing editor for the magazine's original 1995-2008 incarnation. His next book, Step It Up and Go: The Story of North Carolina Popular Music, from Blind Boy Fuller and Doc Watson to Nina Simone and Superchunk, will be published in October by University of North Carolina Press.    
---