10 Albums I Totally Should Have Blogged About in 2013
Posted On December 23, 2013
---
Every year I try and I try to cover the awesomest albums coming out in the folk/roots/world/indie roots/what-have-you genres, and every year I totally miss some great albums and feel bad about it. So this post is my annual tradition of repentance, a chance to wipe the slate clean and admit that I totally slept on some of the best music of 2013. This is kind of like my Top 10 list for 2013, only with more regrets.
Peter Rowan. The Old School.
Rounder Records. 2013.
Man, I've got no excuse for this one. I had it on my desk forever and just didn't listen to it for some reason. My bad, because this is one of the must lively and entertaining bluegrass albums to come my way in 2013. Peter Rowan's famous, of course, from his time with David Grisman, Old & In The Way, and even the father of bluegrass himself, Bill Monroe. Recently I've been hearing a lot about him on the Bay Area bluegrass scene from my friends Melody Walker & Jacob Groopman. With his new album, The Old School, he's definitely back on the scene, and with a vengeance. Nothing old and stodgy about this album, it burns with bluegrass fire. Rowan's crackly vocals easily hold the reins of this wagon train, which include riders like J.D. Crowe, Stuart Duncan, Del McCoury, Bobby Osborne, Michael Cleveland and lots more. Come for the killer bluegrass, yeah, but you'll stay for the nearly perfect songwriting. "Keepin' It Between the Lines" is a tour-de-force that touches on the harshness of politics today as well as the numbing world of constant travel and disconnect that most touring musicians experience. This whole album stands up as granite-solid bluegrass done the best way, the old school way.
Peter Rowan – Keepin' It Between The Lines
---
Joy Kills Sorrow. Wide Awake EP.
Signature Sounds Recordings. 2013.
I'm game to write on just about anything coming from Joy Kills Sorrows, who in my eyes are one of the most promising next gen roots bands out there right now. I think they've inherited the mantle of Crooked Still, though they do cover more original music and territory. And just like Crooked Still's lead vocalist, Aoife O'Donovan, who went on to great things, I hope the same is in store for Joy Kills Sorrow's vocalist, Emma Beaton, should she move on at some point in the future. For now, though, she's belting out some of the best music we've heard this year with a voice that can truly ring the halls. This is the first album since the departure of bassist/songwriter Bridget Kearney (who's in Lake Street Dive now), but the band hasn't missed a beat. New bassist Zoe Guigueno (who'd been playing with Canadian roots band Fish & Bird who we've written about before) picks up the torch and runs with it. And on the new album, it feels like the instrumentalists are coming more to the fore. The instrumentals on "Was It You" are sick, to use a technical term, and the arrangements on following track "Get Along" bring a structured intensity and focus chaos to Emma Beaton's beautiful singing. Joy Kills Sorrow are still at the top of the game and the Wide Awake EP proves it.
Joy Kills Sorrow: Was It You
www.joykillssorrow.com
www.facebook.com/joykillssorrow
---
Campfire OK. When You Have Arrived.
2013. Fugitive Recordings.
I laugh every time I read another blog from one of my colleagues condemning Mumford & Sons. I know it's kind of the thing now to hate on them (and it's always been the thing to hate on successful artists), but I'm not afraid to declare how much I love their anthemic folk and stompalong singing sessions. But then I heard the new album from Seattle's Campfire OK and I started to get it. Campfire OK is what Mumford & Sons could be, but aren't. Beautiful lyricism. Catchy songs that don't rely on singalong chorus in the same way that Skrillex relies on the bassdrop to hook the listener. Banjo that's not "shromming", but rather creatively adapts traditional picking methods. Choruses that I have to sing along to, but don't feel slightly depressed at my sappiness when I do. Vocal harmonies that swell like ocean waves, washing over the listener. And an album in which every song sounds completely different, and yet somehow linked. And totally Seattle. Campfire OK are like a more focused version of The Head and the Heart. Though they come out of the same scene, and though they're key members of Seattle's amazing indie roots scene right now (btw also check out Bryan John Appleby and Lemolo if you like this), they've got their own sound. It's a kind of dreamy pop leavened by the serious edge of traditional folk music. It's not easy to describe, but when you're tapping your feet and singing along to this, you probably won't care.
www.campfireok.com
www.facebook.com/campfireok
---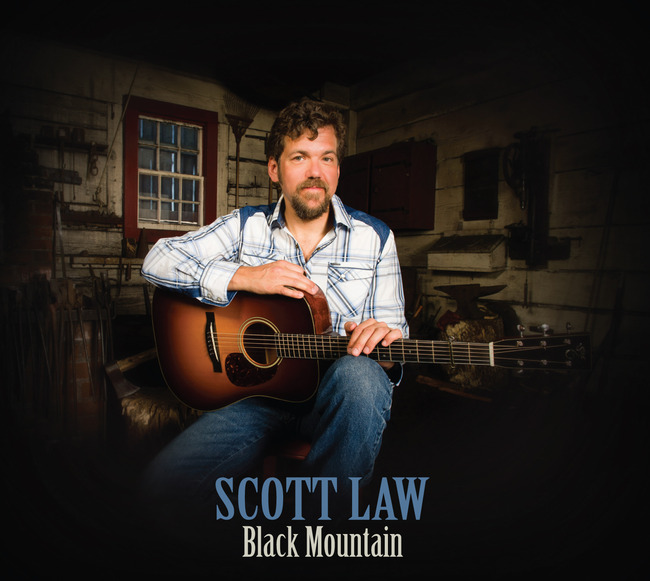 Scott Law. Black Mountain.
2013. self-released.
Sometimes the best albums come from folks we call "musician's musicians." These are the folks that the other scheduled artists flock to see at festivals, the kind of artists that guest on everyone's album, bringing an uncommon tastefulness. Portland Oregon's Scott Law is the perfect example of a musician's musician. Most of the Northwest roots artists I know are friends with Scott and he's played with most of them in turn. He's a sensitive guitar picker, able to adapt to most any ensemble without overwhelming the others. So when time came to release his own album, it stands to reason that it would be chock full of collaborations. There are so many guests, in fact, that it's hard to know who plays what on what track. It's best to just kick back and enjoy the acoustic roots goodness here from folks like fiddlers Darol Anger and Mike Barnett, vocalists Nicki and Tim Bluhm and Aoife O'Donovan, The Clarridge siblings on fiddle, and banjo picker Greg Lizst of the Deadly Gentlemen. Special shout-out here to young Portland country fiddler Luke Price who I've been seeing pop up all over the place. Kid burns like napalm on the new tune "Five Pines." Law's a strong songwriter and singer, which I personally hadn't realized, with fully-fleshed songs like "Leave the Leaving Up To You" and "Can't Lie Awake" as stand-out tracks here. But really the joy in this album is finding out what awesome ensemble Law's assembled for each track. It's like a fully packed Christmas morning with all kinds of surprisingly cool presents to unwrap.

www.scottlawmusic.com
www.facebook.com/scottlawmusic
---
Grace Van't Hof.
2013. self-released.
I met Grace at Folk Alliance earlier this year and had a great time hanging out and chatting with her. And greatly enjoyed her album as well, a subtle slice of country twang, so my apologies to her for not writing about it before. But let's make up for that now: New England singer, banjo player, (and songwriter) Grace Van't Hof unites the urban streets of country with the rural twanglands of America in her debut album. Her voice is thoughtful, much more thoughtful than most country singers, and that gives her music a kind of fragility and intimacy that's lost in the brashness of country femme fatales. Grace has an incredible ear for bringing out the best in old country songs, and chooses carefully for her debut. Robbie Fulks' "Each Night I Try" rubs shoulders Jamie Hartford's "Somebody's Gonna Pay," and even Dock Boggs shows up in "East Virginia Blues." The album was produced by Laura Cortese, which helps explain the masterful arrangements and kickass fiddling (and if you slept on Laura's amazing 2013 album, then that's YOUR BAD and you should check out our Inside the Songs article about her). The album's kind of a coming-together for a lot of folks in the New England roots scene, and clearly a chance for everyone to celebrate the old country sound. Here's hoping for more from Grace Van't Hof in 2014!
PS: Special love for Grace's gorgeous instrumental album closer "Chasing Sara". She pulls off a lovely delicate-as-lace banjo line here that's a standout track.
Grace Van't Hof: Dear Departed

gracevanthof.bandcamp.com
www.facebook.com/pages/Grace-Vant-Hof/209121959098594
---
The Garifuna Collective. Ayó.
2013. Cumbancha.
The Garifuna are people of Honduras, Belize, and S. American/Caribbean beaches who are descended from shipwrecked or escaped African slaves. Their music is a beautiful and deeply compelling blend of Africa and Latin America, and under the guidance of record label Stonetree Records and producer Ivan Duran, Garifuna music has become some of the most compelling "world" music being put out today. The new album from The Garifuna Collective is no exception to this. Guitar lines sparkle like sunshine on turquoise waters, voices are raised to heaven in gorgeous harmony, and the heavy weight of the shakers and drums is the only thing to pull this music back from ascending to a higher realm. In a sense, this is the music of the Garifuna selected to be most compelling to Western audiences; other Garifuna traditions include straight percussion ensembles, or even punta rock, which is huge in Latin America. Duran and his company went deep to find the music of the paranderos, the guitar kings of the Garifuna who were good enough (people like Andy Palacio and Aurelio Martinez) to claim the title of "next Buena Vista Social Club." This music figures at the center of The Garifuna Collective and you'll quickly hear why it's so compelling. There are Garifuna communities in the US, even a community in Seattle, so it's not like this music is "foreign" to us. And when you listen to this album, you'll feel as I did, that this beautiful roots music deserves every day it gets in the sun.


www.garifunacollective.com
www.facebook.com/garifunacollective
---
Sam Moss. No Kingdom.
2013. self-released.
I've been meaning to write about Sam Moss for a WHILE now. He's consistently put out interesting, innovative music that actively challenges American traditions. His work with old-time stringbands via The Howling Kettles brought a knife-raw edge to this usually conservative field, and his solo guitar work often borders on the American primitive school of thought. With his new solo album, No Kingdom, Moss unites these different models of roots music around his original songs, which are beautiful rebuilds and remixes of traditional tropes. "Hammer" references John Henry, John Hurt's Pallet on Your Floor, and manages to sound like an entirely new creation. Man, this album hits all of my soft spots. Eerie and beautiful songwriting, ghostly banjo and guitar, Appalachian roots, and deeply softly enchantingly beautiful vocals. I thought that the Gothic Appalachia genre died with the end of 16 Horsepower and The Shiftless Rounders, but Brattleboro, Vermont songwriter and cutting-edge fingerstyle guitarist Sam Moss seems determined to bring it back better than ever. If you're not paying attention to Sam Moss rolling into 2014, then you're missing something great happening.

sammoss.net
www.facebook.com/sammossmusic
---
Karine Polwart. Traces.
2013. Borealis.
Scottish singer-songwriter Karine Polwart is some kind of miracle. With the most beautiful Scottish brogue, she writes songs that are drenched in the heavy rains of the Scottish Highlands, but also reference and reinterpret thoroughly modern ideas. Her new album, Traces, opens with the lines "I was Farrah Fawcett, you were Steve McQueen, and we rode our silver grifter half the way from Aberdeen," before turning into a chorus on the ebb and flow tides of the Scottish seaside. The natural world and the digital world rub shoulders here, in a strangely frictionless kind of relation. Beyond the songs, the arrangements here are a pure delight. The music clearly has folk roots, and Polwart's acoustic guitar work throughout is soothing and beautiful and transporting, but there are keyboards and glockenspiels, and sweeping swells of sound. Honestly I think this album must be the closest thing you can get to visiting a windswept Scottish seaside town. It's like the audio equivalent of that. Of course I say that because I've never been to Scotland and I live in America, so I'm free to stereotype all I want and I'm free to say just how enchanting I find Polwart's Scottish accent. If I was a better person, I'd review this the way it should be reviewed in Scotland: this is an amazing example of how original songwriting can reinvigorate roots music. Period.
www.karinepolwart.com
www.facebook.com/karinepolwart
---
Pokey Lafarge.
2013. Third Man Records.
It's funny, for me Pokey Lafarge is the hardest artist I know to write about. I think it's because I see his music as impossibly retro, rooted in a vintage sepia-toned world of St. Louis blues and old 78s. But Pokey's been quoted before as bristling at the thought of his music as retro. And he's right of course. His music looks back at our past, but it's firmly planted in this new century of ours. And though he's clearly inspired by those old 78s, his new album, self-titled and out on Jack White's Third Man Records in 2013, updates his sound with a host of new friends, bringing jazzy clarinet and trumpet into the mix and even adding folks like Ketch Secor and Critter Fuqua of Old Crow Medicine Show and Caitlin Rose. The core trio The South City Three are still at the base of Pokey's sound and come off as super pros on this album, no surprise, and Pokey's voice sounds better on this album than ever. He seems to have expanded his sound to add a 1950s vibe, with subtle big band elements. Really, in my mind, Pokey can do no wrong. He could turns his music into a Dizzy Gillespie bebop big band and I'd still love it. He's got his finger on the magic button and no amount of fumbling music writing on my part can obscure the fact that he just makes great music!
PS: Stay tuned at the end of the above YouTube video for a killer Iron Maiden acoustic cover by P0key and co!
www.pokeylafarge.net
www.facebook.com/PokeyLaFarge
---
Hey Hey It's… The Jeffrey Lewis & Peter Stampfel Band.
2013. self-released.
Word on Facebook is that Peter Stampfel is working on an autobiography, and from the clips I've read that he's posted, it's gonna be amazing. Stampfel has long held the punk torch high at the heart of American folk music, from his early work with Harry Smith produced The Fugs to his later work with The Holy Modal Rounders that sounded like The Memphis Jug Band on acid, to his current work that blends fucked up old jugband tropes with totally modern TMZ topics. He's an utterly unpredictable artist and every album he releases seems completely different. Probably his best recent album was his duo disc with Seattle folk weirdo Baby Gramps (reviewed HERE), but his newest album with New York anti-folk star Jeffrey Lewis is all kinds of great. It's weird, and annoying, and confusing, and kind of disturbing, kind of like watching some half-drunk dude snap a treasured 78 in half. It's also exactly the kind of folk music I've been missing recently. I love the Inside Llewyn Davis soundtrack, but that stilted song "Please Mr Kennedy" is proof of how hard it is to write a funny, yet biting topical song. It seems like Mr. Stampfel snores out biting topical songs in his sleep, so maybe some of us young whipper-snappers should be paying more attention. On Hey Hey It's… The Jeffrey Lewis & Peter Stampfel Band, songs touch on topics including Snookie from Jersey Shore, strange Japanese pop artifacts, Russian folk songs, the Beach Boys à la 1963, patron saints of Lower East Side New York, beatniks, bluegrass kingpin Don Reno, old fiddle tunes, Frankie Lane, and uncountable other strangeness. This album's a lot of fun if you're willing to take the risk of letting it into your house and alienating your spouse.
PS: The liner notes are brilliant, so buy the album rather than download. Quick sample from Stampfel: "the first person I ever thought was more fun than anyone was Little Richard in 1956–he seemed to be having more fun than I had thought it was possible for a human to have. Strangely, it's only been in recent years that I realized that having as much fun as Little Richard seemed to be having was one of my main goals in life."
---
SPECIAL NOTE:
By the way, THIS was the best folk album of 2013, but I'm so fuckin' tired of trying to convince people that The Crow Quill Night Owls are the best living jugband in the world. If you're not onboard already that's YOUR fault. This album BURNS WITH FIRE and everyone's too focused on covering the big names to notice this. RANT OVER. I'll be doing a larger feature on these guys soon, so sit tight. In the meantime, here's a great introduction to their awesomeness:
---
BUY THIS MUSIC! Click on any of the album covers above for a link to buy the albums. Support a great musician today and do your part to keep roots music rolling along!
This post originally appeared on the 
Hearth Music Blog. Check out 
our website and roam through our blog to discover your next favorite artist! We're dedicated to presenting today's best Roots/Americana/World musicians.
---