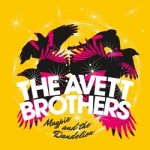 THE AVETT BROTHERS
The Magpie & The Dandelion (American)
The album was produced by Rick Rubin who produced their previous two studio albums, it was recorded during the same recording sessions as The Carpenter. Stephan Hays writes in mxdwn.com, "Though the band sounds great and they seem to be pushing their Appalachian/folk background into new areas, the songwriting is not as consistent and pointed as it has been in the past. Magpie is supposedly named for the "youthful wonder" of magpies and dandelions, but only the first four songs embody that ideal.  The Avetts' uphill journey has seen the landscape and the soundscape change from raucous, sweaty, acoustic festival shows to main stages, big producers, late night talk show spots, real instruments and clean clothes. That works as long as the strength of the songwriting and the core identity of the band remain true. The first half of Magpie and The Dandelion finds the North Carolina natives climbing full-steam like they always have. Unfortunately, the other half sputters."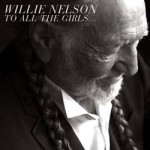 WILLIE NELSON
To All The Girls... (Sony Legacy)
To All The Girls... finds Willie reunited with his two greatest loves: beautiful music and talented women. Decades of heartfelt performances and compositions in popular music have long solidified Willie's reputation as one of country s greatest romantics. Among the centerpieces of To All The Girls... is the emotional duet with Dolly Parton, "From Here To The Moon and Back," and he also tackles the Bill Withers' classic "Grandma's Hands" with Mavis Staples. Willie is also joined by Emmylou Harris, Alison Krauss, Miranda Lambert, Norah Jones, Loretta Lynn and Rosanne Cash.
Also new this week...
WILL HOGE - Never Give In (Cumberland Recordings)
AUGIE MEYERS - Loves Lost and Found (El Sendero)
MISNER & SMITH - Seven Hour Storm (M&S)
LUCY WAINWRIGHT ROCHE - There's A Last Time for Everything (1-2-3-4-GO!)
Coming out soon... LINDA THOMPSON, GREG TROOPER, THE DEVIL MAKES THREE, JIM LAUDERDALE, LOS LOBOS, SOUTHERN CULTURE ON THE SKIDS ... more new releases
.  Here's a link to this week's Americana Music Association Americana Airplay Chart