Here's a few new Americana and roots-type music releases for the week of April 17th from Americana Boogie.  Click the artist or album links to find out more.  The artist's names link to their websites and the CD title links go either Amazon or CD Baby for easy ordering.  The Freight Train Boogie podcasts feature mostly songs from new releases.  Playlists with players and iTunes links are posted at FTBpodcasts.com.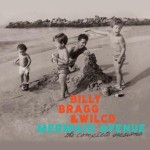 BILLY BRAGG & WILCO
Mermaid Avenue: The Complete Sessions (Nonesuch)
On Record Store Day, April 21, Nonesuch releases this 3-CD plus DVD set, which includes: Mermaid Avenue, Mermaid Avenue Vol. II (re-mastered); Mermaid Avenue Vol. III, comprising 17 previously unreleased recordings made during the Mermaid Avenue sessions; director Kim Hopkins' 1999 film Man in the Sand, which documents those sessions; and a 48-page booklet with new liner notes by Nora Guthrie, full lyrics, archival photographs, and facsimiles of lyric sheets and sketches by Woody Guthrie. The set is available for pre-order now in the Nonesuch Store with an exclusive print of Guthrie's lyric sheet for "Hoodoo Voodoo."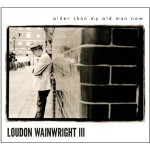 LOUDON WAINWRIGHT III
Older Than My Old Man Now (2nd Story Sound)
At 65, Loudon is older than his father ever was, and it's got him thinking, and writing, and singing. As he puts it, the new album deals with "death 'n' decay" and he's approached the subject from all angles, with his customary insight, honesty, and rueful humor. But pondering the imponderables can be a lonely business, and so, like never before, Loudon has brought in friends and family to help him with the heavy lifting. The guest singers include Ramblin' Jack Elliott, Dame Edna Everage, Chris Smither, Lucy Wainwright Roche, Suzzy Roche, Martha Wainwright, and Rufus Wainwright. The song treatments range from basic guitar & vocal to sophisticated string settings. There's even some swinging funk provided by jazz guitar giant, John Scofield.
Also new this week...
DAVE ALVIN - Eleven Eleven Expanded (Yep Roc) (with extra added tracks)
JON CLEARY - Occapella! (FHQ)
MARVIN ETZIONI - Marvin Country! (Nine Mile)
SUE FOLEY & PETER KARP - Beyond The Crossroads (Blind Pig)
DAR WILLIAMS - In the Time of Gods (Razor & Tie)
HANK WILLIAMS III - Long Gone Daddy (Curb) ("Best Of" Curb releases)
 
Coming soon... MARTY STUART, THE WACO BROTHERS & PAUL BURCH, WARREN HAYNES, JOE PUG, JACK WHITE, EVIE LADIN BAND, TODD SNIDER  ...  more new releases
Here's a link to this week's Americana Music Association Americana Airplay Chart